Women's Basketball Falls at No. 16 Arkansas to End Regular Season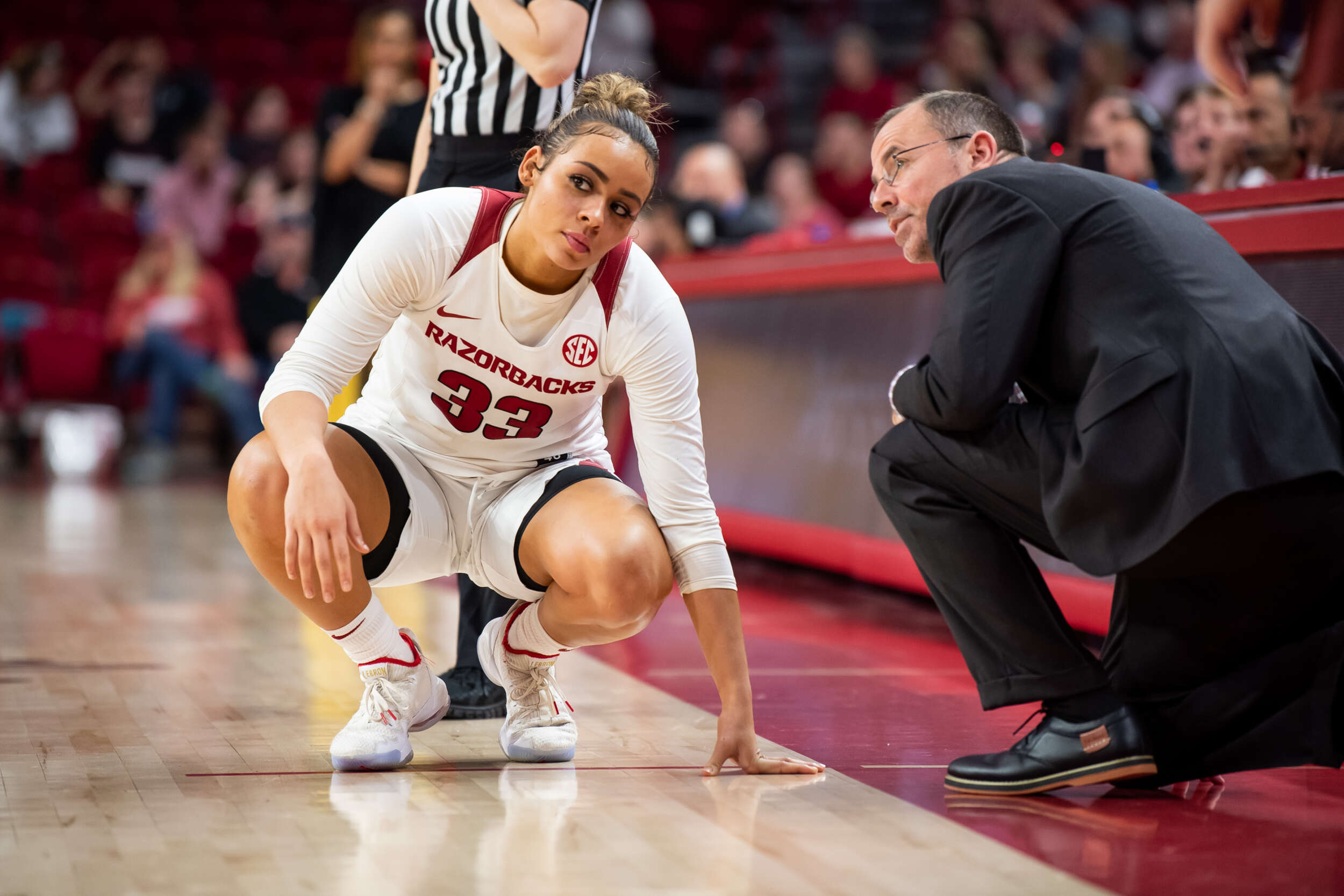 FAYETTEVILLE, Ark. – Alabama women's basketball dropped its regular-season finale, 94-76, at No. 16 Arkansas on Sunday in Bud Walton Arena. With the loss, the Crimson Tide heads into the postseason at 15-8 overall and finishes the Southeastern Conference season at 8-8 for the second straight year.
Ariyah Copeland led Alabama in scoring and rebounding with 18 points and a game-high 13 rebounds, while Jordan Lewis chipped in 15 points and Jasmine Walker finished with 12 points and nine boards. Destiny Rice rounded out the UA players in double figures with 11 off the bench.
As a team, the Tide outrebounded the Razorbacks by 10, 41-31, and had 42 points in the paint compared to 16 for Arkansas, however the Razorbacks were on fire from three-point range, hitting 19 in the game.
How It Happened
Alabama led early in the first, however the hot three-point shooting by Arkansas gave the Razorbacks the edge with 6:07 to go in the quarter.
Arkansas would take a nine-point lead, 26-17, heading into the next frame with another three just before the buzzer.
The Razorbacks extended their advantage out to 20 at the 3:46 mark.
The Tide responded with 11 unanswered over the next 90 seconds, however Arkansas would hit one more three before the half to lead 51-39 at the break.
Alabama opened the third with an 8-0 run and eventually cut its deficit down to three, but the Razorbacks would push it back out to nine by quarter's end.
Again, the Tide would be the first to strike with a run, pulling within four.
The Razorbacks responded with nine of the next 12 to lead by double digits with 6:06 to go.
An 11-2 run over the next four minutes for Arkansas would seal the win for the Razorbacks.
News and Notes
Copeland recorded her ninth double-double of the season and 17th of her career.
After having only scored double-figure points once in her career heading into the conference season this year, Rice now has four games of over 10 with her 11-point performance against the Razorbacks.
The Tide has recorded back-to-back eight win seasons in SEC play for the first time since 1996-97 – 1997-98.
Next Up
Alabama heads into the SEC Tournament as the seven seed and will take on 10th-seeded Missouri on Thursday in Greenville, S.C.
The game will tip at 5 p.m. CT in Bon Secours Wellness Arena and will air live on SEC Network.
For all the latest information on the team, follow AlabamaWBB on Twitter, Instagram, and Facebook. General athletic news can be found at UA_Athletics on Twitter and Instagram and Alabama Athletics on Facebook.