"I'll be back. I'll walk again", Paralyzed former football player walks at his graduation for the first time in public after 12 years in a wheelchair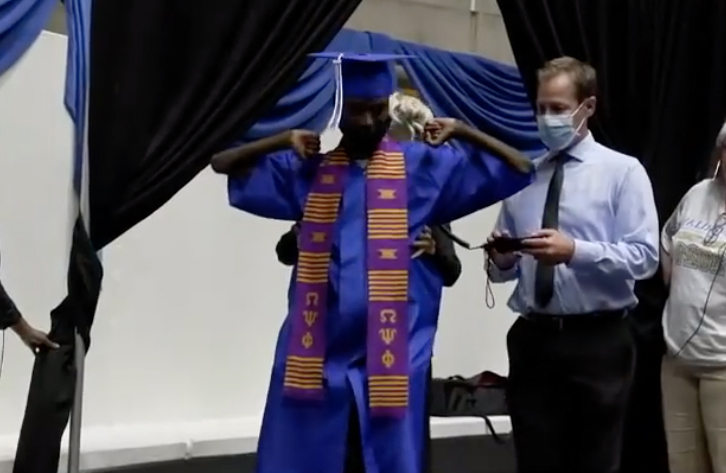 His name is Corey and he sat in a wheelchair in 2009 after a life-changing accident. Once a rising star for a Texas, High School football team, Corey was on the practice field doing a routine tackle when his neck rammed into a player's stomach. After a 9-hour surgery and 11 days in intensive care, Corey was paralyzed from the neck down and had to start using a wheelchair.
Along with the many changes taking over Corey's life, he was also confronted with the possibility of never walking ever again. But one thing that was certain was that the then 16-year-old teenager was made of great grit and resolve.
More than a decade has passed since the accident, and Corey not only joined college but also began working as a motivational speaker. The now 28-year-old man has an infectious positive attitude and said, "You just got to be thankful because it's a blessing to be alive and still be here."
Corey always had the support of his family and friends through everything, and after spending 12 years in a wheelchair, he surprised his loved ones by walking for the first time in public at his graduation ceremony.
With the help of an exoskeleton suit from the Baylor Scott & White Institute for Rehabilitation, Corey walked across the stage on August 14, 2021, to proudly receive his diploma from the University of North Texas. 
Using his own story to inspire others, Corey regularly shares bits and pieces of his life with the thousands of people following him on Twitter and Instagram. "I want to inspire others and let them know that they will be okay. If I'm not giving up, nobody should," Corey said. "Yeah, I go through some things in here, but I stay positive through it."
Image Source – YouTube Video