Military dad deployed for a year surprises son at his football game by dressing as a referee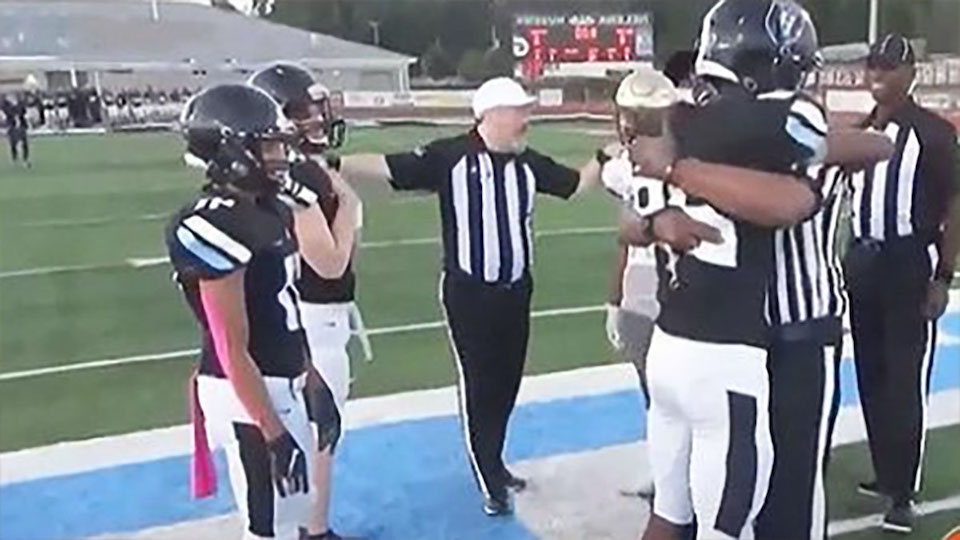 A high school football player got the shock of his life when his military dad who he thought was deployed showed up for his final game of the season.
Fred Grooms III was getting ready to play defensive back for his high school in Helena, Alabama when the head referee told the team to get used to all the faces of the other referees.
Fred's dad Army Major Fred Grooms Jr had been away for the last year, deployed in Kuwait and while he always tried his best to attend his son's big events he had been unable to do so for the past year.
He was scheduled to return home in November but his son's game was in October and so asked his commander for permission to return earlier.
Thankfully permission was granted and he showed up at the game not quite ready to reveal his identity to his son immediately.
Dressed as one of the referees with a mask on Major Grooms stood on the sidelines as his son and fellow teammates were told to remember the faces of the referees.
"I was kind of weirded out. The fact that they told me to look at every single one of the refs and memorize their face," the young footballer told NBC News.
As his dad was wearing a mask and baseball cap he didn't recognize him and joined his teammates for the game.
The excited dad had returned home early that day hiding himself from his children until they left for school. He then drove to his son's school and hid in a small room in the field house so his son wouldn't see him.
It was only when Major Grooms Jr. took off his mask, shook his son's hand, and hugged him tight that things finally fell into place.
The crowd started clapping as the father and son reunited for a hug.
"Watching him walk up unaware was really exciting, but then also kind of nerve-wracking because I hadn't seen him in almost a year," Major Grooms Jr. shared.
The happy father also shared that his son was three inches shorter than him the last time they met, and he had now grown two inches taller than him.