Gymnast McKayla Maroney reveals why she did the 'not impressed' face at London Olympics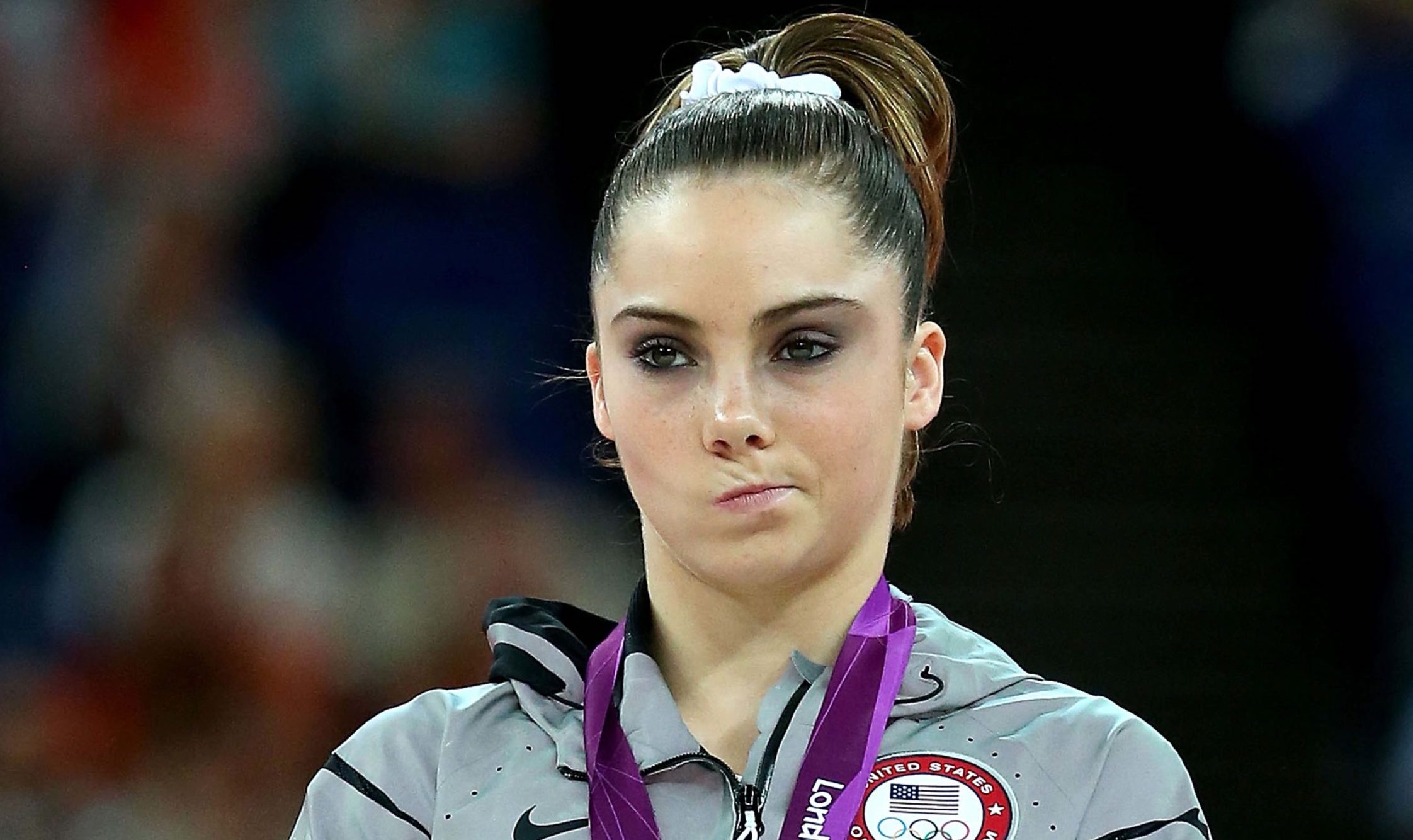 McKayla Maroney became one of the biggest U.S. athletics stars after winning the gold medal at the 2012 London Olympics. She was only 16-years of age at the time, and even though her performance at the Olympics was exceptional, she reached the stratosphere of fame for a whole different reason.
Maroney was photographed on the podium with what looked like a disappointed face after the women's vault competition – this where she was awarded the silver medal. The picture spread across the world, and the gymnast rapidly became a sensation.
Today, Maroney's career in athletics is over and she's moved on to pastures new. Not only that, but she's been experienced some excruciatingly heartbreaking years which have shaped her life in a way she couldn't have expected.
In London, McKayla went on to become an American athletics hero. She won the gold medal in the team competition – alongside childhood friend Kyla. Her performance in the vault section is considered one of the greatest of all time, with some experts arguing it was completely flawless. The judges still managed to deduct 0.267 points from her score, but that didn't make her performance any less unforgettable.
After her showing in the team event, McKayla was the favorite to win the individual vault competition. Experts didn't think there was anyone else who even had the slightest chance of winning – NBC broadcasters Al Trautwig and Tim Daggett declared that it was pretty much guaranteed that she would take gold.
Of course, in sport as in life, things don't always go as expected. McKayla ended up winning the silver medal after falling once in the final. We would like to add here that being named the second-best individual gymnast in the world is, of course, a fantastic result, despite the disappointment McKayla surely felt.
But though she was now a sports star, known all across the world, her new-found fame after her performances was nothing compared to the attention she garnered on the podium.
During the medal ceremony, McKayla was caught on picture making a face that was, how should we phrase it, less than appreciative.
As a result, she became an internet sensation. In 2014, McKayla Maroney spoke with Inside Gymnastics and explained that she only did the face for "literally two seconds."
That was all it took.
"Like, if you watch the video, it's two seconds. And I remember thinking, did I just make a face? Because it's natural. I do it all the time, I have pictures of me when I'm little doing it. I have it on my Mac computer when I'm like 13," she said.
Mere minutes after the picture was snapped, Maroney became an internet meme. People photoshopped her next to many classic images, cashing in on her 'unimpressed' facial expression. Fittingly, the viral slogan was "McKayla is not impressed."
When she returned to her room in the Atthletes' Olympic VIllage, she got to learn just what her facial expression at the award ceremony had been turned into. It began when her dad sent her a text telling her to check the internet. There, she could be found next to the likes of Mozart and the moon landing.
In no time at all, the face became something of a signature for Maroney. She got to meet then-President Barack Obama, and together they took another picture making light of the expression.
Though McKayla thought it was funny, becoming a meme wasn't really on her mind in the hours and days after the Olympic final.
"I was sad. I was upset. And I was not impressed," Maroney said, adding that she couldn't sleep for five nights. Try as she might, she couldn't help but go through her fall in the final again and again.
In any case, Maroney looked set for a long and successful career. She won gold at the 2013 world championships and set her sights on competing the 2016 Rio Olympics. Sadly, however, she was forced to step back from competition in 2015 due to many health problems.
In 2019, she enrolled in an online course for people with eating disorders and began meditating to cope with burnout.
Together with Los Angeles-based producer Maxwell Flohr, she's written tracks based on her life experiences. The two have produced around 25 tracks together, as per reports.
In 2021, she underwent surgery after doctors discovered she had kidney stones. Now, it finally looks like she's in charge of her own life again. Today, McKayla's writing a memoir and active in helping people who have experienced the same traumas she has.
"I want to be looked at as someone who just keeps going because that's what we have to do in this life," McKayla Maroney told Elle.
"For so long, I was surviving. Now I feel I'm actually living."