Vote Today Through Wednesday: ASG General Elections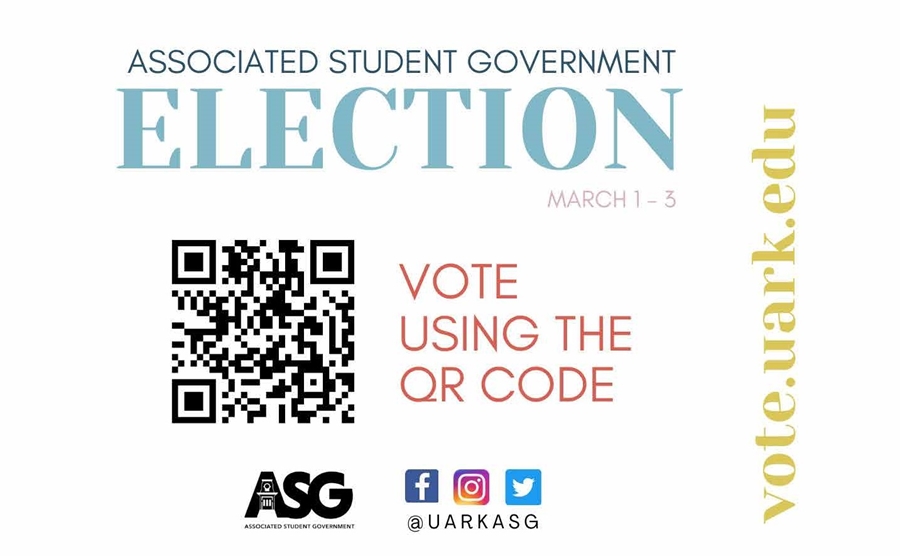 FAYETTEVILLE, Ark. – Voting for the 2021-22 ASG General Election begins at 9 a.m. CT today, Monday, March 1. Voting will conclude at 4 p.m. CT Wednesday, March 3. Students can vote at vote.uark.edu or by paper ballot by emailing the Office of Student Activities, [email protected], during regular business hours (8 a.m. to 5 p.m. CT) from the student's uark.edu email account, while voting is taking place.
All currently-enrolled undergraduate University of Arkansas, Fayetteville, students are eligible to vote. Information about candidates is available at asg.uark.edu/elections. Ballots will be presented to students as follows:
All undergraduate students are eligible to vote for Student Body President, Vice President, Secretary, and Treasurer.
All undergraduate students will be eligible to vote in the ASG Senate election based on their primary college of enrollment.
The ASG General Election will ask students to vote for their student government President, Vice President, Treasurer, and Secretary. Candidates are as follows:
ASG President – Caleb Parker and Coleman Warren
ASG Vice President – Andrew Kutchka and Teia Anderson
ASG Secretary – Sara Feather and Kaleigh Koc
ASG Treasurer –- Shalu Jivan and Hanna Patel
The Senate portion of the election will be a college-based election. Candidates for Senate are organized by their primary college of enrollment and only students enrolled in that college will be able to vote for those candidates. Seats in the 2021-22 ASG Senate are allocated based on the total student enrollment this semester in each of the colleges. In this election some colleges have more seats than candidates. Unfilled seats will be filled in the Fall 2021 Senate Vacancy Election.
The Senate candidates for each college are as follows:
Dale Bumpers College of Agricultural Food & Life Sciences

Alex Davis
Devin E. Whiteside
Madison Estepp
Mary Eichenberger

Fay Jones School of Architecture
J. William Fulbright College of Arts & Sciences

Abigail Lindsey
Alexis Brashears
Alric Fernandes
Andy Wallpher
Bennett Perkins
Cherish Iroabuchi
Connor Martfeld
Dane Arbuckle
Derek Fisher
Gabi Gies
Garrett Meadows
Gracie Fuhrman
Grant Smith
Jack Switzer
Katie Strickland
Lathan William Gregg
Lauren Dubner
Maddie Jones
Matthew Pollard
Nathaniel Paulbeck
Sinead Clark
Zeke Hundley

College of Education and Health Professions

Abby Hisler
Holland F. Harvat
Kathleen Bridgforth
Macie Koeppen

College of Engineering

Derek Mullins
Grace Wood
Hunter Wayne Dowell
Samson Parker
Sophia Gomez

Sam Walton College of Business

Alex Summers
Emily Heidemann
Grant Fraser
Greg Goates
Halle Jungmann
Hudson Flynn
London Jones
Luke Small
Nate Cumming
Phil Necessary
Sergio Lopez
Turner Hupfeld
For more information about the 2021-22 ASG General Election, please visit asg.uark.edu/elections. If you have questions about the election, please contact ASG Chief Justice Adam Hagler at [email protected].
The Associated Student Government at the University of Arkansas is a student-led organization that acts as an organized voice for all students and strives to effectively represent student interest. Questions about ASG can be directed to 479-575-5255, [email protected] or asg.uark.edu.