Virus deaths, hospitalizations declining in NWA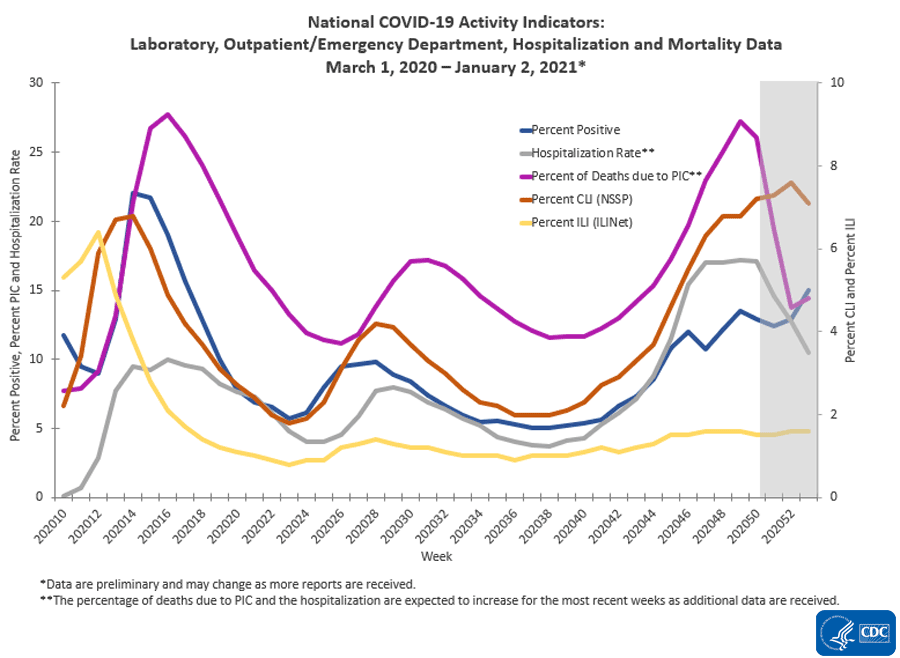 FAYETTEVILLE, Ark. – Covid-19-related deaths and hospitalizations have decreased in Northwest Arkansas, and health care officials say precautions are still needed to continue the trend.
At least 30 Benton and Washington county residents died in the two counties in February, a decrease from 143 in January, according to data provided by the county coroners. The region's deaths increased every month from 31 deaths in August through January. The data does not include Northwest Arkansas residents who may have died elsewhere.
Likewise, hospitalizations generally rose throughout the fall and winter, reaching a record 140 patients Jan. 8, and have steadily decreased since. Hospitals in Benton and Washington counties had a total of 26 covid-19 patients Tuesday, according to Martine Pollard, spokeswoman for Mercy Health System.
Vulnerable populations
The drop in deaths and hospitalizations is likely because vulnerable populations, such as nursing home residents and people 70 and older, were among the first to be vaccinated, said Dr. Jennifer Dillaha, epidemiologist for the Arkansas Department of Health.
Half of people 70 and older, including nursing home residents, in Arkansas have received at least the first dose of a vaccine, she said Wednesday.
Seven nursing home residents in Benton and Washington counties died of covid-19 in February, according to the department. The region had 43 nursing home deaths in January.
The two counties have recorded 685 covid-19-related deaths since April. About 71%, or 489, were people 70 and older, according to the coroners. People in their 60s accounted for 110, or about 16%, of the deaths.
Dr. Jason McKinney of Mercy Hospital Northwest Arkansas in Rogers said he's seen fewer nursing home residents and people older than 70 coming in sick with the virus. However, he is concerned by a slight uptick in hospitalizations of people in their 40s and 50s.
People under 65 aren't eligible to be vaccinated unless they fall in other categories such as health care or education workers. McKinney also attributed hospitalizations in those age groups to people becoming tired of the pandemic and easing up on precautions such as social distancing.
People in their 40s and 50s made up six, or 20%, of deaths in February. The age group made up 10, or about 7%, of January deaths.
Precautions, restrictions still needed
Health care workers expected to see the spike in hospitalizations after the holidays because of social gatherings, McKinney said.
Hospitals set up segregated, covid-19 units early in the pandemic. Mercy's 56 beds in its covid-19 unit can all still be used for covid-19 patients, McKinney said. Washington Regional Medical Center's unit includes 54 beds, while Northwest Health System has 24 covid beds.
The region's total hospitalization data also includes Veterans Health Care System of the Ozarks in Fayetteville and Arkansas Children's Northwest in Springdale. The Veterans Health Care System has declined to release how many beds it has designated for covid-19 patients. Children's does not have any beds designated for covid-19 patients and has treated few patients for covid-19 symptoms, Hilary DeMillo, spokeswoman, has said.
While the drop in hospitalizations is a relief, it's not a sign that it's time to ease up on precautions or restrictions, McKinney said. More time is needed to vaccinate more people. Spring break, when people tend to travel and mingle, is also coming up and could lead to another spike, he said.
Gov. Asa Hutchinson about a week ago changed most of his public health directives, including capacity limits for bars, restaurants, gyms and large venues, to guidelines. The mask mandate, which remains in effect, will become a guideline March 31 if certain public health goals are met, the governor said.
McKinney said political figures who want to ease restrictions are doing so based on popular opinion, not on recommendations from the scientific community.
"Unfortunately, I don't feel we are being listened to," he said.
Wearing masks has saved more lives than any treatment hospitalized patients have received, he said.
"If people are allowed to release their masking efforts, we are going to be in a big, big problem," he said.
McKinney compared disease spread to a fire.
"We may not have a lot of flames right now, but we have a lot of embers," he said.
Dillaha said she is concerned about more contagious and deadlier variants of covid-19 taking hold in the state. At least one case of a variant has been identified in Arkansas. The vaccines are expected to also protect against the variants. The state needs to vaccinate as many people as quickly as possible, and people need to continue taking precautions to buy time, she said.
As of Thursday, 256,145 Arkansans were fully vaccinated while another 450,425 had received one of two vaccine doses, according to the Health Department. No vaccine is approved for people under 16. The state has 2,374,747 people ages 16 and older, so about 10.7% of that population is fully vaccinated while another 18.9% is halfway there.
Disproportionate effects
Marshallese and Hispanic people were overrepresented in the covid-19 death toll early in the pandemic. Marshallese people accounted for more than 50% of June deaths despite making up less than 3% of the region's population. Hispanic residents made up 35% of August deaths despite making up 17% of the region's population.
Marshallese covid-19 deaths dropped to two in October and none in November nor December. The region had one Marshallese resident die in January and none in February. One of the 30 February deaths was a Hispanic resident, while the others were non-Hispanic, white residents.
Health care professionals and community leaders attributed the disproportionate effects on minority populations to several factors including language barriers, gatherings, many family members living together, higher rates of diseases such as diabetes and working in places such as poultry plants.
People who work in food manufacturing recently became eligible to receive the vaccines.
Dillaha said Wednesday the Health Department was working to make an informational tool kit on the covid-19 vaccines available in Marshallese and Spanish.
"Many Marshallese and Latinx folks are employed in those facilities. This is a good opportunity for them to get the vaccine," she said.
Springdale-based Tyson Foods plans to begin administering the shots to thousands of its processing workers, including those in Arkansas, as vaccine supplies are made available. More than 80% of the 1,102 workers at Tyson's Berry Street plant in Springdale have indicated they want a vaccination, Tyson spokesman Derek Burleson said.
"The more people that are vaccinated, the lower hospitalizations are likely to be," Dillaha said.
Two vaccines, Pfizer and Moderna, were approved for use by the federal government in December. They each require two doses weeks apart. Pfizer is about 95% effective at preventing covid-19 illness in people without evidence of previous infection, while Moderna is about 94% effective, according to the federal Centers for Disease Control and Prevention.
A third vaccine, Johnson & Johnson's Janssen, was approved for use in late February and is about 66% effective and requires one dose.