Sexual Assault Awareness Month to Include Multiple Themed Events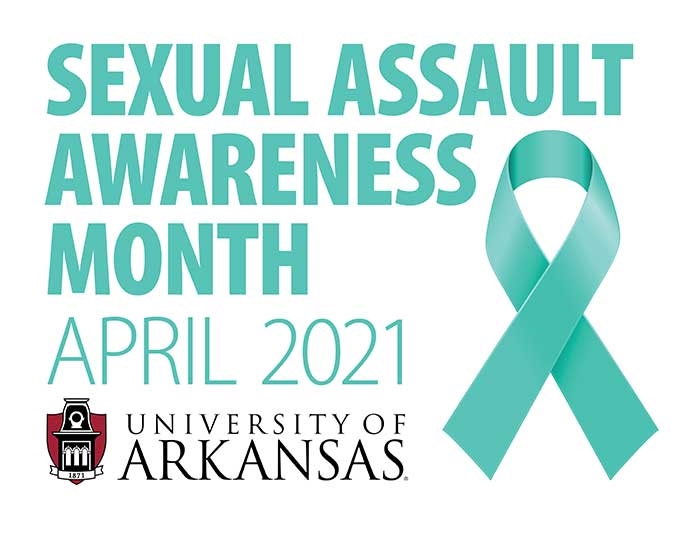 FAYETTEVILLE, Ark. – As the University of Arkansas prepares for annual recognition of Sexual Assault Awareness Month with a myriad of events, the campus community is reminded of the need for awareness throughout the year and to be ever present in solidarity against sexual violence.
Case in point, a campuswide message last month, while intended to bring about awareness of resources and helpful information after several reports of sexual assault, unfortunately created a tone of victim blaming. Although education of comprehensive risk reduction strategies can help lessen incidents of sexual violence, most lacking from the message was the critical importance to always have clear, conscious, continuing voluntary consent. The university sincerely apologizes and commits to doing better moving forward. We want to make it clear that the university recognizes that survivors of sexual violence are never at fault.
Nationally recognized each year in April, Sexual Assault Awareness Month is an opportunity to renew our commitment against sexual violence. It affords the chance to remind us that the university strongly condemns and has serious policies to address sexual violence, educational training programs for students, faculty and staff, as well as processes for reporting and investigating incidents of sexual violence. The university also provides resources of support and advocacy for victims and survivors.
"Our campus community is stronger when we stand together and denounce sexual violence," Chancellor Joe Steinmetz said. "Through Sexual Assault Awareness Month events, the university highlights opportunities for learning and engagement for all. Understanding the spectrum of sexual violence, the need for consent every time, recognition of bystander opportunities for intervention and the accountability of offending behaviors provides focal points for ongoing education across campus."
Read Chancellor Steinmetz's proclamation reinforcing the university's commitment to ending sexual violence.
We encourage all to unite and participate in Sexual Assault Awareness Month events throughout April. Each week, a complete list of events will be featured in the daily Arkansas News email and on news.uark.edu. Events may also be found on the campus calendar. Please note that some of these events contain sensitive information regarding sexual and relationship violence.