SEC Indoor Championships Roundup | Rebels capture two more titles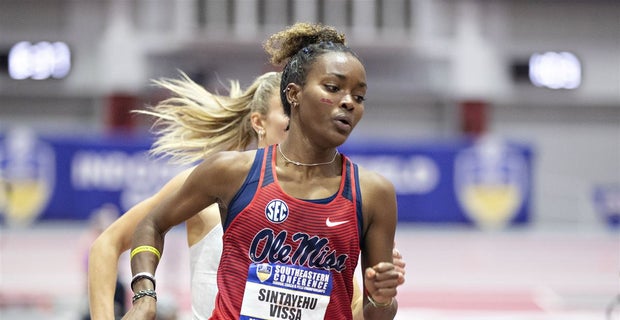 FAYETTEVILLE, Ark. –Ole Miss track & field concluded a superb meet with two more demonstrative wins by the Rebel men's distance runners to conclude the 2021 SEC Indoor Championships on Saturday.
Those two wins were courtesy of Waleed Suliman (mile) and Mario Garcia Romo (3K), pushing the Rebel men's total to four SEC titles and seven medals across three days of competition. No. 10 Ole Miss ended up fourth in the team standings at 70.5 points, narrowly missing out on another top-three finish to No. 15 Alabama, who scored 72 points and secured third place following a fourth-place finish in the 4×400-meter relay at the end of the meet. The No. 21 Ole Miss women, meanwhile, finished seventh overall at 50 points. Arkansas swept the team titles, with the No. 1 women scoring 141 and the No. 3 men 116.
"I'm just really proud of the way our men and women competed over the last three days," said Ole Miss head coach Connie Price-Smith "The SEC is one of the toughest meets out there, and the Rebels represented themselves well. We had a lot of standout performances and a few spots that still need a little work. But, I am mostly proud of the heart and guts that most of them showed this weekend. Now it's time to go back to work and get ready for nationals."
Suliman started the day off on the right foot for the Rebels, shattering a 45-year-old SEC meet record in the men's mile. The senior All-American held off Arkansas' Amon Kemboi, winning at his fourth career sub-four mile at 3:58.28 to take down Stephan Bolt's meet record of 3:59.40 for Alabama in 1976. Suliman split 55.28 on his final 400 to take command of the race, his second career SEC mile win and the sixth for the Rebel men in the last seven years. Suliman last won in 2019, which then made Ole Miss the first school in SEC history to win five in a row (Daniel Bulmer, 2015; Robert Domanic, 2016; Sean Tobin, 2017-18). Additionally, Suliman's time today was the first by an SEC Champion to break the four-minute barrier since Arkansas' Dorian Ulrey ran 3:59.77 in 2009.
"This race was something else, I did not think it was going to go out that fast," Suliman said to ESPN's John Anderson postrace.
Fellow senior Everett Smulders helped give the Rebels a high-end wallop in the mile, finishing third at 4:00.29 for his second career SEC bronze in the mile. He last snared third place as a freshman in 2018. Dalton Hengst joined in on the scoring party as well in seventh place at a new career-best 4:04.36, the 15th-best time in school history.
Junior Mario Garcia Romo followed Suliman with a splendid race in the men's 3K final, cruising to victory in 8:03.99 for his first career SEC individual title. The reigning SEC Cross Country Champion and SEC Cross Country Runner of the Year put the pedal down over his final two laps, exploding with a 53.14 final 400. His win was just the second ever for Ole Miss in the men's 3K, joining 2016 winner Ryan Walling in the elusive club. Freshman and SEC 5K champion Cole Bullock was key for the Rebels in the 3K on Saturday as well, finishing fourth at 8:05.66 to pad his point total for the weekend to 15 – the third-most among all athletes this week.
Senior John Rivera Jr. claimed his first career SEC individual medal with a runner-up finish in the men's 800-meter at 1:50.18. Rivera was in command for most of the race, but an impressive burst from Texas A&M freshman Brandon Miller (1:49.69) was enough to edge him past Rivera at the finish line. Today's effort from Rivera avenges several close misses from the SEC podium over his career, including a miniscule difference last year that pushed him to fourth place. Baylor Franklin also scored for the Rebels in seventh place at 1:50.96.
Miller's late push dashed hopes for Ole Miss to pull off the elusive distance event sweep (800-meter, mile, 3K, 5K and DMR), which has only been done three times in conference history – all by Arkansas in 1995, 1998 and 1999. The meet was still an extraordinary one for the Rebel men's distance runners though, as its four titles (mile, 3K, 5K and DMR) ties a program record for most in a meet by the 2016 squad – coincidentally in those same four events. In total, the distance squad racked up an astounding 63 of the total 70.5 points Ole Miss scored this week.
Ole Miss grabbed points from the field on Day Three as well, led by sophomore Daniel Viveros in the men's shot put. Viveros and Danny Guiliani both made the final, with Viveros scoring in seventh at 17.46m (57-03.50) and Guiliani just missing out in ninth at 16.72m (54-10.25). Senior Peyton Weissmann notched a half point for Ole Miss in the pole vault, tying for eighth place at a season-best 5.05m (16-06.75).
SEC weight throw champion and sophomore All-American Jasmine Mitchell had another career day to pace the Rebel women on Saturday, this time in the shot put. Mitchell unleashed a powerful three-foot PR of 16.25m (53-03.75) to finish fourth and give her 15 total points on the week, tied for the sixth-most among all women's competitors. Her toss put her in exclusive company as just the fourth Rebel to break 53 feet in the shot put indoors, joining Olympian Raven Saunders (19.56m/64-02.25), All-American Janeah Stewart (17.63m/57-10.25) and teammate Tedreauna Britt (16.33m/53-07.00). Of her five legal throws on Saturday, all five of them would have constituted new PRs over her previous best of 15.11m (49-07.00).
Sophomore Rebel newcomer Sintayehu Vissa established herself as one of the top 800-meter runners in the conference in just her third meet at Ole Miss. Vissa finished fourth overall in a historic 800-meter final, clocking in at 2:06.97 in a race that included a preposterous new collegiate and world U20 record from Texas A&M freshman, Athing Mu (1:58.40). Vissa was also a member on the Rebel women's school record DMR team from Day One.
All-American junior Brandee Presley earned her first career SEC individual points as well with a seventh-place finish in the women's 60-meter dash final, running a season-best 7.32 in the process.
Up next for Ole Miss is a return trip to Fayetteville for the 2021 NCAA Indoor Championships on March 11-13. Also on the radar not long after are the rescheduled NCAA Cross Country Championships, which are set for two days later on March 15 at Oklahoma State.