Researchers Receive Grant to Improve Cellular Therapies to Treat 'Incurable' Diseases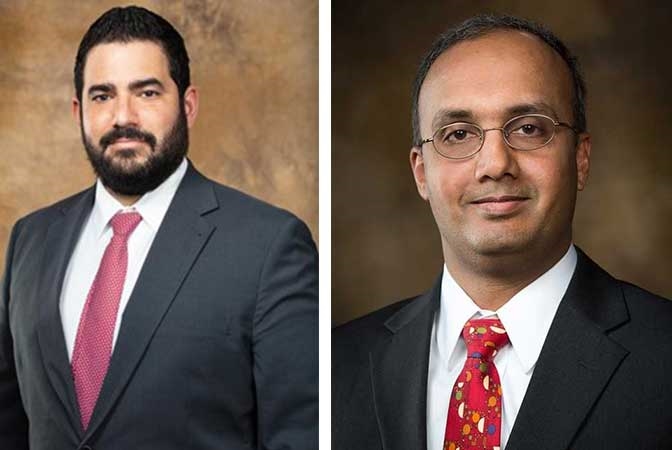 FAYETTEVILLE, Ark. – Two U of A researchers received a $480,000 National Science Foundation grant to investigate how engineered coatings that imitate the tissue matrix surrounding cells would affect the behavior of therapeutic human mesenchymal stromal cells, or hMSCs.
Jorge Almodovar, assistant professor of chemical engineering, and Raj Rao, professor and head of the Department of Biomedical Engineering, were awarded the grant from the NSF Division of Chemical, Bioengineering, Environmental, and Transport Systems.
The grant will support research to explore how the extracellular matrix mimetic coatings affect the behavior of therapeutic hMSCs. The extracellular matrix, or ECM, is a complex network of materials secreted locally by cells and remain closely associated with them to provide structural, adhesive and biochemical signaling support. Creating mimics of the ECM allows the researchers to recreate the microenvironment surrounding the cells. The ultimate goal is to improve therapies to treat currently incurable diseases such as graft-versus-host disease, Crohn-related perianal fistular disease and spina bifida.
"I am beyond grateful to the NSF for funding our work," Almodovar said. "Human mesenchymal stromal cells have strong therapeutic potential, but there are several limitations in manufacturing these cells. Our project will provide a fundamental understanding of the interactions of these cells with bio-mimetic coatings that could translate into solutions currently hindering manufacturing. Also, this project will train students from underrepresented groups who will become our next leaders in cell manufacturing."
The idea for the project originated from a previous research project in Almodovar's lab that showed ECM mimetic coatings had a positive impact on human mesenchymal stromal cells.
"The proposed work came about from preliminary data in our group showing how our engineered ECM mimetic coatings influence the behavior of therapeutic human mesenchymal stromal cells," Almodovar said. "Although we observed some interesting behavior regarding cell growth, we didn't know why our coatings positively influenced the cells. This project leverages Dr. Rao's expertise in hMSC biology and my expertise in hMSC culture and biomaterials to investigate the mechanisms by which our coatings enhance cell behavior."
In addition to research, the funds will be used to support two graduate students, travel, summer salary and the Engineering Summer Academy.
"I am excited to collaborate with Dr. Almodovar on this important project to not only better understand how stem cells interact with the surrounding microenvironment, but to also develop better biomanufacturing processes for stem cell proliferation and subsequent differentiation into more specialized cell types for regenerative biomedical applications," Rao said.
The American Society of Gene and Cell Therapy has identified "expansion of sufficient cells for one or multiple patients" as one of the key challenges associated with developing cell-based therapies. Manufacturing these cells is complicated since they are a living entity that are affected by all steps in the manufacturing process. The project led by Almodovar and Rao thus aims to reduce the detrimental impact that manufacturing process may have on cells by engineering surfaces that replicate the native environment of hMSCs. Ultimately, this will lead to cells with higher therapeutic capacities and reduced manufacturing costs, making these therapies more accessible to the general public.