Razorbacks walk off Ole Miss to win series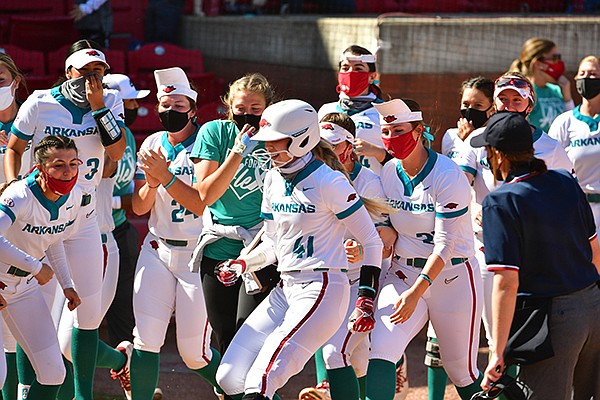 FAYETTEVILLE, Ark. – Danielle Gibson's run-scoring double to tie the score in the sixth inning brought University of Arkansas fans to their feet Saturday. But it was her solo blast over the left field wall in the eighth that sent the Bogle Park faithful home with a smile, after a rousing comeback 3-2 victory over Ole Miss.
"I felt good all day, and I figured she was going to hammer the outside corner," Gibson said of her final swing. "So, I just kind of sat back, it was there, and I went for it."
The No. 17 Razorbacks (22-3, 5-0) remain unbeaten atop the SEC, It is the first 5-0 conference start for Arkansas since 2009.
"This team has a ton of fight in them, and they don't really flinch at anything that they face," Arkansas Coach Courtney Deifel said. "We always feel like, that if we have outs left, we have a chance. I have so much confidence in this team and in this offense — and my confidence is just matched by what they have in themselves."
Senior Autumn Storms, who has been battling a back injury this season, was in the circle for Arkansas for the first time since pitching 21/3 innings against Kansas on March 5.
The hard-throwing senior had to wiggle out of a jam in the first inning after Ole Miss took advantage of an Arkansas fielding error to load the bases. Storms got Autumn Gillespie to ground out to end the threat.
The Rebels broke the scoreless tie with a pair of runs in the third inning. Paige Smith reached on a two-out single, followed by an Abbey Latham home run to make it 2-0.
"I thought Stormy was excellent today, and it was great to have her back on the mound," Deifel said. "She really just missed on one pitch today and Latham capitalized on it."
Storms threw 122 pitches through 61/3 innings, allowing just five hits and striking out three.
Ole Miss (18-9, 3-2) countered with junior pitcher Savannah Diederich, who was able to temporarily cool down the Razorback bats following Friday's 5-1 Arkansas victory.
Diederich held Arkansas in check with just two hits through five innings. But trouble started brewing for the Rebels in the bottom of the sixth. McEwen ended a seven-pitch at-bat with a home run over the center field wall. After Braxton Burnside was hit by a pitch, Gibson drilled a double just inside the first-base line to score Burnside and tie the score at 2-2.
"We did come out a little bit sluggish today, but we have confidence, one through nine, to get it done," Gibson said. "We never count ourselves out of a fight, and that is the greatest thing about this team. We are going to keep scratching and clawing no matter what."
Mikayla Allee led off the Ole Miss seventh with a single and advanced to second when Aynslie Furbush was hit by a pitch. Storms got Tate Whitley to ground out, but the Rebels had the go-ahead runs on second and third with one out.
Deifel opted to bring in Mary Haff, who proceeded to strike out the next two Rebels hitter to end the inning.
Haff (14-2, 0.85 ERA), who struck out four of the six batters she faced, continues to lead the country in victories. She has 109 strikeouts in 96 innings this season.
After Burnside began the Razorback eighth with a fly out to center, Gibson drilled Dierderich's 124th pitch of the game just over the outstretched arms of left-fielder Jessica Puk for the game-winner. It was Gibson's third walk-off home run of the season.
"Gibby is a really clutch player," Deifel said. "We've seen it time and time again, and she just loves being in that moment."
Arkansas and Ole Miss will play the final game of the series at 1 p.m. today at Bogle Park.