No. 18 Soccer wins first-ever matchup with in-state foe Arkansas State, 2-1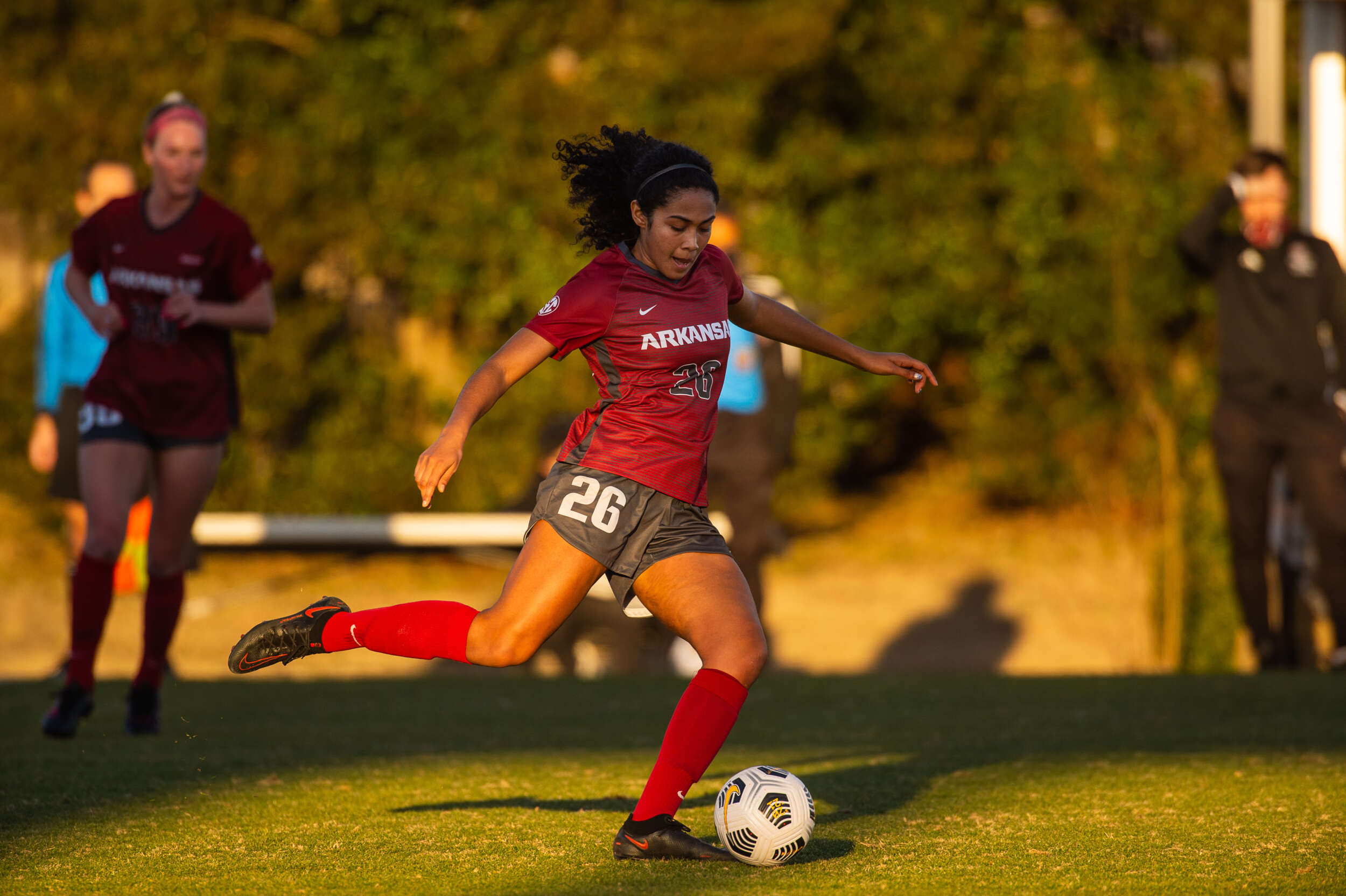 FAYETTEVILLE, Ark. – No. 18 Razorback Soccer (11-3, 7-1 SEC) picked up a 2-1 road win against Arkansas State (11-4-1, 7-0-1 Sun Belt) in the first matchup all-time between the two programs. The Hogs and Red Wolves will play the second part of the home-and-home series when A-State comes to Fayetteville on Saturday, April 10.
The Razorbacks outshot Arkansas State, 15-8, and put seven of those on frame. Anna Podojil led the Hogs with four shots while goalie Hannah Warner got the start and played all 90 minutes for the third game this spring.
How It Happened 
>> After the Red Wolves were called for a hand ball, Parker Goins set a cross through the box that Hunter finished in the 13th-minute. It was the first goal of the season for the defender.
>> A-State tied it up just before half when Sarah Sodoma went 1-on-1 in transition and sent a lefty shot to the far post at the 42nd-minute mark.
>> Kaelee Van Gundy put a ball into the box and Goins had her shot deflected, but A. Podojil finished the rebound in the 61st-minute. It was Podojil's team-leading seventh goal of the year.
The Run of Play 
>> In the 8th-minute, A. Podojil gathered an Ava Tankersley cross and sent a shot on frame that forced the Red Wolves 'keeper to push it over the bar.
>> Hunter gave the Hogs the lead off the set piece just four minutes later.
>> After a pair of shots following a Red Wolves corner, Razorback 'keeper Hannah Warner made a save on a shot sent to the far upper 90 in the 21st-minute.
>> Arkansas had another chance from a Goins cross in the 28th-minute. Kaelee Van Gundy got on the end just outside the six-yard box but her shot was deflected before it reached goal.
>> A-State tied it up with three minutes left to play in the first half off a shot in transition by Sodoma.
>> In the 51st-minute Kiley Dulaney put a header to the back post but it went just wide.
>> A. Podojil netted the game-winner with 30 minutes left as the Hogs kept the lead for a 2-1 victory.
Hear it From Coach Hale 
"I am proud of the team. Some people definitely stepped up and found a way to win against a really gritty team. It's the first time we've ever played them, and we knew it would be a battle at their place. We always celebrate winning because winning is hard."
Next Up 
The Razorbacks will be back in Fayetteville for a matchup with the Kansas Jayhawks. First kick on Friday, April 2 is set for 6 p.m. CT.