Razorbacks dominate 400 meters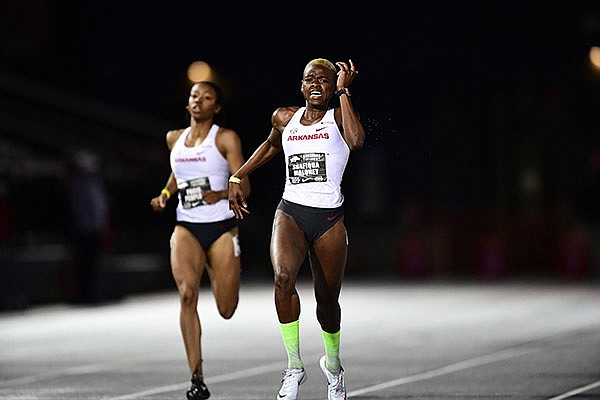 FAYETTEVILLE, Ark. — The University of Arkansas No. 2-ranked women's track and field team swept the top three places in the 400 meters Friday night at the UA Twilight meet with Shafiqua Maloney winning in 52.39 seconds, Morgan Burks-Magee second in 52.78 and Paris Peoples third in 53.32.
The Razorbacks took 1-2 in the 1,500 with Katie Izzo winning in a personal-best 4:16.64 and Lauren Gregory second in 4:18.26.
Other winners for Arkansas included Tiana Wilson in the 100 (wind-aided 11.19), Daszay Freeman in the 100 hurdles ((13.01), Krissy Gear in the 800 (2:06.90) and Bailee McCorkle in the pole vault (12 feet, 8 3/4 inches). G'Auna Edwards was the top collegian in the long jump (20-8 1/2).
The No. 12 Arkansas men's team took the top three spots in the 400 with James Milholen winning in 46.54, Jeremy Farr second (47.28) and Nick Hilson third (47.30).
Other winners for the Razorbacks included Amon Kemboi in the 800 (1:49.54) and Etamar Bhastekar in the pole vault (17-2 3/4). John Baker was the top collegian in the long jump (25-2 3/4).
Professionals and former Razorbacks who competed included Ryan Crouser, who won the shotput (74-5 1/2); Taliyah Brooks, who won the long jump (22-5 1/4); and Sparkle McKnight, who won the 400-meter hurdles (56.82).