PWHC Vaccine Clinic Remains Paused; Off-Campus Two-Dose Vaccine Clinics Readily Available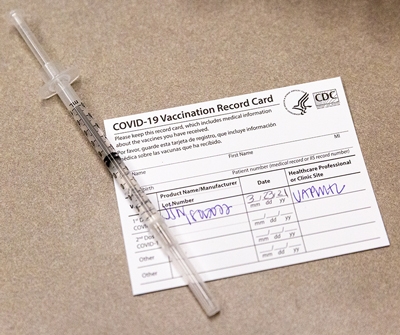 FAYETTEVILLE, Ark. – Pat Walker Health Center COVID-19 vaccine clinics will remain on pause as federal health agencies determine if recommendations on who should get the Johnson & Johnson (Janssen) COVID-19 vaccine need to change.
In a joint statement Tuesday, the U.S. Food and Drug Administration and Centers for Disease Control and Prevention recommended a pause in administering the vaccine after six individuals — out of the 7 million doses administered so far — reported experiencing an exceedingly rare type of blood clots after receiving their shot.
All reports occurred among women between ages 18 and 48 and occurred six to 13 days after vaccination. As of April 13, no cases have been reported among the more than 180 million people who received the Pfizer-BioNTech or Moderna vaccines.
"I want to emphasize the clot formation leading to this pause is extremely rare, and that this pause shows the safety systems are working and all reports are taken very seriously," said Dr. Huda Sharaf, PWHC medical director. "Those who just received this vaccine should have very little cause for concern as this is — again — an extremely very rare event. Anyone who received the vaccine three or more weeks ago is not at risk."
With semester's end fast-approaching, health center officials are exploring alternative, efficient ways for on-campus vaccine clinics to resume as soon as possible.
OFF-CAMPUS PFIZER, MODERNA VACCINE CLINICS
COVID-19 is a serious public health crisis and getting vaccinated is critical to ending the pandemic. Although not required, everyone is strongly encouraged to get vaccinated as soon as possible.
Fortunately, there has not been a sign of blood clot risk following the Pfizer or Moderna COVID-19 vaccines, and vaccine appointments and clinics remain available off-campus. Both of these vaccines require two-doses at least three weeks apart.
To schedule an appointment at one of the many off-campus clinics, visit health.uark.edu/coronavirus/vaccine or see the NWA Council Calendar. The Arkansas Department of Health also offers a complete list of pharmacies and vaccine clinics across the state, as well as a toll-free hotline at 1-800-985-6030.
BE PROTECTED; ENJOY SUMMER
The CDC has released public health recommendations for fully vaccinated people. Once fully-vaccinated, you can safely:
Visit with other fully vaccinated people indoors without wearing masks or physical distancing
Visit with unvaccinated people from a single household who are at low risk for severe COVID-19 disease indoors without wearing masks or physical distancing
Refrain from quarantine and testing following a known exposure if asymptomatic
Resume domestic travel and refrain from testing before or after travel or self-quarantine after travel.
Refrain from testing before leaving the United States for international travel (unless required by the destination) and refrain from self-quarantine after arriving back in the United States.
People are considered fully vaccinated for COVID-19 two weeks after they have received the second dose in a two-dose series (Pfizer-BioNTech or Moderna), or two weeks after they have received a single-dose vaccine (Johnson and Johnson/Janssen).