People cling onto US-bound aircraft in Afghanistan, fall to their deaths as the plane takes off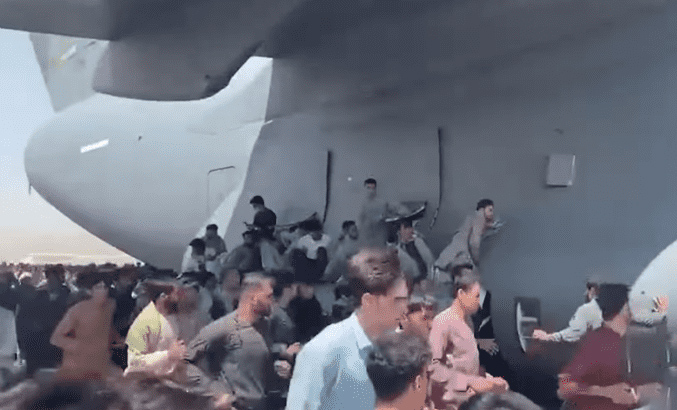 As scenes of panic continue to stream in from parts of Afghanistan, one video shows just how utterly hopeless and desperate people are to flee the area and set foot in someplace safer. From a runway at the Kabul airport, harrowing footage showed a large, frantic mob crowding around a C-17A aircraft on Monday, August 16. As the plane began moving, the video showed people jumping onto the side of the aircraft and trying to grab onto whatever they possibly could to hold onto the taxiing plane.
Once the plane began taking off, people appeared to fall off from the side of the aircraft and plummet several feet down to their deaths. These people, who clung to the plane and fell from the soaring plane, were just a few among thousands that tried to escape Afghanistan after the government collapsed and the Taliban took over. All international commercial flights from the airport were canceled, but countries like the US, UK, Germany, and Canada are trying to evacuate their nationals as well as Afghans.
After people were seen falling from the flying plane, bodies were seen on the rooftops of buildings and are assumed to belong to those who fell from the aircraft.
"Locals near Kabul airport claim that three young men who were holding themselves tightly in the tires of an airplane fell on top of people's houses. One of the locals confirmed this and said that the fall of these people made a loud and terrifying noise," said the Afghan news agency called Aśvaka.
Since the terrorist group took over the country's land borders, the airport was the only possible way out for Afghans and others to make it out of the country. The US military had secured the international airport, and the scene was utter chaos as hundreds of people ran onto the tarmac and climbed over walls to make it inside any plane they possibly could.
One woman, Shafi Arifi, said she had a ticket to travel to Uzbekistan on Sunday, August 15. However, the place was crawling with people everywhere, and she couldn't board the aircraft because too many people raced inside before she could.
"There was no room for us to stand," 24-year-old Shafi said. "Children were crying, women were shouting, young and old men were so angry and upset, no one could hear each other. There was no oxygen to breathe." Shafi had no choice but to give up and head back to her house.
In the wake of the Taliban's speedy conquest of the country, US President Joe Biden defended America's decision to exit from Afghanistan and admitted that the pullout was "messy."
"If anything, the developments of the past week reinforce that ending US military involvement in Afghanistan now was the right decision," Biden said. "American troops cannot and should not be fighting in a war and dying in a war that Afghan forces are not willing to fight for themselves."