Opportunities bring Opitz brothers together in Fayetteville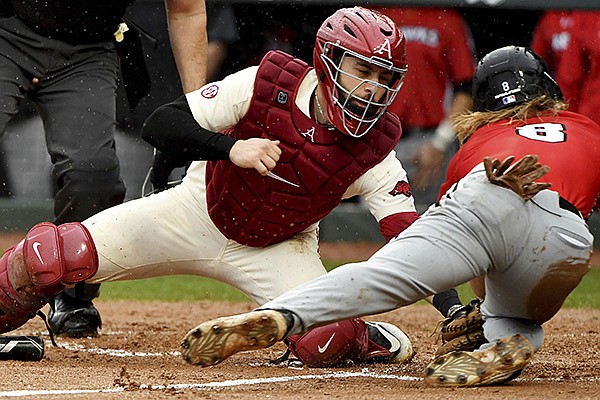 FAYETTEVILLE, Ark. — Draft-day disappointment last year led to the chance of a lifetime for Arkansas catcher Casey Opitz.
Not only has Opitz returned to a Razorback roster that is deep, experienced and primed for a potential run at the third College World Series of his career, he does so as one of two members of his family on the team.
His older brother Shane joined Arkansas' staff in January as a graduate manager. In his new role, Shane Opitz is primarily assisting hitting coach Nate Thompson.
"Honestly, just anything I see, I just kind of share my experiences with anything to do with baseball," Shane said. "I've played every position in baseball all the way up to Triple-A, so I'm just here to help the guys. If anyone comes to me with any questions about anything, I'm there, but my primary role is to help with Nate developing hitters."
Shane never played college baseball, opting to sign with the Toronto Blue Jays in 2010 instead of attending Nebraska, where he committed out of Centennial (Colo.) Heritage High School. He spent parts of 10 seasons playing minor league baseball for the Blue Jays (2010-17), Milwaukee Brewers (2018) and in the Atlantic League (2019).
Shane, 29, spent last season as a volunteer coach at Northern Colorado, about 80 miles from where he and his two brothers (Jake Opitz is older than Shane and Casey) grew up near Denver.
Shane spent only 17 games with Northern Colorado before the 2020 season was shut down because of the covid-19 outbreak. The team's final two games were played at Nebraska.
"I think he kind of gives a good perspective on a lot of things," said Issac Bracken, an Arkansas graduate-transfer pitcher who pitched last season at Northern Colorado. "Some guys can bring a little bit too much intensity to the table, but Shane is always really calm and can kind of see things through his own eyes and maybe take a different look at different guys, and tell them different things than a normal coach would say. He always has good insight."
Bracken committed to Arkansas last May, but at the time Shane was undecided on his next move. After Casey went undrafted the following month during the shortened MLB Draft, Shane decided to inquire about a position on the Razorbacks' staff with coach Dave Van Horn.
According to Casey, Van Horn called to make sure he would be OK with the arrangement. The phone call didn't last long.
"I was ecstatic to have him up here and to continue to be able to work with him," Casey said. "It's just huge to have a guy who knows you just as good as you know yourself, and work with him every day and have a great time doing it.
"I was excited to come back and get with my friends and teammates and coaches back up here, but then that added an extra layer to it, to be with my family even when I was away from them. It was huge to have that."
When Casey returned to Colorado following the covid-19 outbreak last spring, he, Shane and Jake worked out together in a baseball training area Shane constructed in the basement of his home.
Jake, who played college baseball at Nebraska and is now a minor league coach in the Colorado Rockies' organization, had access to a hitting facility where the brothers also trained. They spent several hours each day together, a time during which Casey said he grew as a player.
"It was huge to get with them," Casey said. "We were able to go back and look at swings, and fine tune things that could be improved on, whether it was how long my bat stays through zone — just little things like that, it was huge to be able work with him and my oldest brother. They are two guys who have been through so much baseball and know so much baseball, they're able to break it down and be able to explain it to me, and it's been incredible."
The improvement at the plate has shown early this season. Casey is batting .381 — tops among every-day players on the Razorbacks' roster — and has three doubles.
"I think a lot of people are starting to see that Casey's a definite threat at the plate," Van Horn said Monday.
Because of the age gap — Casey is 12 years younger than Jake and 6 1/2 years younger than Shane — the brothers never played together in a team setting.
"I've been playing since I was 18 in pro ball, so I haven't got to see him play a whole lot," Shane said of Casey. "So just getting a chance to see him play and all the behind-the-scenes work he puts in, I'm really enjoying it."
Shane never played college baseball, so he said it has been eye opening to watch his brother's daily routine.
"I guess I didn't realize the life and the work ethic you have to have with school and baseball," Shane said. "His work ethic is unlike anything I've ever seen."
Shane has also watched firsthand his brother's leadership qualities he has read about from afar. Of Casey, Van Horn told the Swatters Club last month, "I've never had a better leader."
"It's really just incredible how he interacts with his teammates and he tries to help them however he can," Shane said. "Especially the pitching staff, he takes so much pride making them as good as they can possibly be."
Shane and his wife, Catherine, moved to Fayetteville shortly after Christmas with their son, Carter, who was 2 months old at the time. They invite Casey over for family dinner a couple of times each week.
"It's really special," Shane said. "I think we'll look back at this time and there will be a lot of good memories associated with this."