NWA Council to Host COVID-19 Vaccine Clinic at Razorback Stadium April 1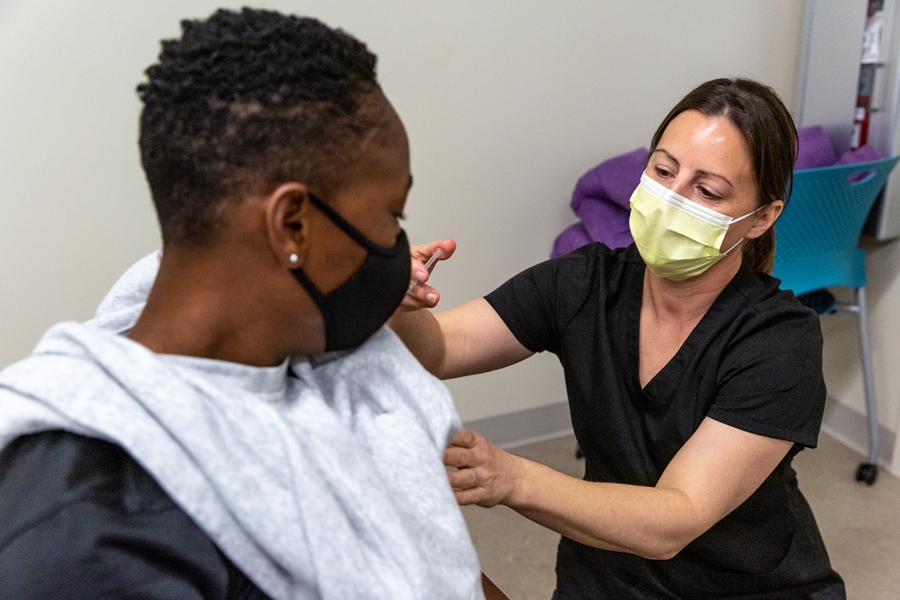 FAYETTEVILLE, Ark. – The Northwest Arkansas Council in collaboration with the region's health care systems will host an open COVID-19 vaccination clinic at Donald W. Reynolds Razorback Stadium on the U of A campus on Thursday, April 1 from 8 a.m. – 4 p.m. Participants must schedule an appointment prior to the clinic.
The clinic is for any Arkansan who is 16 years and older and would like to receive the vaccine. This will be the first of multiple weekly clinics provided by the NWA Council throughout the Northwest Arkansas region.
Eligible Northwest Arkansas residents can sign up for an appointment at the NWA Council website. Participants must also fill out an immunization consent form.
This clinic will be providing the Pfizer-BioNTech vaccine which requires two doses. A second dose clinic will be scheduled in three weeks.
Volunteers to help at the clinic are also needed. Those interested can sign up now. Volunteers with a healthcare/medical background will be given first priority. Students who are pre-med, nursing or physician assistants majors are all encouraged to volunteer.
If you are unable to attend this week's clinic, the NWA Council will be holding other clinics on Thursday, April 8 and Thursday, April 15 at the Northwest Arkansas Mall in the former Sears Service Center (4201 N Shiloh Dr., Suite 98) from 8 a.m. – 4 p.m. Links to register for those clinics will be available in the coming days.
WHO IS ELIGIBLE
Per the governor's announcement this week, all Arkansans age 16 and older are eligible to receive the COVID-19 vaccine at the NWA Council's clinics.
For information about the state vaccination plan, visit the Arkansas Department of Health website.
PARKING
The vaccine clinic on April 1 will be conducted in the SEC Club of Razorback Stadium (350 N Razorback Road), which can be accessed from the North End Zone parking lot located at the intersection of Razorback Road, Maple Street and Stadium Drive. Members of the public should plan to park in Lots 44, 72 and 73 on campus in spots closest to the stadium and enter through Gate 14.
WHAT TO BRING
This documentation is required to receive the vaccine:
A completed Vaccine Consent Form
Driver's license or other form of photo identification and age verification
Mask-wearing will still be required when attending the vaccination clinic. The U of A has implemented extensive cleaning and operational protocols to keep the campus community safe and healthy from community spread and airborne transmission of COVID-19 while also complying with state and federal directives.
These health guidelines can be found in the university's Spring COVID-19 Response Guide.
About the Northwest Arkansas Council: Established in 1990 by Sam Walton and 30 other business leaders, the Northwest Arkansas Council is a private, nonprofit organization working to advance job opportunities, talent recruitment, physical infrastructure and quality of life in the region. Most of the Council's more than 100 members are companies, including Walmart, Tyson Foods, J.B. Hunt Transport Services, Simmons Foods and George's, Inc. Learn more at nwacouncil.org.
About the University of Arkansas: As Arkansas' flagship institution, the U of A provides an internationally competitive education in more than 200 academic programs. Founded in 1871, the U of A contributes more than $2.2 billion to Arkansas' economy through the teaching of new knowledge and skills, entrepreneurship and job development, discovery through research and creative activity while also providing training for professional disciplines. The Carnegie Foundation classifies the U of A among the top 3% of U.S. colleges and universities with the highest level of research activity. U.S. News & World Report ranks the U of A among the top public universities in the nation. See how the U of A works to build a better world at Arkansas Research News.