No. 25 Memphis takes down Arkansas to move to 5-1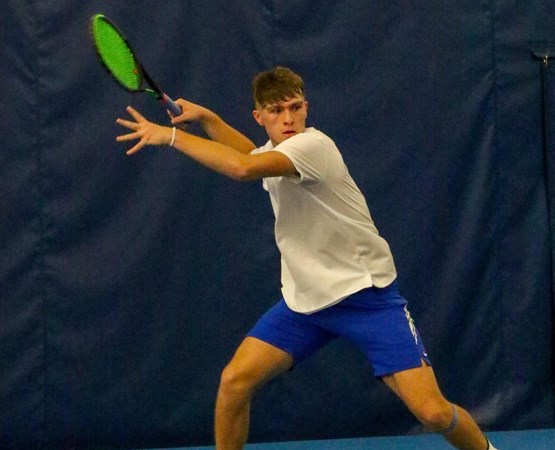 FAYETTEVILLE, Ark. – The 25th-ranked Memphis Tigers men's tennis team picked up its third-straight win with a 5-2 victory at Arkansas Sunday afternoon in Fayetteville, Ark.
Heading into the first American Athletic Conference match of the season on Friday, Memphis (5-1) has road wins at No. 17 Ole Miss, Clemson, Vanderbilt, and now Arkansas under its belt.
Memphis and Arkansas split the first two doubles matches to head to a decisive third match. The Tigers' Jan Pallares and Patrick Sydow clinched the doubles point for Memphis with a 6-4 win over Arkansas' Maxim Verboven and Avery Zavala.
The Tigers came out firing in singles competition, winning the first three points to seal the match. Pallares, Oscar Cutting, and James Story took the first three points in singles, with Story coming back to beat 72nd-ranked Alex Reco of Arkansas after losing the first set. Story earned 7-5, 7-5 wins after dropping the first set, 6-4.
Arkansas (6-4) won the next two matches from the fifth and second positions, before Memphis' Jeremy Taylor closed the match with a win in three sets to bring the contest to the final score of 5-2.
The Tigers open AAC play Friday at Wichita State and next Sunday at Tulsa.
Results
Singles
1. James Story (MEM) def. #72 Alex Reco (ARK) 4-6, 7-5, 7-5
2. Maxim Verboven (ARK) def. David Stevenson (MEM) 7-5, 4-6, 7-5
3. Oscar Cutting (MEM) def. Nico Rousset (ARK) 6-3, 6-3
4. Jan Pallares (MEM) def. Melvin Manuel (ARK) 6-0, 6-4
5. Adrien Burdet (ARK) def. Pau Fanlo (MEM) 6-1, 4-6, 7-5
6. Jeremy Taylor (MEM) def. Enrique Paya (ARK) 7-5, 2-6, 7-5
Doubles
1. Hunter Harrison/Enrique Paya (ARK) def. Oscar Cutting/David Stevenson (MEM) 6-3
2. Jan Pallares/Patrick Sydow (MEM) def. Maxim Verboven/Avery Zavala (ARK) 6-4
3. James Story/Jeremy Taylor (MEM) def. Melvin Manuel/Jose D. Alonso (ARK) 6-3