SEMO coach leaves impressed with Razorbacks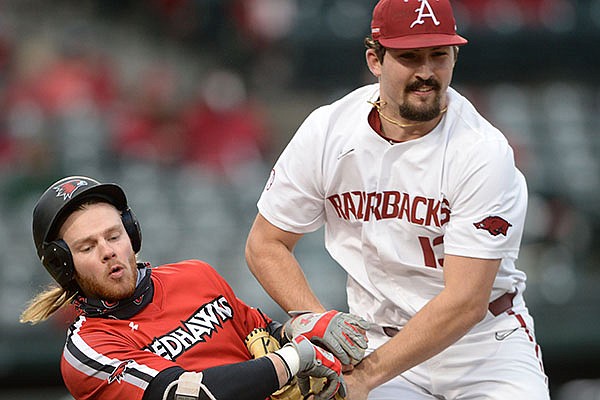 FAYETTEVILLE, Ark. — After pushing its record to 7-0 this weekend with a four-game sweep of Southeast Missouri State, Arkansas' baseball team finds itself No. 1 in two baseball polls.
The Razorbacks entered the weekend No. 2 in the D1Baseball poll, but Central Florida took two out of three games at No. 1 Ole Miss.
Arkansas will remain No. 8 in the preseason USA Today Baseball Coaches Poll for at least one more week. That poll will not be updated for the first time until March 8. The Arkansas Democrat-Gazette recognizes the coaches poll as its rankings of record.
Arkansas coach Dave Van Horn did not want to jump the gun on possible ascension after a sweep at Baum-Walker Stadium.
"Well, really I don't know where we're going to be picked," Van Horn said. "I'll be more than happy to comment if it happens, but I don't really have anything to say about it because it hasn't happened."
The Razorbacks downed three top-11 teams last weekend in Texas Tech, Texas and TCU in the College Baseball Showdown.
Count Southeast Missouri State coach Andy Sawyers among those impressed with the Razorbacks. He thinks they are worthy of a lofty ranking.
Arkansas rallied to win 6-5 in 10 innings Thursday, 7-3 on Friday, 9-3 on Saturday and 11-4 in a rain-shortened, five-inning game on Sunday.
"I thought we played two pretty good games and especially on Thursday when we gave them all they could handle," Sawyers said. "It was a pretty close game and I thought we had a chance to win and probably should have won, but we didn't quite get it finished off.
"I thought we also played a very competitive game on Friday. But we are a little banged up on the mound right now and our three-hole starter didn't make the trip and they spread us out the last two days. But we did compete well for two days."
Arkansas' deep pitching staff wowed Sawyers, a former Van Horn assistant coach at Nebraska.
"The thing I am most amazed about with Arkansas is their depth on the mound right now," Sawyers said. "They have the world's largest collection of 93 mph arms. I can tell you that. Man, that is a pretty impressive collection they have there.
"I know they are not set on roles yet and you are probably not going to see the same rotation and order you saw this weekend next weekend. What a talented group they have assembled. It is so impressive."
He also made note of Matt Goodheart's return to the Arkansas batting lineup. Goodheart played the final two games and hit a two-run home run Sunday.
Goodheart missed the first five games for health reasons.
"Getting Goodheart back in there is probably a big deal for them," Sawyers said. "I don't want to speak for them, but it seems like he is kind of an emotional leader for them. He is a guy with a lot of experience that they seem to rally around. Putting him back in the order probably had a little effect on it.
"They just have a pretty balanced group. They have got some power and they have got some speed. They have left-handed hitters, they have right-handed hitters."
Sawyers was previously aware of Arkansas newcomer Jalen Battles, who batted eighth and ninth in the final three games of the series. Battles was 2-for-3 with 2 RBI Sunday.
"I think the bottom of the order is pretty dangerous," Sawyers said. "Battles is significantly improved from a year ago when he was in junior college. I really like the bottom of their order."
Van Horn mentioned SEMO was a quality mid-major team that would probably win the Ohio Valley Conference.
"I do think we have a good team," Sawyers said. "I think with every mid-major, it is just our margin for error and health. (Depth) is not going to be what Arkansas has. If they have a guy or two that gets injured, they have other talented guys."
Sawyers said SEMO (2-5) would love to come back to Arkansas for an NCAA regional later this year.
"I think we have a darn good club and I don't think our guys were down from this weekend," Sawyers said. "I think they saw they could come to an SEC stadium and play well."
Arkansas will return to action at 3 p.m. Friday against another OVC foe, Murray State, for the first game of a three-game series at Baum-Walker Stadium.