Newly Named Nolan Richardson Drive and Leroy Pond Avenue Unveiled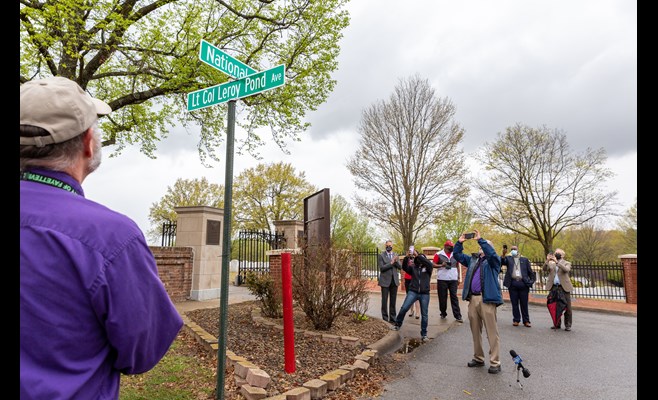 FAYETTEVILLE, Ark. – The city of Fayetteville in collaboration with the University of Arkansas Black Alumni Society officially renamed two city streets on Friday, April 16, honoring local war hero Leroy Pond and former Razorback men's basketball coach Nolan Richardson.
Both Nolan Richardson Drive and Lt. Col. Leroy Pond Avenue were unveiled at back-to-back ceremonies with members of the campus and larger communities, and family members in attendance. Former Razorback athletes including several of Richardson's former players such as Oliver Miller, Todd Day, Corey Beck and Kareem Reid were in attendance. Former track stars Randy Coleman and Seneca Lassiter, former football players Limbo Parks and Greg Thomas, current Razorback men's basketball coach Eric Musselman, and former coaches John McDonnell and Norm DeBriyn were noticeable in the crowd.
Richardson, himself, was unable to be in attendance due to his family's health and the ongoing pandemic. He was able to view the ceremony virtually and speak to the crowd via a recorded message.
The new Nolan Richardson Drive, formerly Leroy Pond Drive, is located along the south side of Bud Walton Arena connecting Razorback Road and Stadium Drive. The new Lt. Col. Leroy Pond Avenue is now located in place of the former Government Avenue connecting Martin Luther King Jr. Boulevard and the Fayetteville National Cemetery.
The idea to honor the hall of fame basketball coach was brought forth by Fayetteville Councilman D'Andre Jones last month after discussions with the University of Arkansas Black Alumni Society and others on campus. The Fayetteville City Council approved the name change at a meeting on March 16.
Jones was joined by a host of speakers at the campus ceremony including U of A Black Alumni President Synetra Hughes, Fayetteville Mayor Lioneld Jordan, Chancellor Joe Steinmetz, Yvette Murphy-Erby, vice chancellor for diversity and inclusion, and Angela Mosley Monts, assistant vice chancellor for diversity and inclusion.
NOLAN RICHARDSON
Richardson, who is a member of the National Collegiate Basketball Hall of Fame and the Naismith Memorial Basketball Hall of Fame was 389-169 in 17 seasons as Arkansas head coach and set a school record for wins and a .697 winning percentage.
He led the Razorbacks to 13 NCAA Tournament appearances including six Sweet 16's (1990, 1991, 1993, 1994, 1995, 1996), four Elite Eights (1990, 1991, 1994, 1995), three Final Fours (1990, 1994, 1995), a national runner-up finish (1995) and the 1994 NCAA Championship.
In Richardson's 22 combined years as a head coach at the collegiate level — at Western Texas Junior College, the University of Tulsa and the University of Arkansas — he compiled a record of 508-206 (.711) and became the only head coach in college basketball history to win a National Junior College Championship, NIT Championship and NCAA Championship.
LT. COL. LEROY POND
Pond's legacy is now honored with the naming of the road leading to the Fayetteville National Cemetery. Pond was a World War II veteran who participated in D-Day and was honored with a Silver Star, a Purple Heart and other awards for his bravery in battle.
He was later wounded in Germany and passed away in 1945. His memory lived on as the original Leroy Pond Drive was a road leading into Camp Leroy Pond, which was a housing complex south of where Bud Walton Arena sits today, used for students who were returning home after World War II.
Fayetteville National Cemetery is a United States National Cemetery that is on the National Register of Historic Places and is where thousands of veterans of the Revolutionary War, Civil War, World War I, World War II, Korea, Vietnam, and the conflicts in Iraq and Afghanistan are buried.
About the University of Arkansas: As Arkansas' flagship institution, the U of A provides an internationally competitive education in more than 200 academic programs. Founded in 1871, the U of A contributes more than $2.2 billion to Arkansas' economy through the teaching of new knowledge and skills, entrepreneurship and job development, discovery through research and creative activity while also providing training for professional disciplines.