Mu breaks World U20 indoor 800m record in Fayetteville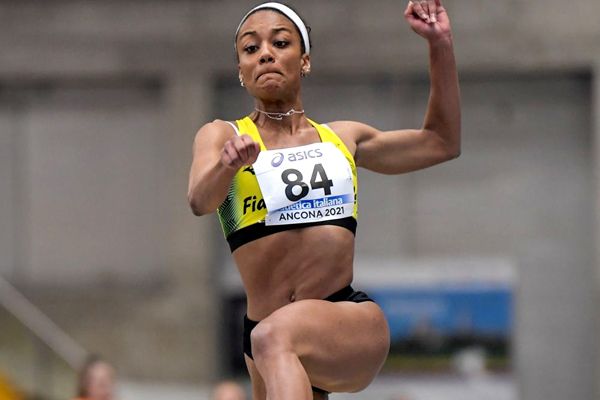 FAYETTEVILLE, Ark. – Athing Mu broke the world U20 indoor 800m record, clocking 1:58.40* at the Southeastern Conference Championships in Fayetteville, Arkansas, on Saturday (27).
The 18-year-old clipped more than half a second from the previous mark of 1:59.03 set by Keely Hodgkinson of Great Britain in Vienna on 30 January, and more than two seconds from her own previous best of 2:01.07 set in College Station, Texas, on 16 January. Mu also broke the collegiate indoor record of 2:00.69 set by Jazmine Fray in 2017.
"She might be the greatest freshman athlete in any sport ever at Texas A&M and maybe the greatest collegiate freshman athlete in the sport of track & field," her coach Pat Henry said. "I've never seen a freshman accomplish the things that she has achieved and we're not even done with the season."
Mu's was one of several standout performances in Fayetteville which also witnessed world leads in the men's 200m and long jump.
The world-leading mark for the men's 200m was revised several times beginning in the heats on Friday (26) where quadruple Pan-American U20 champion Matthew Boling was the fastest in the heats with an indoor PB of 20.37. But in the two-section final on Saturday (27), Joseph Fahnbulleh bettered that time with 20.32.
Fahnbulleh's time lasted just a matter of minutes as a meeting record as Terrance Laird of Louisiana State University went even quicker to win the second section with 20.28 – the fastest time in the world for two years.
World U20 high jump bronze medallist JuVaughn Harrison sailed out to a lifetime best of 8.33m to win a high-quality long jump competition. The LSU student finished ahead of Jamaica's Carey McLeod, a student at the University of Tennessee, who jumped 8.25m. Compatriot Ryan Brown, representing the University of Arkansas, was third with 8.12m while Boling was fourth with an outright PB of 8.07m.
Not long before winning the long jump, Harrison took the high jump title. Once he had the contest won with his first-time clearance at 2.20m, he retired from the competition so that he could compete in the long jump.
McLeod, meanwhile, went on to win the triple jump with a last-round leap of 17.17m, a PB by 49 centimetres. He now sits second on the Jamaican indoor all-time list and becomes the first Jamaican man to jump beyond 8.00m and 17.00m indoors for the long and triple jumps respectively.
There was very nearly a third world-leading mark recorded in Fayetteville when Abby Steiner sped to a 22.41 victory in her 200m heat. The 21-year-old's time is just 0.01 shy of Shaunae Miller-Uibo's world-leading mark, set on the same track four weeks ago, and moves Steiner to equal fourth on the US indoor all-time list, just 0.08 shy of Gwen Torrence's national indoor record.
Noah Williams chopped a couple of tenths off his PB to win the 400m final in 45.26. Seven men across the two-section final clocked sub-46-second times with Elija Godwin finishing second overall (45.37) and U20 Ryan Willie placing third with 45.66, moving him to seventh on the world U20 indoor all-time list.
Elsewhere, Waleed Suliman won the men's mile in 3:58.28, breaking a meeting record that had stood since 1976. Talitha Diggs led the women's qualifiers with 51.91.
Kyle Garland became the 11th man this year to surpass 6000 points in the heptathlon. The 20-year-old set PBs of 15.34m in the shot put and 4.75m in the pole vault en route to his winning score of 6012.
Nineteen-year-old Anna Hall won the women's pentathlon with 4521 and had a relatively easy route to victory after collegiate leader Tyra Gittens of Trinidad and Tobago had a disaster in the long jump, recording just 4.11m and ultimately finishing sixth overall. But Gittens rebounded the following day to win the high jump (1.89m) and long jump (6.62m, equalling her own national indoor record).
Elsewhere on Saturday, Tyler Johnson of Ohio State took an impressive 200m/400m double at the Big-10 Conference Championships in Geneva, Ohio, clocking 45.07 in the latter, albeit on an oversized 300m track. He then doubled back to win the 200m in 20.86.
Nugent clocks world U20 record in Lubbock
Jamaica's Youth Olympic Games bronze medallist Ackera Nugent, a student at Baylor University, produced one of the highlights of the first day of the Big 12 Championships in Lubbock on Friday (26).
The 18-year-old, who has clocked PBs in all five of her 60m hurdles races this year, continued her phenomenal progress to win her heat in 7.91. Her time is faster than the official world U20 record of 8.00, held by Poland's Klaudia Siciarz, and ties the mark set last year by USA's Grace Stark and which is still pending ratification.
In the final on Saturday, however, she was beaten by Pan-American Games silver medallist Channel Brisset, who clocked 7.89 to Nugent's 7.98.
Nigeria's Ruth Usoro continued her horizontal jumps breakthrough, sailing out to a long jump PB of 6.82m, moving the Texas Tech student to equal fifth on the African indoor all-time list. Tara Davis was second with 6.68m. On Saturday, Usoro then won the triple jump with a PB of 14.38m, moving her to fourth on the African indoor all-time list.
Two weeks after joining the six-metre club, KC Lightfoot notched up another pole vault victory with a clearance of 5.90m. Zach Bradford was second with 5.73m.
Kynnedy Flannel won the women's sprint double, finishing just ahead of University of Texas teammate Kevona Davis in both disciplines. Flannel won the 60m in 7.25 with Davis awarded the same time in second place. Flannel then took the 200m in 22.55 with Davis clocking 22.87 – the fastest time by a Jamaican in 13 years.
Elsewhere in Lubbock, Miciah Harris won the men's 200m in 20.38 and Stacey Ann Williams took the women's 400m title in 51.60.
Jacory Patterson provided the highlight of the ACC Championships in Clemson. The Virginia Tech sprinter won the 200m and 400m double, clocking 20.62 and 45.38 in the space of an hour.
A close finish in the  800m saw the top two women finish inside the previous meeting record. Lindsey Butler won in 2:01.96, just 0.03 ahead of Laurie Barton.
At the Husky Classic in Seattle, USA's Annie Kunz added four points to her pentathlon PB with 4614, putting her second on the world list. The Pan-American Games silver medallist recorded PBs of 15.59m in the shot and 5.97m in the long jump.
Williams dashes 6.49 in Colorado Springs
Nineteen-year-old Micah Williams' 6.49 victory in the 60m highlighted the Championships at the Peak competition at the Cadet Center (2211m above sea level) in Colorado Springs on Saturday (28). The performance by the first year student at the University of Oregon is the fastest ever produced by a teenager.
Turner Washington from the University of Arizona won the shot put with a 21.43m effort.