Marshallese ambassador visits Rogers plant to urge covid-19 vaccination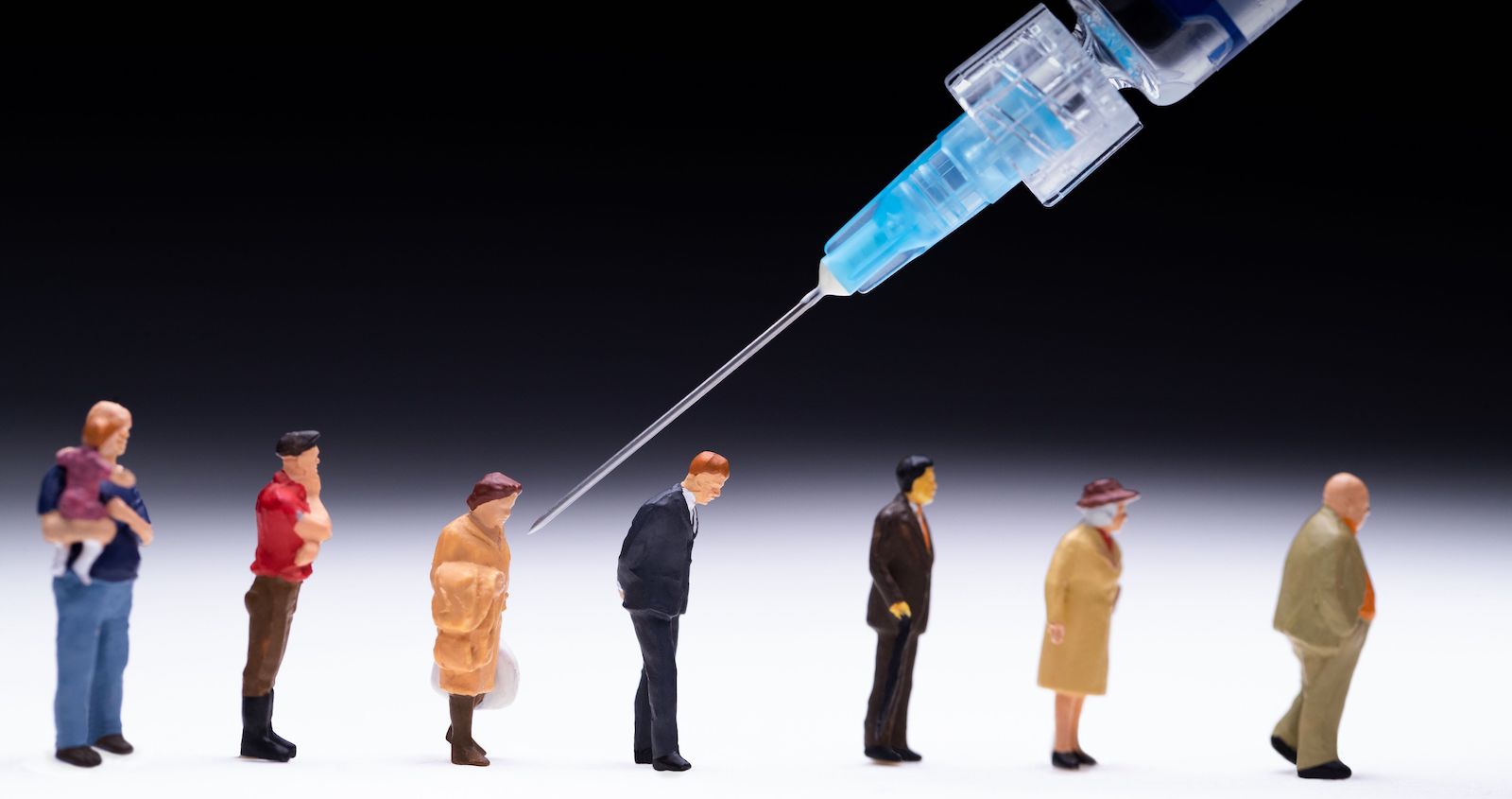 ROGERS, Ark. — The fight against the covid-19 virus was an international effort Monday at a mass vaccination event held at Tyson Foods' Chick-N-Quick plant.
Gerald Zackios, the Republic of the Marshall Islands ambassador to the United States, visited the plant at 400 W. Olrich St. for an outdoor vaccination clinic. The ambassador spoke to some of the plant's Marshallese workers to encourage them to get vaccinated and received his own shot of the Johnson & Johnson vaccine to show his confidence in its safety and effectiveness.
"The shot went perfectly fine, I felt nothing, no effects from the shot at all," Zackios said while sitting with Tyson employees in an area set aside for those who received their shots to make sure they had no adverse reaction to the vaccine. "I will feel much better when I know covid will not target my family, my friends and my community."
Zackios said some Marshallese workers at the plant hesitated to get vaccinated due to lack of information about the vaccines. Providing education and setting an example are ways to overcome that reluctance, he said.
"This woman was hesitant," he said, gesturing to a woman sitting near him. "When she saw that I had taken the shot, she took it as well. I am here to encourage all of them to do their part."
The mass vaccine clinic is one in a series of events the company is holding for its employees, according to Derek Burleson, company spokesman. Other clinics have been held at the Tyson facility in Fayetteville and the Berry Street plant in Rogers. Tyson has held about 50 vaccination events at company facilities nationwide, Burleson said.
About 950 of the 1,100 workers at the Chick-N-Quick plant chose to be vaccinated, Burleson said. The company is offering four hours of compensation for employees who had to arrive early or stay late to be vaccinated, he said.
For employees who didn't participate in Monday's event, Burleson said, the company will work with them to schedule vaccination appointments through the Health Department or other providers and will offer them the same compensation. Another clinic may be held at the plant if a large number of employees who missed Monday's clinic decide they want to be vaccinated, he said.
Jeremy Hank, plant manager at the Olrich Street facility, said about 80 employees at that location are Marshallese.
Hank said Tyson Foods has larger numbers of Marshallese employees at other locations. Northwest Arkansas is home to more than 10,000 Marshall Islanders, the largest single Marshallese community outside the home islands, according to Amy Tu, general counsel for Tyson Foods.
Joyce Mea was one of the workers who participated in Monday's clinic. Mea said she has lived in Northwest Arkansas for 26 years and has worked at the Chick-N-Quick plant for 16 months.
Mea, a native of the Marshall Islands, admitted to being uncertain and even afraid of getting the vaccine before she made up her mind to do so. She said some of those feelings were still with her after receiving the vaccine.
"I'm scared, I don't know what's next," she said. "But I know it's going to work."
Mea said the vaccines have been a topic of discussion among her extended family in the area and some were in favor of receiving the vaccine while others were not.
"Some of them are scared to take it and some want to take it," she said. "I told them we have to take it."
Zackios told a crowd of Tyson employees waiting their turn to be vaccinated he could have received the vaccination in Washington, but he decided to come to Northwest Arkansas to make a public statement by receiving the shot here in front of the people he's encouraging to be vaccinated.
"I wanted to send the message to every member of my community that it is important to take the vaccine and it is safe to take the vaccine," he said.
Covid-19 vaccinations
Workers in the food processing industry in Arkansas were approved for covid-19 vaccinations in February as state health officials began to expand eligibility for the vaccines, which began to be received in December. As of Monday, according to the state covid-19 website, there have been 959,791 doses of covid-19 vaccines given to people in Arkansas out of 1,668,240 doses received. According to the state, 333,753 individuals are fully immunized and 310,588 are partially immunized.