Hutchinson extends COVID-19 emergency declaration, eases some restrictions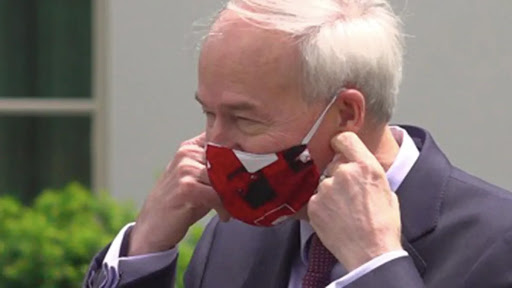 Arkansas— Arkansas Gov. Asa Hutchinson on Friday extended his COVID-19 emergency declaration and the state's mask mandate through next month while changing enforceable directives regarding gatherings and business capacity to optional guidelines.
The declaration was set to expire Saturday, but conditions require it to remain in place for another month, Hutchinson announced during a news conference. The mask mandate will be rescinded if after that time positive coronavirus tests fall beneath a 10% threshold or, if fewer than 7,500 people are being tested per day, there are less than 750 hospitalizations because of COVID-19 in the state.
Effective immediately, enforceable directives restricting businesses such as restaurants, sports and entertainment venues, gyms, casinos and salons will become guidelines, strong recommendations whose violation will no longer carry potential penalties.
"I do not expect to see a change in behavior," Hutchinson said, noting that public education efforts have taught Arkansans how to be safe. Businesses are incentivized to continue following the guidelines because they will lose liability protections if they do not, he said.
Health safety practices enacted by local school districts will remain under their control.
Hutchinson noted recent declines in positive tests, hospitalizations and deaths in Arkansas because of the disease, citing public behavior as the difference-maker.
"We are on the right path," he said.
Secretary of Health Jose Romero said none of the announcements changes the need for residents to be vaccinated against the coronavirus as soon as possible, calling vaccination "the only way" Arkansas can return to pre-pandemic normality.