Hot Bats Guide Hogs to Game Two Win Over SEMO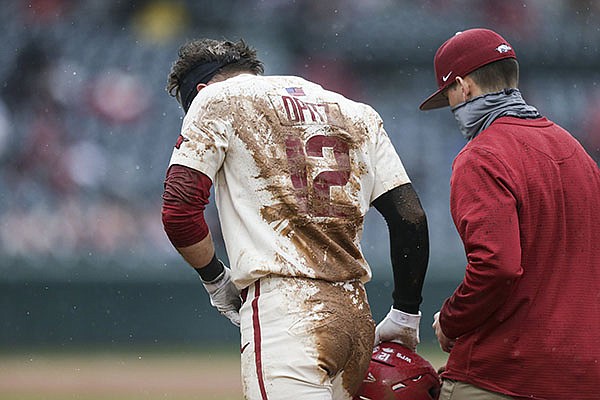 FAYETTEVILLE, Ark. – The second ranked Hogs picked up their fifth victory of the season by a 7-3 margin over Southeast Missouri State Friday afternoon inside Baum-Walker Stadium. This is the third consecutive year that the Hogs have started out with five straight wins.
Robert Moore, right Cayden Wallace, Charlie Welch and Christian Franklin all successfully swung for the fences to help the Razorbacks comeback from an early multi-run deficit for the second consecutive day.
Where's Connor?
Former starting pitcher, Connor Noland, came out of the bullpen in Friday's matchup for his first appearance of the season. Noland came in relief to earn the win. He allowed only one unearned run on two Redhawk hits. He struck out five batters in just over 4 innings on the mound. Noland was able to quiet the RedHawks batters after they opened the gamewith a 2-0 lead in the third inning.
Sooieville Sluggas!
Robert Moore's home run blast into the Hog Pen in the the bottom of the third inning would tie the ballgame at two and the Razorbacks would not look back. Wallace's home run helped the Hogs take the lead with his two run homer for a 4-2 advantage.
Welch's bomb gave Arkansas even more of a cushion when he also hit a two-run homer. His home run (first hit as a Razorback) brought home Brady Slavens to extend the lead to 6-2.
Over the right field wall, Franklin, a preseason all-American at centerfield, would hit a home run for the second time in as many days. His solo shot gave the Hogs a 7-3 lead in the eighth inning that would cap the scoring for both teams.
Mini RedHawk Run
SEMO were not done yet and would add a run to the box score in the seventh inning to pull within three.
Kopps The Kloser
Kevin Kopps would enter the game in the top of the ninth to finish off the RedHawks on the mound. With SEMO hoping for a miraculous comeback, Kopps would strike out two batters to seal the deal for Arkansas.
Time Change
Saturday's game which was set to start at 3 PM was moved to 11 AM for the first pitch. Due to rain in the forecast, first pitch was moved up to make it easier for fans to make it from Baum-Walker to Bud Walton Arena between games.