A great sports weekend few will see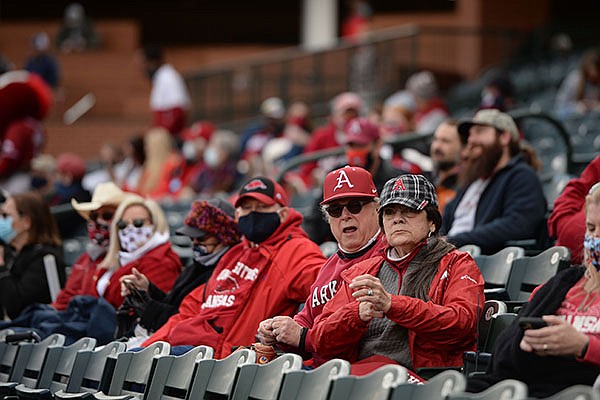 FAYETTEVILLE, Ark. — Lou Holtz once described one of his defensive back's blazing 4.3 40-yard dash speed as "the ability to get to the wrong place faster than anybody else."
Seems that lament also applies to the great communications innovations of the Internet and social media enabling misinformation and disinformation spreading faster than it could ever spread before.
On the Arkansas Razorbacks' scale, the truly paltriest scale compared to a worldwide pandemic but this column devotes its subject to Razorbacks sports, it brings cause to wonder if the following year's calendar of Razorbacks events will be so sparsely attended as this should-be gala weekend of a University of Arkansas athletics festival.
The UA, with its historically by far most successful national championship programs, today completes hosting the greatest conference show in indoor track, the three-day SEC Men's and SEC Women's Indoor Track and Field Championships at the Randal Tyson Indoor Track.
And March 11-13 the UA hosts the NCAA Indoor Championships at the already world-class Randal Tyson facility refurbished and enhanced just for the occasions.
Too bad spectators won't see either firsthand. Because of the intense nature of the indoor sport already flowing with athletes milling between events, no fans are allowed this year for collegiate track's greatest spectacles with Coach Lance Harter's nationally No. 1 ranked Razorbacks women and Coach Chris Bucknam's nationally No. 3 Razorbacks men defending SEC champions.
Facing vastly limited attendance allowance because of the covid-19 pandemic, are such events throughout this weekend including the Razorbacks' 20th-ranked men's basketball team hosting LSU today; the 16th-ranked Razorbacks women's basketball team hosting Alabama Sunday; the No. 8 Razorbacks baseball team hosting Southeast Missouri State; and the No. 16-ranked softball team hosting Texas Tech and Southeast Missouri State.
Arkansas women's tennis hosted Memphis on Friday. Arkansas men's tennis hosts Memphis on Sunday.
Of course it's a bald-face affront with 500,000-plus dead in the U.S. alone from this worldwide pandemic to pine over Arkansas fans missing a gala sports weekend, but nonetheless it's lamentable.
Particularly lamentable if we find the same situations in the same places this time next year.
Best we know from the epidemiologists, masks and the current vaccines seem the best defense against covid-19 present and the best hope for developing the immunity to return life to pre-covid normalcy in the future.
It seems we would be countrywide, even worldwide, united in confronting and attacking this pandemic like against past pandemic scourges.
Yet on our social media misinformation/disinformation highway conspiracy theories abound. Masks get shamed as unpatriotic as if the right to infect became an actual right.
Vaccines get deemed like voodoo, assaulted under mysterious attacks.
Makes one wonder if the likes of polio and smallpox would have been conquered had mankind the ability and inclination then to spread misinformation and disinformation like mankind does now.
Tragically, indeed, it seems it's not just Lou Holtz's defensive back whose blazing speed enabled getting fastest to the wrong place.