Hogs not ready to celebrate tournament success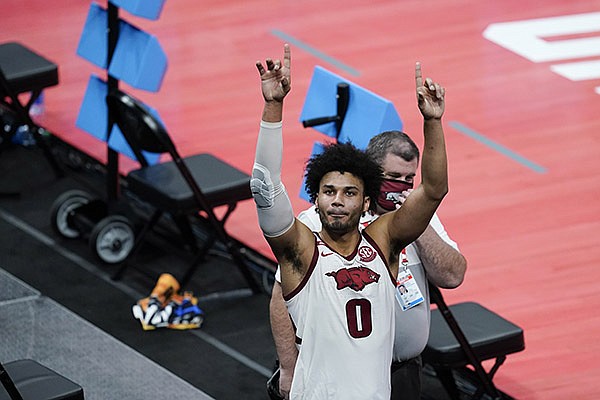 FAYETTEVILLE, Ark. — The University of Arkansas picked up its first NCAA Tournament victory since 2017 when the Razorbacks beat Colgate 85-68 on Friday and overcame a 14-point first-half deficit.
But Razorbacks Coach Eric Musselman said his players didn't celebrate after the game.
"There was no celebrating in the locker room," Musselman said. "The other tournaments that we've been able to advance in [at Nevada], there was a lot of celebration.
"There was none [Friday]. When I walked in and asked if they were happy and all right, they said, 'Coach, we were supposed to win.' Which is the mindset that you want your basketball team to have."
Arkansas is the No. 3 seed in the South Region. Colgate was the No. 14, seed, but some national commentators such as Seth Davis of CBS picked the Raiders to upset the Razorbacks.
"We expected to win," Arkansas senior guard Jalen Tate said. "I'm not going to say they weren't a great team, but I don't feel like we should celebrate."
Arkansas played Colgate after losing to LSU 78-71 in the SEC Tournament semifinals.
"It was also a bounce-back game," Tate said. "We didn't like the way we played against LSU."
Historic Hinkle
Tonight's game against Texas Tech won't be the first time Arkansas has played in Hinkle Fieldhouse, but it's been 90 years.
Arkansas' basketball program was in its eight season when Butler beat the Razorbacks 37-21 in Hinkle Fieldhouse on Jan. 2, 1931.
The building became famous when it was used for scenes depicting the Indiana state championship game in "Hoosiers," a 1985 movie which has become a sports classic
"I don't know how many of our guys truly understand the significance of the building," Arkansas Coach Eric Musselman said. "I'm not going to spend time talking to them about the significance because I'm running out of mind space time with them anyhow because it's such a short time frame [to prepare for tonight's game].
"Any mind space, I want it to be on Texas Tech."
Tonight will be the first time Musselman has been involved in a game in Hinkle Fieldhouse, but he practiced in the building a player.
Musselman was a senior on the University of San Diego team that lost to Auburn 62-61 in a first-round game in the 1987 NCAA Tournament in Indianapolis.
"'[Hinkle Fieldhouse] was our practice site even though we played in the Hoosier Dome," Musselman said. "So I've been in there. It's pretty cool."
Beard on Muss
Texas Tech Chris Beard said he's on good terms on with Arkansas Coach Eric Musselman.
"I like Muss," Beard said after the Red Raiders beat Utah State 65-53 on Friday. "We exchange calls, a text every once in a while.
"A lot of respect for what he did at Nevada. We played those guys in Lubbock in a really tough game we were fortunate to win."
Texas Tech beat Nevada 82-76 in overtime during the 2017-18 season when Musselman was the Wolf Pack's coach.
Musselman is 43-18 in two seasons at Arkansas, including 23-6 this season. He's a former NBA coach at Golden State and Sacramento.
"He's doing a great job, and so a lot of respect for their program," Beard said. "I've seen them play as a fan this year. I know they've got a lottery pick [in Moses Moody], I know they've got a couple other NBA guys.
"I know they've got an NBA coach that's going to game plan and scheme, so it'll be a real challenge for us, but we've been through a lot of challenges lately.
"When you play 18 Big 12 games and you play in my opinion one of the most disciplined teams in the tournament in Game One, Utah State, it's not going to be an excuse that we haven't been challenged."
Arkansas is ranked No. 10 in The Associated Press poll and is a No. 3 seed. Texas Tech is ranked No. 21 and is a No. 6 seed.
"They're worthy of their high seed. They've had a great season," Bear said. "Nothing but respect for Coach and those players. We look forward to the opportunity to play against a great team. "
Muss on Beard
Eric Musselman returned the compliment when asked about Chris Beard.
"Coach Beard does an incredible job," Musselman said. "He's a guy that thinks basketball in the middle of the summer and you'll get a text from him.
"He's really, really competitive. He hates to lose. His teams play with great toughness. His teams are resilient. He's won everywhere he's been.
"I think in the coaching profession, everyone has tremendous respect for how hard the Red Raiders play and certainly that's been characteristics of his teams wherever he's coached."