Observations, notable plays and players from Arkansas' first spring scrimmage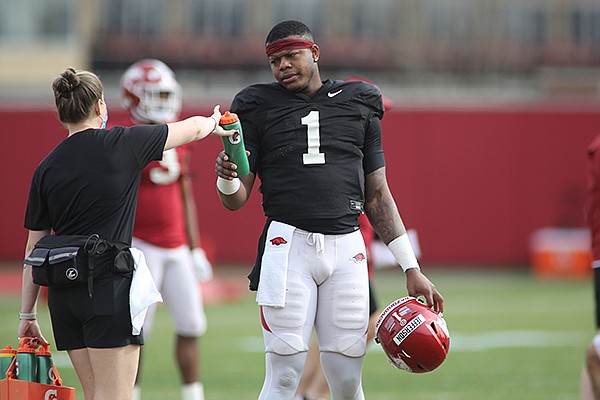 FAYETTEVILLE, Ark.— Neither side of the ball dominated Arkansas' first open scrimmage of the spring Saturday.
With focus on the quarterback battle between KJ Jefferson and Malik Hornsby, it was freshman running back Raheim "Rocket" Sanders who seemed to make the most highlight-reel plays on offense. Running primarily with backups, Sanders unofficially had 56 yards on six carries, and had the scrimmage's longest run of 35 yards against the second-team defense.
Led primarily by Hornsby, the second-team offense moved the ball more consistently during a scrimmage portion of practice, but the first-team offense performed better in situational work.
Hornsby, who also worked some with the first-team offense, completed 5 of 8 passes for 79 yards prior to situational work.
Hornsby's 37-yard pass to John David White set up a 1-yard touchdown run by Dominique Johnson on the next play. Johnson also had a notable run of seven yards on a third-and-6 during the scrimmage, and a 10-yard touchdown run on second-and-goal in low red zone work.
Running back Trelon Smith made some strong runs with the first team, including a long of 18 yards. Smith totaled 29 yards on the first three plays of the scrimmage and unofficially had 63 yards on six carries prior to situational work.
Smith also had an 11-yard run in situational work on third-and-5 and looked good on a pair of over-the-top runs in the low red zone. Smith scored on a 1-yard touchdown one play after a 3-yard gain on first-and-goal from the 4.
The first-team defense got the better of the first-team offense in third-down work. A combination of good coverage and good pressure caused Jefferson to scramble three times in seven plays, and Jefferson had to quickly release a pass on a fourth play that resulted in a 1-yard loss by tight end Blake Kern.
Hornsby didn't fare much better in third-down work. He converted a third-and-5 with a pass just beyond the sticks to White, and converted a third-and-7 with a 10-yard scramble, but five other third-down snaps resulted in either a sack or an overthrown pass.
In other situational work, Jefferson completed an 18-yard touchdown on a wheel route to Kern on the first play of a series in the red zone. Hornsby's red zone drive with the second team resulted in a three-and-out after he threw behind an open receiver, Kendall Catalon, in the end zone on third-and-6.
In low red zone work Hornsby was sacked by Dorian Gerald for a 6-yard loss on first down. Johnson's 10-yard touchdown run came on the next play.
In two-minute work, Jefferson led the first-team offense 23 yards in 33 seconds to set up a 52-yard field goal attempt by freshman Cameron Little that was no good. Jefferson was 2 for 2 for 19 yards on the drive, with completions to TJ Hammonds and Treylon Burks.
Hornsby's two-minute drive ended in one play when he threw behind the line of scrimmage and it was recovered by the defense. That was the final play of the day.
Jefferson and Hornsby combined for a touchdown drive against the first-team defense late during the scrimmage portion. Situational work followed.
After Hornsby led the first-team offense to the red zone, Jefferson entered and threw a 20-yard touchdown pass to Burks in the back of the end zone.
Jefferson also led a scoring drive on the first drive of the scrimmage that resulted in Matt Phillips' 25-yard field goal. Burks had a 31-yard reception from Jefferson to set up the field goal.
During kicking periods, Little was good on a 41-yard field goal into the wind but missed wide right on a 46-yard attempt moments later. Phillips was no good once and Vito Calvaruso was no good twice on 41-yard attempts toward the south end with the wind at their back.
Little was the most consistent punter with punts in the air of 43 and 50 yards. Reid Bauer had two punts of 41 and 39 yards in the air.
Phillips was 3 for 3 on extra-point attempts and Little made his only PAT.
Several Razorbacks worked as returners, but none were allowed to be tackled and most returns were quickly blown dead. Myles Slusher might have had a 100-yard kickoff return touchdown had one of the plays not been blown dead.
During scrimmage work, quarterback John Stephen Jones was 3 for 5 for 23 yards and Lucas Coley was 2 for 7 for 24 yards with the third-team offense. Coley threw an 11-yard touchdown pass to White.
Defensive highlights included an interception by Malik Chavis on a pass thrown by Jefferson early in the scrimmage, pass breakups by Jon Conley and Zach Zimos with third teamers, and a big hit by defensive lineman Eric Thomas for a 5-yard loss on a run by Preston Crawford.
Nick Turner also stripped Darin Turner after a reception of 10 yards, and Jaedon Wilson recovered.