Four Score on Final Day of SEC Indoor Championships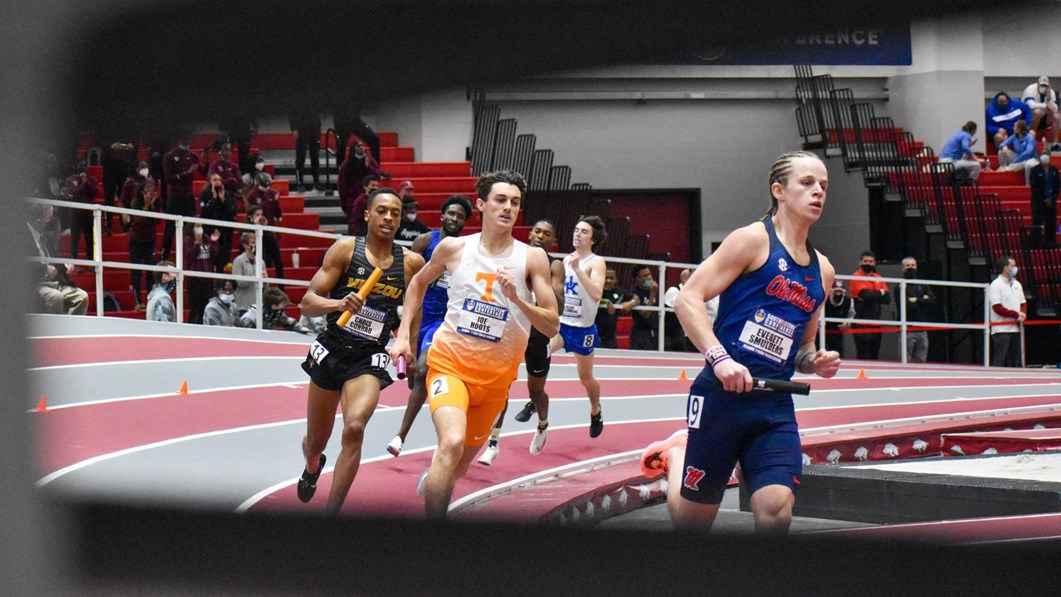 FAYETTEVILLE, Ark. – Mississippi State track and field closed out the SEC Indoor Conference Championships with four Bulldogs scoring on the final day, including two freshmen.
"This weekend we took a young team comprised of freshmen and first-time transfers to the toughest meet in the world in indoor," said head coach Chris Woods. "I'm proud of the way my team handled the environment and competed, scoring in places that were unexpected and rising to the competition level. We left with many lifetime bests and nationally-ranked marks. As we send a few of our team leaders off to Nationals in a few weeks, we've got great momentum heading into the outdoor season! Jesse Henderson and Shayla Broughton will represent us proudly at the Indoor NCAA Meet in two weeks and we're excited about what they are capable of doing."
To start the day out was the men's shot put, with Jeremiah Pierce placing 13th with a throw of 15.18m. In the triple jump, Keshun Byrd finished in 11th with a mark at 15.17m.
Jesse Henderson started the running portion of the day for the Dawgs, finishing fifth in the 60m hurdle finals with a time of 7.75, earning the first points for the men. At the 2020 Championships, he finished in eighth place.
Navasky Anderson ran in the 800m finals, coming in eighth place at 1:59.05, scoring in his first SEC Indoor Championships.
Giacomo DeLuca rounded out the men's competition, coming in 17th place with a time of 8:17.39 in the 3,000m.
For the women, Amy Warren gave her best performance in the triple jump. Her first attempt drew a mark at 12.88m, moving her into the No. 5 spot in school history in the event, passing Erica Bougard's 12.73m. She would finish in seventh, scoring for the Bulldogs at her first Conference Championships.
Rosealee Cooper came in seventh in the 60m hurdles with a time of 8.31, also scoring for the Bulldogs in her first SEC Championships.
Overall, the women finished in 13th with 11.5 points while the men finished in 13th with five points.
Men's Results
Shot Put: Isaac Odugbesan, Alabama, 20.50m (67'3.25″)
MSU: 13. Jeremiah Pierce, 15.18m (49'9.75″)
Triple Jump: Carey McLeod, Tennessee, 17.17m (56'4″)
MSU: 11. Keshun Byrd, 15.17m (49'9.25″)
60m Hurdles: Damion Thomas, LSU, 7.60
MSU: 5. Jesse Henderson, 7.75
800m: Brandon Miller, Texas A&M, 1:49.69
MSU: 8. Navasky Anderson, 1:59.05
3000m: Mario Garcia Romo, Ole Miss, 8:03.99
MSU: 17. Giacomo DeLuca, 8:17.39
Women's Results
Triple Jump: Jasmine Moore, Georgia, 13.97m (45'10")
MSU: 7. Amy Warren, 12.88m (42'3.25″)
60m Hurdles: Milan Young, LSU, 8.03
MSU: 7. Rosealee Cooper, 8.31
Final Standings
Women
1. Arkansas, 141 points
2. Florida, 81 points
3. Georgia, 69 points
4. LSU, 62 points
5. Kentucky, 57 points
6. Alabama, 56 points
7. Ole Miss, 50 points
8. Texas A&M, 38 points
9. Tennessee, 32 points
10. Auburn, 30.5 points
11. Missouri, 18 points
12. South Carolina, 13 points
13. Mississippi State, 11.5 points
14. Vanderbilt, 3 points
Men
1. Arkansas, 116 points
2. LSU, 93 points
3. Alabama, 72 points
4. Ole Miss, 70.5 points
5. Florida, 57 points
6. Tennessee, 50 points
7. Kentucky, 47 points
8. Auburn, 45 points
9. Texas A&M, 44.5 points
10. Georgia, 31 points
11. South Carolina, 16 points
12. Missouri, 15 points
13. Mississippi State, 5 points