Fisher Takes Silver, Mizzou Track and Field Wraps Up SEC Indoor Championships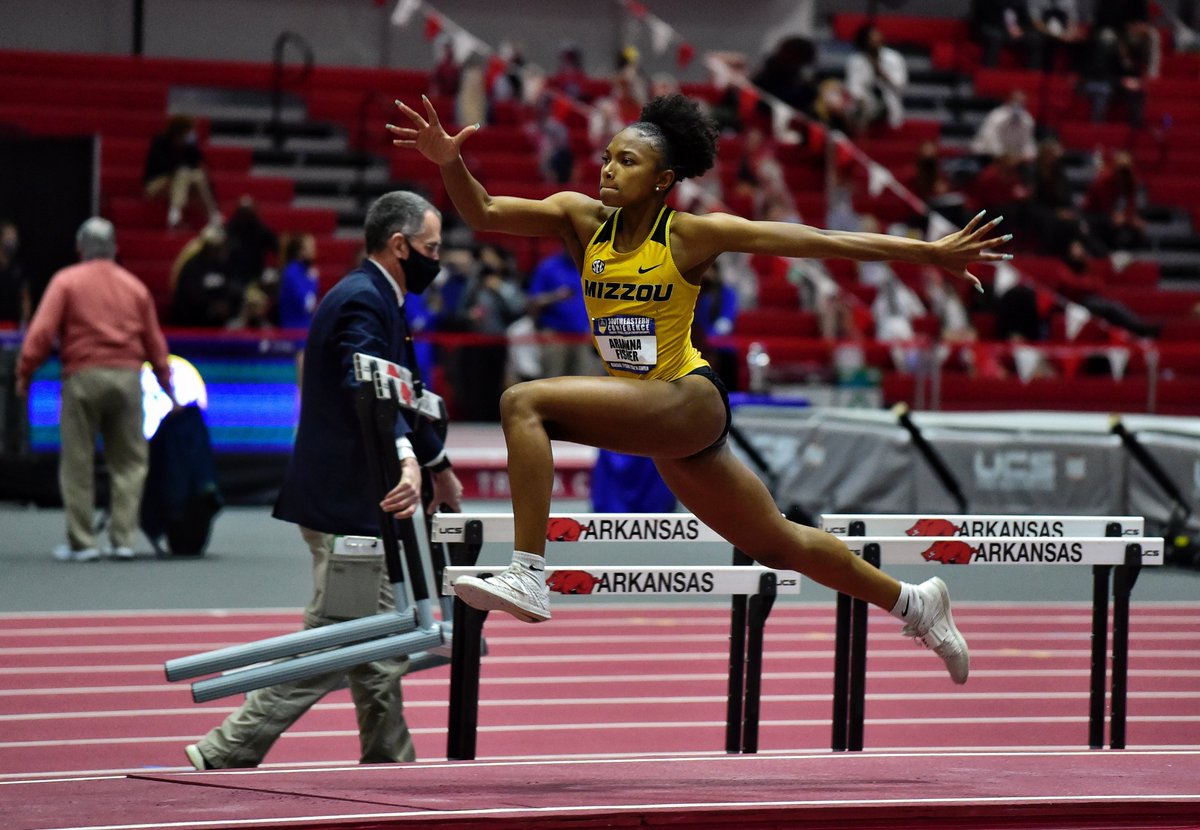 FAYETTEVILLE, Ark. – Mizzou Track & Field wrapped up the SEC Indoor Championships on Saturday evening, as one Tiger captured a silver medal and three earned All-SEC honors for their performance in the meet. To highlight the day, junior Arianna Fisher (San Jose, Calif.) took the silver medal in the women's triple jump, breaking her own school record in the process. Along with Fisher, both freshmen Davis Helmerich (Highland Ranch, Colo.) and Rece Rowan (Colorado Springs, Colo.) earned All-SEC honors in the men's mile and shot put, respectively.
NOTABLE FINISHES
Capping off the meet on a high note, Arianna Fisher finished as the runner-up in the women's triple jump with a mark of 13.47m (44-2.50). Fisher broke her own school record by nearly a foot with her record-setting performance. She also moves up in the national ranks, holding the eighth best jump in the NCAA Division 1 this season. 
Joining Fisher, sophomores Euphenie Andre (Dover Plain, N.Y.) and Mara Hausler (Stralsund, Germany) both set PRs and finished in fourth and fifth place, respectively, in the triple jump. Andre's mark of 13.21m (43-4.25) also moves her up in the Mizzou record book, as she is now tied for second in school history. Andre and Hausler also rank 13th and 17th, respectively, in the nation. 
The trio of Fisher, Andre and Hausler combined to score 17 points toward the women's team score at the meet. 
With a lifetime best jump against stacked competition, junior Georgi Nachev (Yambol, Bulgaria) placed sixth in the men's triple jump with a mark of 16.07m (52-8.75), the 14th best jump in the nation this season. Nachev's mark also moved him further up in the Mizzou record book, as he now owns the second best triple jump mark in school history. 
Mizzou earned two top-10 finishes in the men's shot put from Mitch Weber (Saint Clair, Minn.) and Rowan. Building upon last season's SEC Indoor Championships, in which Weber finished 11th, the redshirt sophomore placed sixth with a throw of 17.73m (58-2), a new PR. Rowan, in his debut season for the Tigers, finished in eighth with a throw of 16.86m (55-3.75), also a PR. For his performance, Rowan earned All-SEC Freshman team honors. 
In addition to Rowan, Davis Helmerich also earned All-SEC Freshman honors for his performance in the men's mile. Helmerich finished ninth with a time of 4:12.60, top among all freshman runners. 
QUOTABLES
Brett Halter, Head Coach… "I thought the athletes we lined up did a remarkable job. This is a world-class track and field meet. In an Olympic year, it's going to be one of the best meets in the world. It's exciting to see some of the performances. We've got a lot of work to do and we're looking forward to the NCAA Championships and outdoor season."
Arianna Fisher, Runner Up, Women's Triple Jump… "I am extremely excited about how the meet went this weekend. Not only did I break the school record again but I set a new PR and so did both of my teammates! I'm glad this meet went so well and it just makes me that much more excited about nationals and what's to come." 
UP NEXT
A group of Tigers will head to the NCAA Indoor Championships in Fayetteville, Arkansas, scheduled to begin on March 11 and conclude on March 13. Following the conclusion of the indoor season, Mizzou will transition to the outdoor season. 
For all the latest on Mizzou Track & Field, stay tuned to MUTigers.com and follow the team on Facebook, Twitter, and Instagram (MizzouTFXC}
Day Three Results – Track
Mile Run, Men – 9. Davis Helmerich, 4:12.60
4x400m, Men – 9. Brunsman, Clarke, Conrad, Hays, 3:13.67 SB
3000m, Women – 10. Sarah Chapman, 9:23.66
Day Three Results – Field
Shot Put, Men – 6. Mitch Weber, 17.73m (58-2) PR  // 8. Rece Rowan, 16.86m (55-3.75) PR
Triple Jump, Men – 6. Georgi Nachev, 16.07m (52-8.75) PR
Shot Put, Women – 14. Emily Stauffer, 14.76m (48-5.25) // 16. Emily Offenheiser, 13.87m (45-6.25}
Triple Jump, Women – 2. Arianna Fisher, 13.47m (44-2.50) PR // 4. Euphenie Andre, 13.21m (43-4.25) PR // 5. Mara Hausler, 13.13m