Goodheart gets back into swing quickly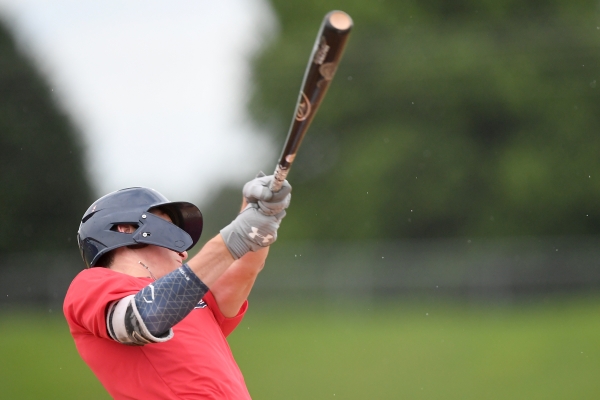 FAYETTEVILLE, Ark. — Arkansas welcomed back a big piece to its lineup Saturday when Matt Goodheart made his season debut.
Goodheart, a preseason All-SEC pick as a designated hitter/utility player, missed the Razorbacks' first five games due to a health issue. Goodheart declined to go into detail, but Arkansas coach Dave Van Horn described his problems last week as "stomach issues."
Goodheart did not travel with the team for the College Baseball Showdown in Arlington, Texas, last week. He didn't play in the Razorbacks' first two games against SEMO despite Arkansas coach Dave Van Horn saying he had been cleared to play before the series.
Following Saturday's game, Goodheart said he had taken batting practice just once the previous week, on Thursday.
If he was rusty, it didn't show. The Razorbacks' three-hole hitter went 1-for-3, drew two walks and stole a base.
Goodheart singled against SEMO starter Ryan Vogt during the Razorbacks' four-run first inning. His hit scored Christian Franklin, who singled in the at-bat before him and moved into scoring position with a stolen base.
"It was game day and I was excited," Goodheart said. "I knew I was going to be in the lineup. I was excited to go out and compete. I felt a little sped up at times, but took a few deep breaths and worked on putting myself in situations to be successful.
"I think (the first-inning single) helped get on time with pitches and picking it up out of the hand a little better as the game went on."
Goodheart helped ignite an Arkansas offense that had started slow in recent games. The Razorbacks' nine runs were their most since a 13-9 victory over Texas Tech in the season opener last Saturday.
"(Goodheart) brings a little more depth to our lineup, I feel like," Arkansas coach Dave Van Horn said.
Pallette efficient
Peyton Pallette recorded two more outs while throwing seven fewer pitches than he did during his first start against Texas last Sunday.
Pallette allowed 3 hits and 1 walk, and struck out 8 batters in 5 innings against SEMO.
"I felt a lot stronger coming into that fifth inning," Pallette said.
Pallette threw 65 pitches, including 48 for strikes.
"He didn't have to come out of the game. He probably could have gone another inning or two," Arkansas coach Dave Van Horn said. "But we're going to need that inning down the road, we feel like."
Through two innings Pallette had thrown 19 strikes in 21 pitches. He did not go to a 2-0 count until the fifth inning.
"He just has a real classic arm action," Van Horn said. "He can repeat his delivery. It's kind of repetition for him."
Pallette's zone consistency is especially notable given his velocity. At least one pitch Saturday registered 97 mph on the stadium radar gun.
"He didn't really have a lot of bad misses with his fastball — maybe every now and then with an off-speed pitch, but when he's throwing a fastball it's around the zone," Van Horn said. "He did a great job."
Foggy BP
The team took pregame batting practice during foggy conditions Saturday.
Arkansas coach Dave Van Horn said the fog was so thick he took players out of the field because they could not see well.
"It was almost dangerous," Van Horn said.
Designated hitter Matt Goodheart said hitters couldn't see the batter's eye from home plate.
"You hit one and you'd occasionally hear it hit the fence, and you'd say, 'Oh, OK, it hit the fence,'" Goodheart said. "You just didn't know where it was going, to be honest. Probably over 200 feet, you just couldn't see it."
Fresh faces
Matt Goodheart was one of six Arkansas players who made their season debut Saturday.
Pitchers Nate Wohlgemuth, Zack Morris, Matthew Magre and Gabe Starks also made their first appearance of the season, and infielder Ethan Bates entered as a defensive replacement at third base in the ninth inning.
"It's always good to get that over for them so they can get the jitters out," Arkansas coach Dave Van Horn said, "and maybe next time, if it didn't go great, it will be a lot better."
Wohlgemuth and Starks both allowed a run, while Morris worked out of a bases-loaded jam he inherited from Wohlgemuth in the sixth inning. Magre retired two batters after walking one in the eighth.
Thirty-three Razorbacks — 18 pitchers and 15 position players — have played through six games.
Early start
With an 11 a.m. start time, the Razorbacks played a morning game for the first time since Game 1 of their 2019 NCAA super regional against Ole Miss.
The team had a pregame breakfast Saturday at 7 a.m.