Fayetteville closes playgrounds, courts, fields at parks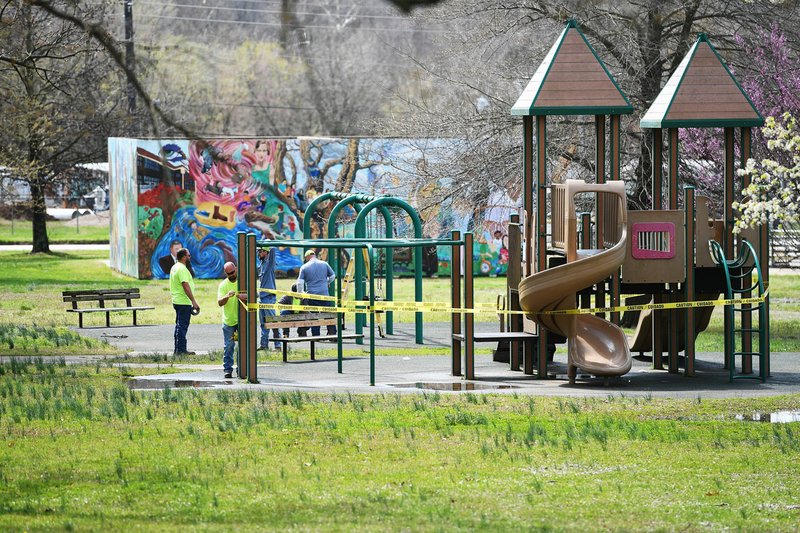 FAYETTEVILLE, Ark. — Find a nice, open spot in a park, and stay there.
Mayor Lioneld Jordan on Tuesday announced amenities in city parks are closed, and groups ignoring social distancing are prohibited, according to a city news release.
Fayetteville measures
In addition to restricting access to amenities at parks, Mayor Lioneld Jordan on Tuesday announced:
• City permit fees for fishing at Lake Fayetteville and Lake Sequoyah are waived for the same time period as state fishing license fees and requirements are being waived by the Arkansas Game and Fish Commission.
• Developers who choose to pay fees on new residential developments rather than dedicate park land aren't required to submit plats, plans or proposals to the Parks and Recreation Advisory Board before submitting development plans to the Planning Commission.
• A ban on disposable, single-use polystyrene foam products scheduled for May 1 has been delayed until July 1.
• Regular updates from the city can be found at fayetteville-ar.gov/covid19.
The directive applies to playgrounds, sports courts of all kinds and ballfields, as well as water fountains, most restrooms, gazebos and any other amenity that encourages close contact.
Trails will remain open. So will the restrooms at Walker Park, according to the release.
Bentonville and Rogers also have restricted access to park amenities, while Springdale hasn't, according to officials from each city.
Connie Edmonston, parks director said she visited several Fayetteville parks Monday and saw groups of people congregating and children at play with each other, touching surfaces and playground equipment.
The city encourages residents to visit parks, Edmonston said. But they need to maintain a safe amount of distance between them, she said.
"I was appalled by people not acknowledging that," she said. "Our community has got to come together to fight this and fight the spread. And I certainly don't want the spread to be in the parks."
The City Council granted Jordan authority to regulate gatherings in the wake of the covid-19 pandemic. Police will increase presence on trails and parks to encourage compliance with social distancing and safety.
Dr. Stacy Furlow with Northwest Arkansas Pediatrics said children can easily spread disease by touching playground equipment another child then will touch. Studies have shown covid-19 can live on surfaces for hours to days, she said.
"Kids are really bad about controlling their saliva," Furlow said. "They're really efficient at spreading disease."
It works the same for younger adults, Furlow said. People going out, playing basketball and breathing on each other is all it takes to get the disease outside a household, she said.
The city's rule applies to playgrounds at schools as well.
Bentonville instituted a rule against using park amenities last week, said David Wright, parks director. The city put up signs and had fences up. People still found a way to go play basketball, he said.
On Tuesday, the city's park staff removed the hoops on the goals, Wright said.
"It's taxpayer dollars we're using to have to take them down, and then eventually we'll have to put them back up," he said. "But I think it's probably the right thing to do because we want to keep people as safe as we can."
Fayetteville did the same Tuesday, removing basketball hoops and nets for volleyball and tennis. The city's off-leash dog parks at Bryce Davis Park and Lake Wilson also are closed.
Edmonston encouraged residents to explore outdoor areas they hadn't been to before. The city has 4,000 acres of park land. Activities such as birding or identifying flora and fauna don't require physical interaction, she said.
Letting a child run around in an open space or playing games in the backyard also are options, Edmonston said.
"Children can make their own playgrounds without having a metal playground," she said.
Rogers on Tuesday also closed its playgrounds and basketball courts. Parks and trails will remain open.
A Springdale spokeswoman said the city's park restrooms are closed, but the parks and their amenities are open. However, residents are encouraged to follow Centers for Disease Control and Prevention guidelines.