Davis lifts Hogs to Elite Eight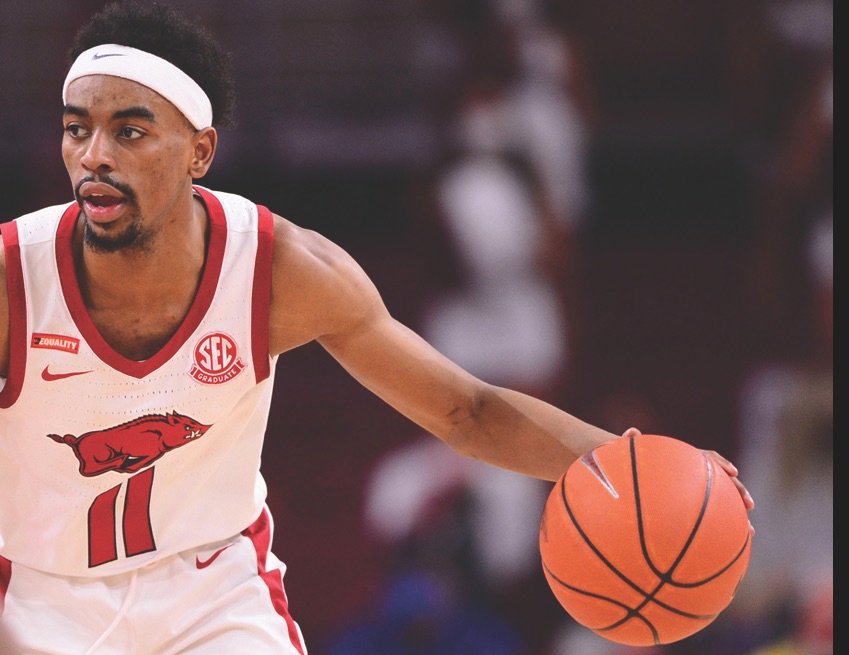 FAYETTEVILLE, Ark. — Davonte "Devo" Davis detonated one of Arkansas' all-time biggest shots delivering the Razorbacks to their first NCAA Tournament Elite Eight since Nolan Richardson's 1995 national runners-up.
With 3.1 seconds left in Saturday's South Regional semifinal against the Oral Roberts University Golden Eagles at Bankers Life Fieldhouse in Indianapolis,  Davis took a kick-out pass from penetrating point guard Jalen Tate for the bucket that broke a 72-70 tie  and then defended against ORU'S Max Abmas' game-ending missed 3-pointer ascending Arkansas into Monday's South Regional final.
Second-year Arkansas Coach Eric Musselman's third seeded SEC runner-up  Razorbacks, 25-6, meet  the top-seeded, 25-2 Big 12 champion  Baylor Bears, 62-51 semifinal winners Saturday over Villanova.
Monday's Arkansas vs. Baylor winner advances to Saturday's Final Four in Indianapolis.
The Razorbacks had to overcome deficits against ORU as they did in their first and second-round South Regional victories over 14th-seeded Colgate and sixth-seeded Texas Tech.
"Really proud of our team, especially in the second half, with their effort," Musselman said. "We've been down now in three games and found a way to come back. Regrouped again at halftime, changed up our defense a little bit more."
For freshman guard Davis of Jacksonville, beginning the season on the end of Coach Eric Musselman's bench come on to be a 15-games starter and defensive stopper, shooting Saturday's game-winner was "a dream come true."
"He (Tate) attacked ," Davis said. "And they crashed in and he kicked it out and they trust me and I knocked down the big shot.  I stayed composed and I knocked the shot down."
Musselman wasn't surprised though he didn't call the shot.
"We don't run any plays for Devo,"Musselman said.  "At least not right now. We will next year, obviously, but he's just a guy that just balls (16 points and eight rebounds).  He just plays. He's a shot creator. For a freshman, that's a pretty big stage to ask him to do what we ask him to do defensively and then to hit some of the shots that he hit."
Davis  had zero time to celebrate his biggest shot.
ORU, with Kareem Thompson's inbound unguarded so the Hogs could double team, inbounded to Abmas, the nation's leading scorer and Saturday  tallying a game-leading 25 points.  Davis, the closest to Abmas, and Tate  shadowed him, but ORU's shooting star still launched the shot. It drew iron after Davis waved a defending hand that he made sure would not connect into  game-winning or extending to overtime free throws.
"We just tried to make sure he'd catch the ball in front of us and not behind us,"  Davis said. "As you saw, he did that, but we tried not to foul him as well. So we did that, and we hope that he didn't make the shot. As you saw, it rimmed out, and that's what we needed, and and we ended the game like that."
Arkansas' Cinderella man, considering  from how he started the season to how he's prolonging it,  Davis dashed the dream of the Tournament's Cinderella team.
Striving to be the first 15-seed to advance to the Elite Eight, Coach Paul Mills, Tulsa-based 18-11 Golden Eagles, only fourth in the Summit League but winning the Summit League Tournament for the league's automatic NCAA Tournament berth, had the Hogs down 35-28 at half Saturday much like they had Arkansas down 10 at half of their Dec. 20 regular-season game at Walton Arena.
The Razorbacks rallied in the second half to win that Dec. 20 game 87-76.
This one was whole Hog tougher for Arkansas to prevail.
Arkansas was down 12 at 15:26  and didn't achieve its first second half tie, 58-58, on a Davis basket at 6:58.
Tate's basket at 5:01 provided Arkansas' first second half lead, 62-60 and ORU would tie, it 70-70 on Francis Lacis' free with 31 seconds left before Arkansas ran clock down to Davis' game-winner and surviving Abmas' last shot.
The Golden Eagles, stunning  South Regional winners over second-seed Ohio State and seventh-seeded SEC power Florida,  were billed as a 2-man with Abmas averaging 24.5 points and forward Kevin Obanor, 19.
But ORU hit Arkansas full team full force.  While Abmas scored 25 points, he had to earn them against Davis and Tate taking 19 shots and committing five turnovers while playing all 40 minutes.  Obanor, also playing all 40 minutes, grabbed 11 rebounds but his 12 points were seven under his average.
However the mass effort vs. Abmas and Obanor, opened opportunities knocking for Golden Eagles role players Carlos Jurgens, Lacis and Kareem Thompson and they responded,.
Jurgens scored 13, 11 in the first half while Lacis scored 11 and Thompson, nine.
"Give Oral Roberts a ton of credit," Musselman said.  "I thought they played really, really well, played really hard. We made a decision that we were going to try to limit No. 0 (Obanor) as best we could on his pick and pops. I thought we did a really good job limiting him to seven field goals attempted, Justin Smith ( did a great job. We just felt there was no way we could let both 0 (Obanor) and 3 (Abmas) have big games."
Apparently ORU had a similar plan for Arkansas SEC Freshman of the Year Moses Moody.
Moody needed 20 shots, only hitting four, to score 14 points helped by 6 of 7 from the free throw line.
But in hampering Moody, the Golden Eagles paid the price of Tate scoring 22, hitting Arkansas' only three in nine team tries, ands devastating ORU as an inside scorer and facilitator, six assists, against one turnover plus four rebounds.
Aside from defending against Obanor, graduate transfer forward Smith, mostly playing 6-7  center as  Musselman elected to go with a smaller lineup, double-doubled with 12 points and a game-leading 14 rebounds.
Arkansas dominated the boards, 58-32 over ORU Dec. 20 in Fayetteville, but was outrebounded, 21-20 for Saturday's first half.
Arkansas erased the boards to a 25-15 second half tune with guards Moody and Desi Sills next with six each behind Smith's 14 and Davis' eight.
Now Baylor looms Monday night.
"We have got to take great care of the basketball against Baylor," Musselman said.  "They're very physical defensively."