Arkansas vs. Auburn: How to watch and listen, forecast, pitching matchup, team comparisons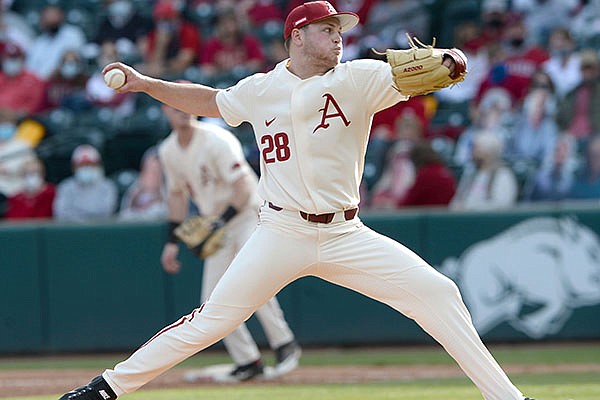 FAYETTEVILLE, Ark. – SCHEDULED GAME TIME Thursday, 6:30 p.m.
WHERE Baum-Walker Stadium in Fayetteville
RECORDS Arkansas 20-3, 5-1 SEC; Auburn 11-11, 0-6 SEC
LAST 10 Arkansas 8-2; Auburn 3-7
STREAK Arkansas won 8; Auburn lost 6
COACHES Arkansas: Dave Van Horn – 720-392 in 19th season at Arkansas and 1,040-551 in 27th season overall in Division I; Auburn: Butch Thompson – 165-126 in fifth season at Auburn and overall in Division I.
SERIES Auburn leads 47-46
LAST MEETING Arkansas defeated Auburn 8-0 on April 6, 2019, in Auburn, Ala.
RADIO Razorback Sports Network can be accessed through local FM and AM affiliates, via the Arkansas Razorbacks Gameday app, via the TuneIn app or on ArkansasRazorbacks.com. Blackouts may apply.
TELEVISION The game will be streamed by SEC Network-Plus and can be streamed via WatchESPN.com and the ESPN app (carrier login required).
ANNOUNCERS Brett Dolan (play-by-play) and Troy Eklund (analyst)
PITCHING MATCHUP Arkansas LHP Patrick Wicklander (1-0, 2.33 ERA in 19 1/3 innings) vs. Auburn RHP Cody Greenhill (2-0, 1.71 ERA in 26 1/3 innings)
FORECAST According to the National Weather Service, Thursday will be sunny with a high of 56 degrees and a low of 31 degrees in Fayetteville. North winds are expected at around 5 mph during the game.
TEAM COMPARISON
ERA: Arkansas 3.93; Auburn 4.76
Earned Runs Per Game: Arkansas 8.05; Auburn 7.11
Batting Average: Arkansas .288; Auburn .309
Opponent Batting Average: Arkansas .213; Auburn .242
Slugging Percentage: Arkansas .525; Auburn .499
On-Base Percentage: Arkansas .400; Auburn .400
Fielding Percentage: Arkansas .983; Auburn .978
Strength of Schedule: Arkansas 5; Auburn 63
NOTABLE This is the first of three SEC series for Arkansas that are scheduled to begin on a Thursday. The series is starting a day earlier than normal because of the Easter holiday Sunday. The Razorbacks are also scheduled to start series at South Carolina and at home against Florida on a Thursday….Auburn has been swept by Ole Miss and Kentucky in its first two SEC series….Arkansas designated hitter Matt Goodheart was named the SEC player of the week Monday. Goodheart went 8 for 20, hit 4 home runs and had 7 RBI last week, and was 3 for 5 during the Razorbacks' 21-8 victory over Central Arkansas on Tuesday….Arkansas has hit 19 home runs during its past six games and leads the NCAA with 45 home runs entering the Auburn series….Arkansas pitcher Patrick Wicklander has pitched 10 1/3 innings combined during his last two outings against Alabama and Mississippi State….Auburn ranks 16th nationally with 8.3 runs per game. The Tigers scored a combined 51 runs during a two-game series against Alabama A&M in February….Arkansas is 12-2 at home this season. The Razorbacks have a 120-23 record at Baum-Walker Stadium dating to 2017….Attendance at Baum-Walker Stadium will be expanded to 6,585 for games during the month of April. It previously had been capped at 5,735 for the final half of March. Attendance was capped at 4,218 to begin the season….Auburn and Arkansas participated in the last College World Series in 2019.