Conway Regional has topping out for new CCU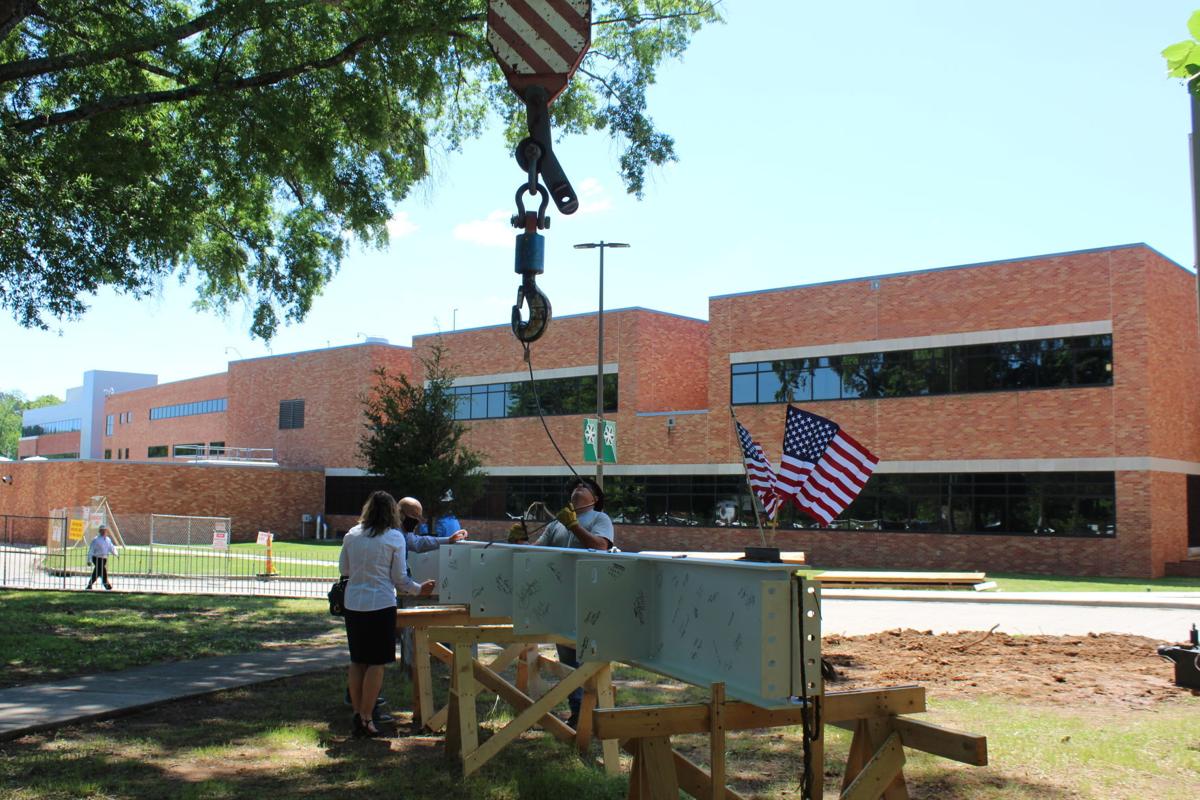 FAYETTEVILLE, Ark. – Conway Regional celebrated completion of the frame of its new Critical Care Unit with a topping-out ceremony Wednesday that included placing the final beam signed by Conway Regional team members and community leaders.
The new unit will house state-of-the-art technology and 26 patient beds with the ability to add more beds to meet future needs.
The CCU is the latest piece in a $60 million expansion project that Conway Regional announced a few years ago, or as President and CEO Matt Troup put it, "BC – before COVID."
"We had some critical issues to discuss and debate over the term of COVID," Troup said. "One of them was 'Do we carry forward with this project? Is this the right time?' At Conway Regional, we have a promise to be bold, be exceptional and be called. That was a very bold moment – to move forward with this project."
He said there were four things Conway Regional was trying to accomplish with the capital spending – enhancing the patient experience, developing and training the next generation of excellent physicians, enhancing life-saving treatment and improving access to care.
"What we're building here isn't just a place where people will get care, it isn't just a place where you will go visit loved ones or perhaps be a patient yourself, it's also a wedding chapel," Troup said recalling a special event from Thanksgiving a few years ago.
He said that because of a mother's deteriorating condition, a couple decided to move up their wedding date to Thanksgiving and change the venue to the ICU, where the mother was a patient.
"Our ICU went from this highly-technical, sterile place where people give critical care to a wedding chapel," he said. "This will be a place where people will worship. It's a place where excellence will be achieved. It's a place where our values will come to life. It's not just bricks and mortar. It really is someplace special and unique. It's an extension of each of us."
Anybody remember the 1927 flood? Troup asked, drawing a giggle and resounding "no" from the crowd.
"It predates everybody here. Conway Regional was here to take care of those folks. We've been here 100 years," he said. "I know there's a tornado or two that many of you will remember. There's this little thing called the pandemic. Think of what our community would be like without Conway Regional. What if Conway Regional and our critical care capacity wasn't here? It would be a vastly different place."
Nabholz Corporation's Charlie Nabholz said that a topping-out ceremony signifies the end of the most dangerous part of the project.
"This project has been accident free to this point," he said. "We celebrate that today."
Conway Regional Board of Directors chair Jim Rankin said that much like the city, Conway Regional "has grown tremendously," and emphasized the important role the hospital plays in the community.
"It's not only helping us, it's helping you," Rankin said.