Bullpen ace: After '20 struggle, Kopps cutting down opponents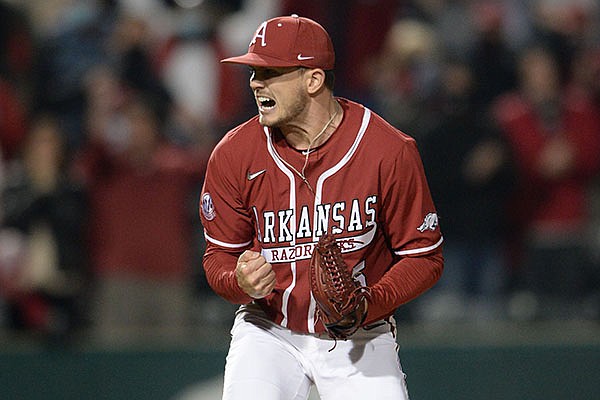 FAYETTEVILLE, Ark.— As the left-field bullpen gate opened and a Glass Animals walk-out song began to play, there was an audible buzz inside Baum-Walker Stadium last Friday night.
The excitement was for Kevin Kopps as he jogged to the mound about 24 hours after maybe the most dominant outing of his career.
"I hadn't seen anything like that in our stadium since (All-America closer Matt Cronin) would come into the game in the ninth inning," Arkansas pitching coach Matt Hobbs said. "It wasn't only that everybody felt good, but they were also excited to see what was going to happen.
"When I heard him come out of the bullpen Friday you could feel it in the stadium — you really could. Same thing Saturday, like, 'OK, they're pitching this guy because they know they're about to win the game.'"
Kopps pitched in all three games against Auburn. In 5 combined scoreless innings, the right hander struck out 11, allowed 1 hit and walked 1.
On Thursday he struck out eight batters in his first 31 pitches. On Friday he struck out two and didn't allow a base runner during a 12-pitch ninth inning.
Kopps worked another scoreless ninth inning Saturday to keep the Razorbacks within one run. Arkansas scored once in the ninth inning to tie the game and scored the winning run in the 10th.
"When we put him on the mound and we were down 5-4 on Saturday, I told Kevin, 'We're pitching you because we're going to win and we need you to go pitch because we're going to win this game,'" Hobbs said. "I felt like the team, as soon as he went out, flipped a switch like, 'All right, we're going to win this game now.' That's incredibly valuable."
The Razorbacks' confidence in Kopps has been earned on the field. He has not allowed a run since a Feb. 28 game against Southeast Missouri State, and has allowed just two runs all season.
Kopps enters No. 2 Arkansas' series at No. 3 Ole Miss with a 0.82 ERA, and on a streak of 16 2/3 scoreless innings over 9 appearances.
"I think everybody looks at the Friday guy and thinks (the ace) has to be the Friday guy, and if it's not the Friday guy that means something is wrong," Hobbs said. "A collection of really good pitchers is still important to have, and a guy like Kevin who is an absolute weapon out of the bullpen — I mean obviously we had Cronin here a couple of years ago and that was your head on a pillow in the seventh inning if you have the lead, you felt really good about it. It's the same thing when Kevin gets the ball."
Kopps has pitched at least 1 inning in 7 of his 9 appearances during the scoreless streak, and since SEC play began last month, his outings have been stretched.
His three-inning outing in Game 1 against Auburn followed a four-inning relief appearance against Mississippi State a week earlier. He also pitched 3 1/3 innings in the series finale against Alabama on March 21.
During his March 27 outing at Mississippi State, Kopps pitched one inning before rain and lightning delayed the game for 1 hour, 15 minutes. He stayed loose during the delay and returned to pitch the final three innings. He said it was the best he has felt pitching this season.
He followed the Mississippi State performance by pitching three consecutive days against Auburn. He said he is in better shape this season after losing about 10 to 12 pounds during the offseason. He also gained strength in his forearms through offseason exercises like rowing.
"I leaned up over the summer and I feel a lot better," Kopps said. "I feel more athletic."
Kopps' great season comes on the heels of his worst campaign in Fayetteville. When the season was suspended after 16 games, Kopps had an ERA of 8.18 in 11 innings and 7 appearances. His strikeouts were down to 7.4 per 9 innings, batters hit .360 against him and the 2.0 WHIP was the highest of his career.
By comparison, Kopps averaged 11.2 strikeouts per 9 innings and opponents batted .242 against him in 2019.
"I kind of started trying to be someone else, trying to elevate my fastball, and it just really doesn't work out for me with the way I throw," Kopps said.
Kopps struggled, in part, because his best pitch, the cutter, had lost its movement.
In 2019, Kopps threw a four-seam fastball that produced several swings and misses high in the strike zone, but Hobbs said throwing the four-seam fastball hard was "killing" the movement of his cutter.
"Those pitches didn't really work all that well together," Hobbs said.
"If you think about zero being pretty flat movement in terms of a pitch plane, last year he was pitching at positive-8 in terms of carry on his cutter. The pitch was hovering, almost, when he was throwing it. It had the same lateral movement, but it had this big, vertical lift."
Last summer Kopps asked Hobbs what he thought about transitioning back to a two-seam fastball that had complemented the cutter well earlier in his career.
"Why not?" Hobbs said.
The change has been fruitful. Hobbs said that by pulling Kopps' arm slot away from his head, the two-seam fastball has allowed him to add more depth to his cutter.
"It's really leveled off his delivery a little bit," Hobbs said. "He's not trying to create velocity as much as he's being able to easily throw the fastball where he wants to now. As a byproduct, that has increased his velocity and brought down his cutter and made it able to move a little bit more vertically.
"When he switched to a two-seam fastball and his slot dropped 3 to 4 inches, now the pitch has 4 to 6 inches of vertical movement that's negative. So he's gone anywhere from about 10 to 12 inches different than it was last year. Now that pitch is going to be able to move north to south, in addition to east to west.
"The pitch — like his whole delivery — has just freed up a little bit. You can see much more aggressive pitches. When he throws his fastball it has really good life."
It can be difficult for opposing hitters to differentiate between his cutter and fastball. The fastball stays low and has good movement side to side, and Kopps said the cutter feels more like a slider this season.
"I think last year I was trying to make it more of a cutter, trying to throw it hard, trying to throw it 88 mph," Kopps said. "I'll get it up to 87, but it's really 85-87. I feel like that helps me shape it to make it move, to have a lot bigger movement."
With the cutter, Kopps said velocity comes from how well the ball spins.
"I think the arm slot helps me spin the cutter like I like to," Kopps said.
That spin has been tough for opposing hitters to solve. Kopps has 40 strikeouts through 22 innings, and opponents are batting .154 against him.
"It's a true alien, man," Hobbs said of the cutter. "That pitch is crazy. It has weird spin and he throws it really hard for the type of pitch it is, in that 84-86 mph range."
Hobbs said Kopps is pitching the way that fits him.
"He probably came into Arkansas thinking he needed to throw 96, and if he didn't do that he wasn't going to pitch here very much," Hobbs said. "Doing that probably hurt some of his other pitches as his career progressed. Freeing him up to be who he's supposed to be is one of the reasons he's having some success."
Kopps attributes some of his success to catcher Casey Opitz, who calls pitches. Opitz's great ability to block balls allows Kopps the freedom to bury his cutter.
"If we have a situation where we have the infield in and less than two outs, and we absolutely need a strikeout, our guys can go hunt those pitches now and throw whatever they think they need to throw because Casey's going to catch it or he's going to deaden it or deflect it," Hobbs said.
Kopps ran into a similar situation during Game 3 of the Auburn series. Rankin Woley singled against Kopps to lead off the ninth inning and advanced to third base on a pair of ground outs.
Facing a 3-2 pitch with two outs, Kopps buried a cutter that Kason Howell chased for the final out of the inning.
"I thought about a passed ball," Kopps said of the decision to throw the pitch, "but then I thought, 'No, Opitz will block it.' That helps me not leave a ball up and make my pitches."
Hobbs said Kopps' confidence is high this year, and the team's confidence is high in him.
"I think our team has started to feel that when he comes on the mound, that we feel really good about how this is going to go because he's going to be incredibly competitive with multiple pitches inside the strike zone," Hobbs said. "It's not just a one-trick pony, either. He's got three or four pitches — he's got an absolute arsenal that he can deploy at any time, any pitch.
"He throws pitches where he'll come back and we'll talk about what happened between innings, and he'll say, 'Yeah, I threw a right-on-right changeup there,' and I would have never thought to throw that pitch. But he has belief in everything he throws, and I think that is really important when you're in the role he's in and you've got to trust what you're doing.
"He's a bullpen ace, and that's as valuable as anything."