Bentonville relishes triumph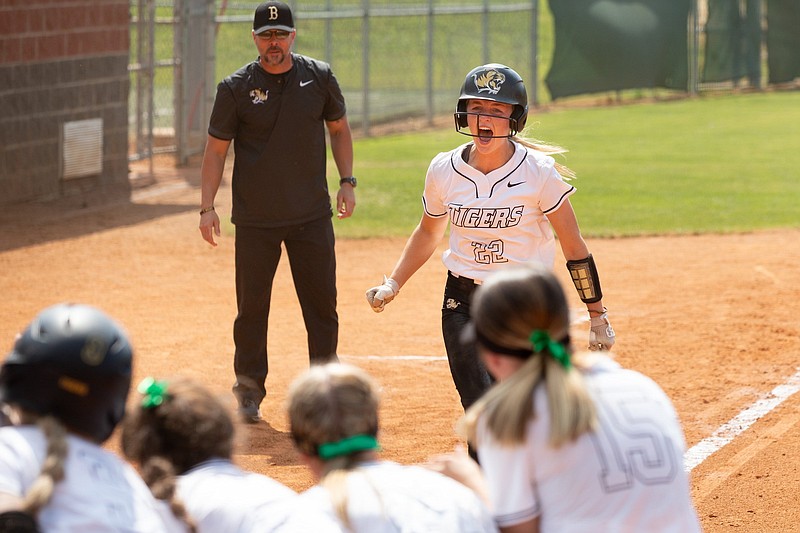 BENTONVILLE, Ark. — McKenzie Vaughan and her fellow seniors grabbed a couple of softballs and struck a pose on the field shortly after Bentonville's win Saturday. Then the seniors called over the rest of the Lady Tigers for a group selfie.
They were soaking in the moment. But consider the group: Four freshmen who'd never played an inning of varsity softball; nine sophomores whose rookie seasons were cut short by covid-19; and six juniors who'd ended their only postseason trip with a heartbreaking state final loss.
Then there were the five seniors, each of whom was part of the state championship team in 2018.
"We're not going to take it for granted this time," Vaughan said. "[Plus], having it be a new experience for us as a team is very exciting."
Bentonville never left a doubt in its state semifinal against Bryant, scoring in all four of its turns at the plate en route to a 13-3 victory in five innings. Vaughan, who allowed one earned run and scattered seven hits, was one of three Lady Tigers to belt a home run , with the other two coming from classmates Emily Perry and Kenzie Derryberry.
"We are a player-led team, and our seniors have taken over," Bentonville Coach Kent Early said. "Because they've been there, they've been led by some great seniors in our program. They have taken the reins and wanted the responsibility."
Perry led off with a double, and Derryberry brought her home the very next batter. Then, after a strikeout, Vaughan lifted a two-run, opposite-field shot just over the wall in right as Bentonville (25-3) grabbed a 3-0 lead in rapid succession.
The Lady Tigers came back the next inning and sent 11 to the plate, scoring six runs on four hits with the big blow coming on Perry's three-run blast to straightaway center, making it 6-0 Bentonville.
Bryant (25-7) looked to change things up, taking out starting pitcher Chrissy Mefford and sending Leah Hicks into the circle. The Lady Tigers tagged her for three more runs in the second and seven total on the game.
"They're a good combination — two totally different looks as far as pitching goes," Lady Hornet Coach Lisa Dreher said. "I thought changing speeds and changing looks might mix it up a little bit, but they hit both of them pretty hard."
Bentonville's other senior starter, designated player Riley Hayes, made sure to get in on the action. She finished 2 for 3 with a pair of singles and 2 runs scored as the Lady Tiger seniors combined for 9 of their team's 12 total hits.
Now, they'll have the opportunity to finish just how they started, and Vaughan knows it's on Bentonville's veteran leaders to ensure the rest of the group is ready when the moment arrives.
"It's just another game," Vaughan said. "You just have to play free and play like we always play."
CONWAY 9, CABOT 1
The weekend began with a rocky start for Lady Wampus Cat pitcher Katlyn Erickson, giving up a 4-0 lead in the top of the seventh before her team narrowly escaped the first round.
It ended with a gem.
Erickson held the host Lady Panthers hitless for 6 1/3 innings in the first of two semifinals at Cabot High School to carry Conway (23-7) to its first state title game appearance in school history.
Although Cabot broke up both the no-hitter and the shutout in the bottom of the seventh, Erickson finished strong, striking out Paige Peirpoint — one of 11 on the game — to lock up the win.
"Our program has worked and worked and worked, but we've fallen short," Lady Wampus Cats Coach Chata Hickey said. "And it wasn't due to lack of effort or lack of talent. It just wasn't our time."
It certainly appeared to be the Lady Wampus Cats' time from the jump Saturday. After two of their first three batters reached via a walk and an error, third baseman Katelyn Conrad brought both home with a single.
As Erickson got rolling in the circle — the sophomore struck out five of the first seven Lady Panthers she faced — Conway tacked on more runs in the third and fourth innings. Shortstop Allie McMillen scored a pair with an RBI double in the fourth, and the freshman delivered the final punch with a three-run home run in the sixth.
"She's crucial, and not just from an offensive standpoint," Hickey said of McMillen. "She's got great fundamentals defensively, she plays with a lot of emotion, and she doesn't rattle easily … but they're all a lot like that."
Defense was, among other things, what let down the reigning champion Lady Panthers. Cabot (24-5) committed four errors Saturday, leading to four unearned runs.
"We didn't come to play today," Lady Panthers Coach Chris Cope said.
The Lady Wampus Cats now will have several days to think about the opportunity that lies ahead in Benton with a state championship at stake.
"Just breathe a little bit," Hickey said. "Enjoy the moment, but when it comes time, we'll get ready, take care of business … and we're just enjoying the ride."