Razorbacks Eye Division Title in Final Series of Regular Season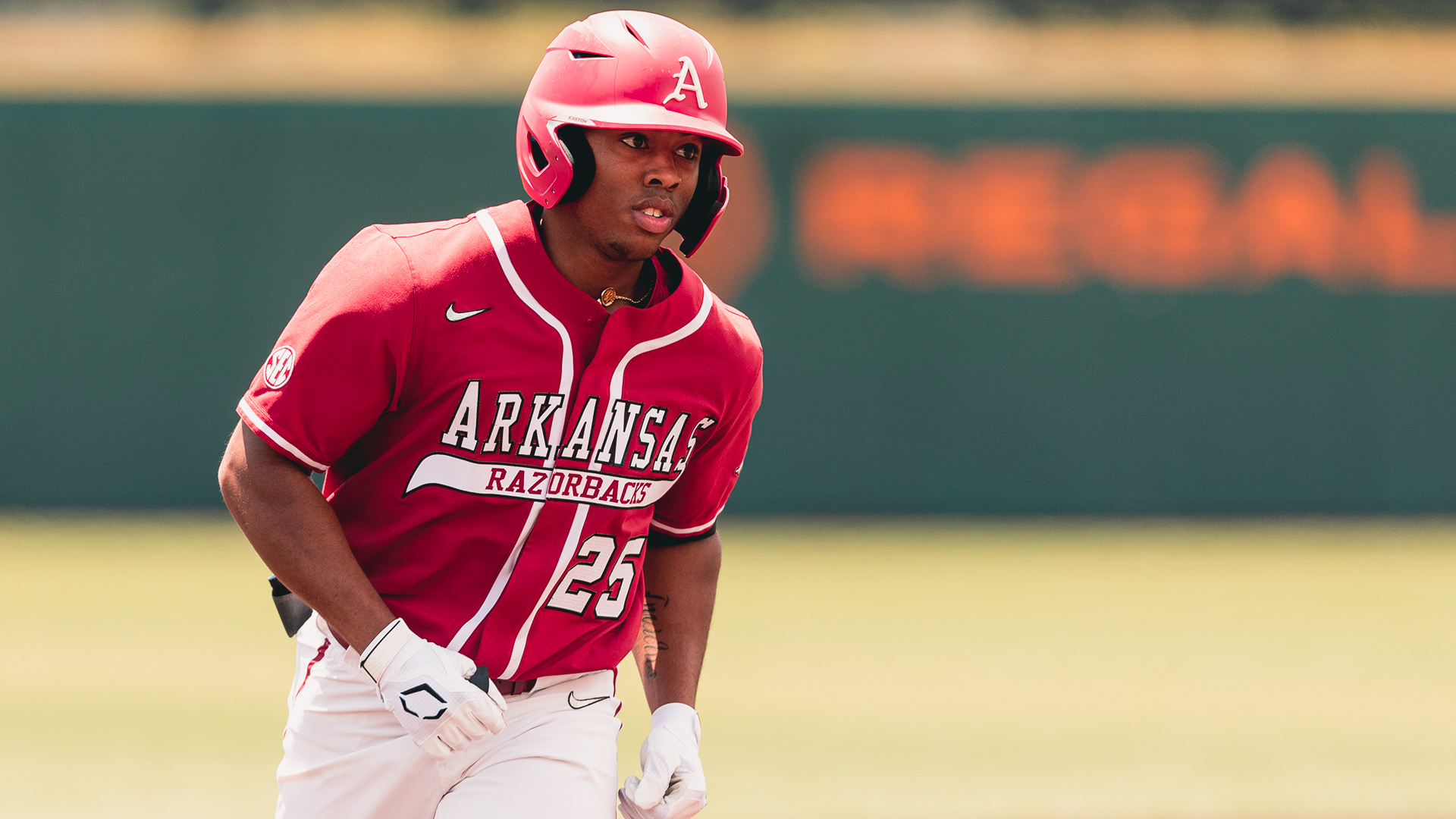 FAYETTEVILLE, Ark. – The regular season is coming to a close.
Florida (35-16, 17-10 SEC) as well as a full-capacity crowd make their way to Baum-Walker Stadium this weekend for the final series of the 2021 campaign. First pitch between the top-ranked Razorbacks and the ninth-ranked Gators is set for 6 p.m. Thursday, May 20, on the SEC Network.
Arkansas, 39-10 overall and 19-8 in SEC play on the year, sits alone atop the SEC standings after taking two of three games on the road against Tennessee last weekend. The Hogs own a two-game lead ahead of second-place Mississippi State in the Western Division entering the final weekend of the regular season.
The Razorbacks need only one win against Florida or one Mississippi State loss at Alabama to clinch at least a share of the division title. With two wins, Arkansas can control its only destiny and clinch its first outright division title since 2011.
Matchups & History
Thursday
Florida RHP Tommy Mace (5-0, 4.40 ERA) vs. Arkansas LHP Patrick Wicklander (4-1, 1.93 ERA)
Friday
Florida LHP Hunter Barco (9-2, 4.13 ERA) vs. Arkansas RHP Caleb Bolden (2-0, 4.67 ERA)
Saturday
Florida RHP Franco Aleman (1-3, 5.26 ERA) vs. Arkansas TBA
The Razorbacks and Gators clash for the 65th, 66th and 67th time in history this weekend. The series is tied at 32-32 in all-time meetings, with Arkansas owning a 13-11 edge in games played in Fayetteville.
In the Dave Van Horn era, the Hogs are 25-20 against the Gators. Arkansas has swept Florida at Baum-Walker Stadium on two occasions under Van Horn's guidance, doing so in 2007 and 2009.
Tune In
Thursday and Friday's contests between top-ranked Arkansas and No. 9 Florida will broadcast nationally on the SEC Network with Dave Neal (play-by-play) and Kyle Peterson (analyst) on the call. Neal and Peterson will also have the call on Saturday's finale, which will air on SEC Network+ and SEC Network Alternate.
Fans can catch all the action through the ESPN app on smartphones, computers and tablets or via Amazon Fire TV and Fire TV Stick, Apple TV, Chromecast, Roku, Xbox 360 and Xbox One.
All three games can also be heard on the Razorback Sports Network from Learfield/IMG, including locally in Fayetteville on 92.1 FM. Phil Elson and Bubba Carpenter will have the call all weekend long.
Radio Affiliates
Conway – KASR-FM 92.7
El Dorado – KELD-AM 107.1 (FM Translator)
Fayetteville – KQSM-FM 92.1
Forrest City – KXJK-AM 950
Forrest City – KXJK-FM 106.5
Fort Smith – KERX-FM 95.3
Little Rock – KABZ-FM 103.7
Marshall – KBCN-FM 104.3
Mena – KTTG-FM 96.3
Rogers – KURM-AM 790
Rogers – KURM-FM 100.3
Stuttgart – KWAK-FM 105.5
Texarkana, TX – KKTK-AM 1400
Death, Taxes, Hogs are No. 1
Arkansas remained the unanimous No. 1 team in college baseball for Week 14 of the season, leading all six major polls released Monday. Baseball America, Collegiate Baseball Newspaper, D1Baseball, NCBWA, Perfect Game and USA Today each kept the Razorbacks atop their respective rankings for the sixth straight week.
It is the eighth time this season that Arkansas is the undisputed No. 1 team in the nation as well as the 12th consecutive week that the Hogs maintain the top spot in at least one of the six polls.
History Chasing
Arkansas has won all nine of its conference series this year, becoming the third SEC team in history to win its first nine series in a season. Vanderbilt (2013) and Florida (2018) have also achieved the feat.
The Razorbacks enter this weekend's series against the Gators with an opportunity to become only the second SEC team in history to win all of its conference series in a season. Vanderbilt also did so during the 2013 campaign.