Awareness and Support for Sexual Assault Victims During Take Back the Night Event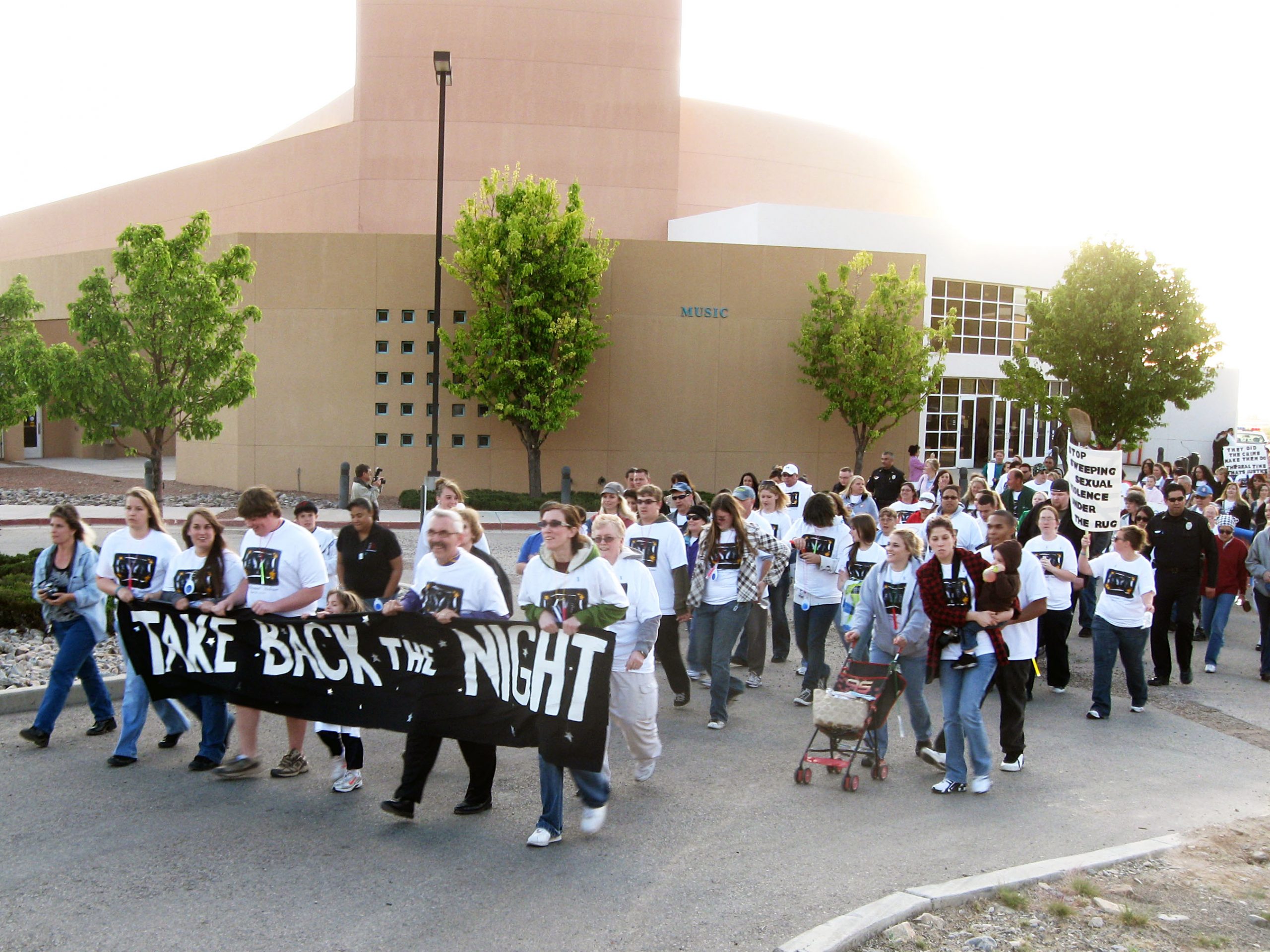 FAYETTEVILLE, Ark. – UA and Fayetteville community members came together Thursday evening to bring awareness of campus sexual assault and show solidarity to survivors of sexual violence during the 19th annual UA Take Back the Night event.
The event, a part of Sexual Assault Awareness Month, has taken the form of a march since 2002. After a virtual rally in 2020, this year's event was presented as a gathering at the Arkansas Chi Omega Greek Theatre. Speakers included members of the community and survivors of sexual violence, who advocated for rape culture awareness and societal change.
The event fell the same day that hundreds of students and alumni took to social media to condemn UA administrators and share stories of negative experiences with the Title IX office in response to the news of a $20,000 settlement paid to a former student. The student had accused the university of mishandling a 2017 sexual assault allegation after a Title IX panel found him responsible for the assault. The Graduate-Professional Student Congress will host a "Support Survivors at Uark" protest outside the John Tyson Center for Excellence in Poultry Science at 2 p.m. Friday.
Thursday night's event opened with a proclamation from Fayetteville Mayor Lioneld Jordan. The mayor addressed the importance of speaking out against sexual violence in a culture that perpetuates it. He also said he thinks the Fayetteville community needs to change cultural norms that support the violent behaviors.
"One out of every five women and one out of every 71 men in the United States report experiencing rape at some point of their lives," Jordan said. "We must make a loud and unified statement that this current status of abuse against women, men and children in our society is no longer accepted, nor will it ever be accepted."
Several students read poems, highlighting testimonies from survivors. Caroline Yakin, an intern for RESPECT and sexual assault survivor, gave a speech about educating ourselves and supporting survivors.
"As a victim myself, I understand how paralyzing it can be to be assaulted by someone you know," Yakin said. "But today I'm glad to be on this stage, where I can be an advocate, where I can empower other victims so that they have the courage to come forward and they have an environment of support."
One of the best ways people can empower survivors is to listen and provide a space where they can speak up, Yakin said. Take Back the Night is a night of education and an event at which survivors can feel supported, she said.
"Take Back the Night is important because it allows us to give victims space where they can tell their stories," Yakin said. "To call out rape culture, because unfortunately, it's everywhere, and we get all these underlying messages that allow rape to persist in the way it does."
KC Cross, mental health and performance clinician for the athletics department, said they decided to speak at the event because they think oftentimes it feels as though the athletics department is its own industry on campus. We need to continue educating ourselves on what sexual assault is, using trauma informed language and campus resources that may be helpful for survivors, they said.
"We have to be intentional about calling out behaviors, comments, and jokes that perpetuates sexual violence," Cross said. "We also need to be aware of our own stereotypes of sexual assault to ensure that we aren't leaving anyone out of the conversation and we aren't invalidating anyone's experience."
Chancellor Joseph Steinmetz also spoke about the issue of sexual violence on campus. Having an evolving conversation as a campus and community can increase the safety of all students, Steinmetz said.
"We owe it to our students to prevent sexual violence," Steinmetz said. "Creating awareness by educating people about what constitutes sexual misconduct and what constitutes sexual violence."
In the event of a sexual assault, students should know that they have the support and understanding from the university they need, Steinmetz said. The most critical element of a sexual encounter is consent, he said.
"We want to do everything we can to help our campus community by recognizing when an assault is maybe happening," Steinmetz said. "And encourage them to intervene, and to make sure everyone knows what consent truly means."
Take Back the Night ended with a candlelight vigil and a moment of silence to recognize that every 73 seconds an American is sexually assaulted. Donald W. Reynolds Razorback Stadium was also lit in teal to pay tribute to sexual assault survivors.
For victims of sexual assault at the UofA, resources are available at the UA Campus Sexual and Relationship Violence Center and the NWA Center for Sexual Assault. Concerns related to  sexual harassment and violence can be reported at report.uark.edu.