Arkansas fixes three key issues with schedule changes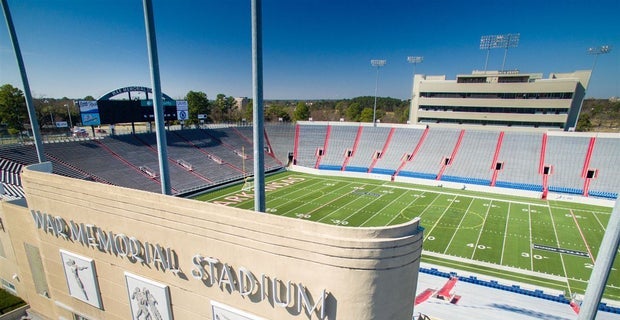 FAYETTEVILLE, Ark. – It is well-documented now that Arkansas has scheduled Arkansas State in Little Rock for the first time ever in 2025 and moved the game against Arkansas-Pine Bluff from Fayetteville to Little Rock in 2021 and 2024 with SEC member Missouri moving from Little Rock to Fayetteville. This decision to first move the UAPB game kills three birds with one stone.
Arkansas was in a tough situation having to play two SEC home games away from Fayetteville with Missouri in Little Rock and Texas A&M in Arlington in odd numbered years, leaving just Auburn and Mississippi State as the SEC home games in Fayetteville. Switching out UAPB increased that number to three games in Fayetteville, but it also allowed for the start of a series of intriguing instate matchups in Little Rock.
As the flagship program in the state, the University of Arkansas knows it wants a presence in central Arkansas but until now it hasn't figured out how to do it right while also not putting itself at a competitive disadvantage in SEC play… not to mention the inability to host recruits on campus that weekend for a game against an SEC opponent. The solution; Arkansas had to change policies and start playing instate opponents. Arkansas athletic director Hunter Yurachek spoke with Stacy Hearst, Secretary of Arkansas department of parks, heritage and tourism, which runs War Memorial Stadium in Little Rock, about the situation.
"She was unbelievable and understanding in what we're trying to build with our football program here at the University of Arkansas and what we need to be successful," Yurachek said. "One thing she made abundantly clear is if the Razorback football program was going to continue to have a presence in Little Rock at War Memorial Stadium, that she thought they needed to be meaningful games.
"When you talk about what are meaningful games in Little Rock, if you're not going to play SEC games there you have to look at your future SEC football schedule. I think meaningful games are those in-state games with Arkansas-Pine Bluff and Arkansas State."
The third bird is finances. While it wasn't a driving factor in this, Arkansas' athletic department has lost approximately $30 million due to the COVID-19 pandemic. With more luxury seating and 76,000 seats, there is more revenue to be had playing the Tigers in Fayetteville over Little Rock, and it is less likely they would have a full stadium in Fayetteville against UAPB with a better shot at selling out War Memorial Stadium in Little Rock.
"I wouldn't be telling you the truth if I didn't tell you that the finances of having another SEC game versus potentially an FCS game here are not significant," Yurachek said. "But the number one driver was the competitive advantage that Coach [Sam Pittman] believes it has for his football program for us to play SEC games here on campus.
"The Razorbacks are spread throughout this state, and our presence across this state is very, very important," he said. "There's not another major professional sports franchise. There's no another Power 5 franchise. We have a presence in Central Arkansas. "The baseball stadium over there is traditionally sold out, and the basketball arena the last time our men's team was there was sold out. I think once our football program gets to where I know Sam Pittman is going to being it, that War Memorial Stadium will be sold out for these games. as well."