Arkansas duck hunt was enjoyed on Black River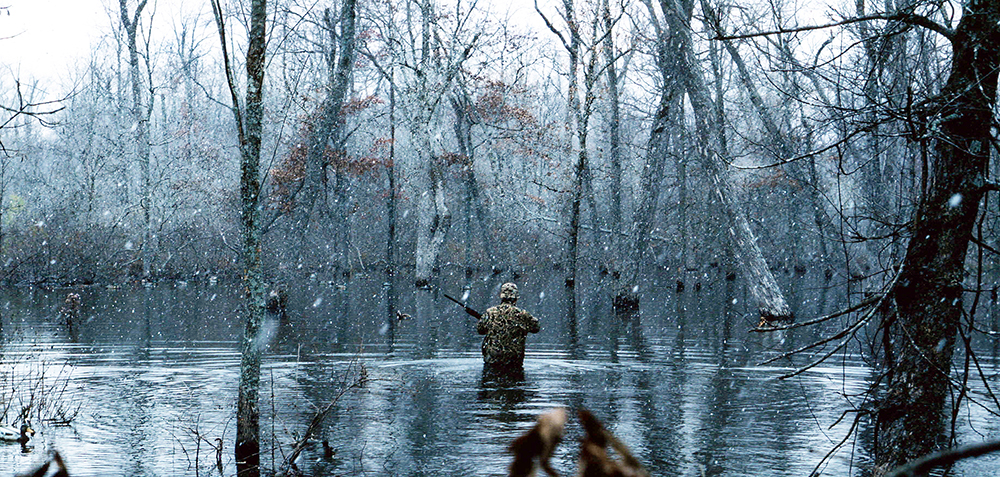 Arkansas – Duck hunting has long been one of my favorite outdoor passions. Although I grew up in the duck rich region of the Mississippi River delta country of southeast Missouri, I didn't take up duck hunting until my college days. Over the years I've duck hunted in many locales including the waters of the Yucatan coast. However, I recently turned to one of my all-time favorite duck spots, an old duck bunting camp along the banks of the Black River, hosted by good friend Tom Wilcox.    Outdoor Vigilantes host Kody Lucas and I teamed up to make the trip. Lucas had never duck hunted and jumped at the opportunity. "I've done a lot of things in the outdoors but have never had a good opportunity to duck hunt," Lucas said.
I picked Lucas up at his home in Edgar Springs and we headed south. "You are in for a real treat," I told him. "Although we are only traveling three hours south, we are transporting ourselves back in time. The duck hunting club we are headed to has been around for many decades. Members are primarily a bunch of old guys who have duck hunted all of their lives. It is second nature to them."
The hilly terrain of the Missouri Ozarks began to gradually fade into the delta country of the Black River as we headed south of Poplar Bluff on Highway 67. Timbered ridges faded away and the rich, black dirt of the alluvial plains of Black River spread to the horizon. Massive rice fields covered much of the region. Cotton, milo, corn and soybeans are other popular grain crops are grown in the area as well.
Remnants of the Black River remained intact via oxbows, short pieces of the river that became cut off from the main river when the river changed course many times over the eons. In these unique ecosystems grew ancient, giant cypress trees, in addition to tupelo and water oaks. Such habitat once covered millions of acres. Fish and wildlife species were abundant, including bears, puma, waterfowl and furbearers.
Lucas commented about the wild looking nature of the small plot of swamps that remained. He acquainted himself with the true nature of a swamp wilderness when he and his daughter enjoyed a youth season deer hunt on Mingo National Wildlife Refuge, near Puxico, a couple of months ago. "Mingo held incredible numbers of deer and other wildlife," Lucas said. My daughter and I really enjoyed hunting there. We saw deer, wild turkey, hogs, and birds of all kinds, including lots of waterfowl."
Shortly after we passed thru Corning, Arkansas we headed southeast into farming country. Partially flooded rice fields held a good number of ducks. Lucas admired the massive flocks of snow geese that covered large acreages of harvested grain fields. "That flock of snows stretches for a half mile or more," Lucas said. "I'd guess there are 20,000 or more geese in that one flock."
Upon seeing the incredible numbers of snow geese in the region, one does not have problems understanding that these incredibly long-lived and intelligent birds have grossly exceeded numbers that are healthy for their breeding grounds near the Arctic. Changes in agricultural practices in the Midwest and South several decades ago provided abundant waste grain food sources for the geese. They returned North in prime condition and began to rear larger clutches.
Snow goose numbers exploded to the point that they began destroying the fragile environment on their nesting grounds. Snow geese are grubbers and pull up a plant roots and all to eat it, unlike Canada geese which nip a plant off above the ground.    As Lucas and I turned into the drive at the duck camp our vision of the outside world changed. A bust world quickly faded behind us. A look of curiosity spread across Lucas's face as the duck camp colony swallowed us like a slimy fish. Within seconds we were in the bowels of ducky hunting history.
The Black River quickly came into view and supported its namesake. The chocolate brown waters clipped along at a steady pace, swollen by recent rains. Huge cypress trees and water oaks cloaked the old campers and duck hunting shacks with an air of mystique.
"I s that Cajun music I hear?" Lucas quipped in jest.
"Cajun indeed," I said. "You, my friend, will be a Yankee in the midst of a bunch of fine old, Southern gentlemen duck hunters. Tradition runs deep here."
A gathering of aged men, carved in tattered Camo clothes, clustered around a fire pit made from a giant tractor rim. They paused and craned their necks as my bright red pickup turned the corner into the center of the village.
A tall, lanky, scraggly bearded gentleman came to greet us. I immediately recognized him as Tom Wilcox, one of the most gifted story tellers I've ever heard. Come to think of it, his swaggering presence wreak of stories yet untold.
Tom welcomed Kody Lucas like he had known him forever. Several centuries of duck hunting experience, shared by half a dozen oldsters enjoying the campfire immediately came to Kody's disposal."
"Brace yourself," I whispered to Lucas, as the motley duck hunting crew eyed him like a piece of fresh meat. "Man, I sure am happy I'm not the greenhorn of this camp, "I slyly quipped to Lucas.
We enjoyed three days of duck hunting with those fine gentlemen. Lucas walked with a whole new perspective about duck hunting. "Incredible," he said. "Do you think any of those guys remembered to load their shotguns? They scarcely took a breath between stories.