Weed Management Expert Butts Guest for Crop, Soil and Environmental Sciences Seminar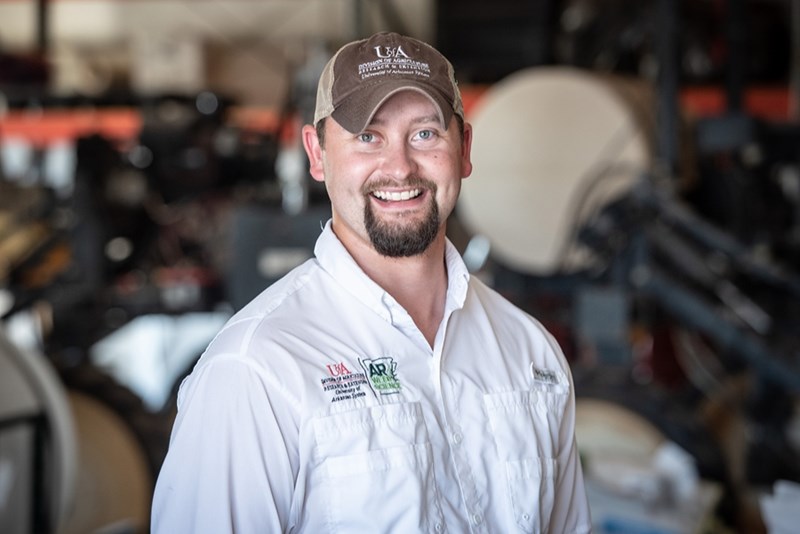 FAYETTEVILLE, Ark. – Tommy Butts, a weed management specialist, is the guest speaker for Monday's Spring Department of Crop, Soil and Environmental Sciences Seminar Series.
Johnson's lecture is "Applied Weed Science for Arkansas Farmers, Consultants and Applicators."
Butts is an assistant professor and an extension weed scientist with the U of A System Division of Agriculture based in Lonoke.
The seminar is Monday at 3:30 p.m. in PTSC Room 009. In-person seating is available, but limited due to social distancing. It's also available via Zoom (passcode 291536).
He is from southern Wisconsin where he grew up working on and around small dairy farms. He earned his bachelor's degree in agri-business from the University of Wisconsin-Platteville, his master's in agronomy-weed science at the University of Wisconsin and his Ph.D. in agronomy-weed science from the University of Nebraska.
His current research and extension efforts focus on identifying novel weed management strategies through diversified approaches, including using precision agriculture and application technologies primarily in rice, soybean and wheat, among other cropping systems. Butts is also working to help increase herbicide application knowledge, safety and effectiveness while reducing off-target movement, both from ground-based and aerial applications. His overall goal is to provide research-supported, effective and applicable weed management practices to Arkansas and Mid-South farmers, consultants and applicators battling complex weed problems in their fields.
About the Dale Bumpers College of Agricultural, Food and Life Sciences: Bumpers College provides life-changing opportunities to position and prepare graduates who will be leaders in the businesses associated with foods, family, the environment, agriculture, sustainability and human quality of life; and who will be first-choice candidates of employers looking for leaders, innovators, policy makers and entrepreneurs. The college is named for Dale Bumpers, former Arkansas governor and longtime U.S. senator who made the state prominent in national and international agriculture. For more information about Bumpers College, visit our website, and follow us on Twitter at @BumpersCollege and Instagram at BumpersCollege.
About the University of Arkansas: The University of Arkansas provides an internationally competitive education for undergraduate and graduate students in more than 200 academic programs. The university contributes new knowledge, economic development, basic and applied research, and creative activity while also providing service to academic and professional disciplines. The Carnegie Foundation classifies the University of Arkansas among only 2.7 percent of universities in America that have the highest level of research activity. U.S. News & World Report ranks the University of Arkansas among its top American public research universities. Founded in 1871, the University of Arkansas comprises 10 colleges and schools and maintains a low student-to-faculty ratio that promotes personal attention and close mentoring.