Vote Now for Hospitality Management's Bayyari in Bon Appetit 'World's Favorite Chef' Contest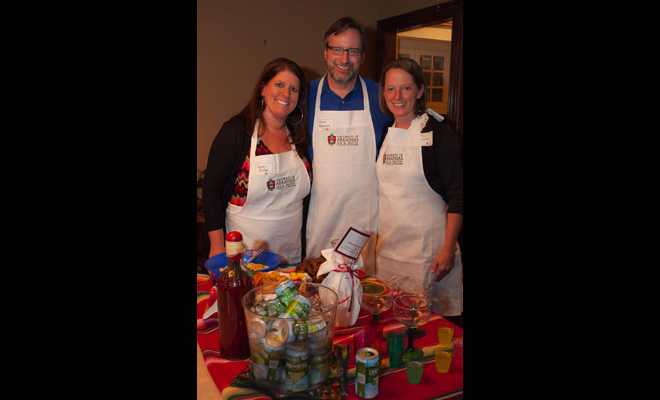 FAYETTEVILLE, Ark. – Lobat Siahmakoun Bayyari, an instructor in the hospitality management program in U of A's Dale Bumpers College of Agricultural, Food and Life Sciences, is a contestant in a fan voting competition sponsored by Bon Appetit magazine, and if she wins, wants to establish a scholarship with the cash prize.
Bayyari, who owned a restaurant in Germany before joining the faculty in the college's School of Human Environmental Sciences, is in the "Are You the World's Favorite Chef?" contest. Chefs from around the world were selected to compete with the winner of the online competition receiving $20,000 and a feature story in the magazine. Bayyari is in an opening-round group of 29 chefs.
Anyone can vote for her once a day at this link by clicking on "Free Daily Vote," which requires logging into Facebook. There's an option to purchase additional votes with proceeds going to Feeding America. Public voting began Feb. 16 and runs through Feb. 25 to advance to the top 15. Voting for the top 10 runs Feb. 25 to March 4, for the top five March 4-11, group winners March 11-18, quarterfinals March 19-25, semifinals March 26 to April 1 and the finals April 2-8.
Each contestant has their own page. Bayyari's page states she's been cooking for 20-plus years and her signature dishes are salmon rice or curry (fish stew). As for what she would do with the $20,000 prize, it would go to students: "I would like to start a scholarship for hospitality students at the University of Arkansas where I teach and run Pineapple Cafe' as their executive chef, plus start a kitchen to make cooking videos and lessons."
Bayyari said cooking is her passion, and she also enjoys competition.
"Competition is important and healthy, not only for students, but for their mentors and teachers," she said. "It's an important learning experience."
Bayyari certainly qualifies as a "world chef." She is the driving force behind Pineapple Café (formerly Maple Bistro), which features cuisine from around the world prepared by hospitality management students. Before COVID-19, Pineapple Café opened for lunch on Monday and Wednesday during the fall and spring semesters, and was managed by students in Bayyari's Cultures and Cuisines of the World class. Students convert the Maudine Sanders Commons in the Human Environmental Sciences Building into a restaurant; plan, prep and prepare meals in the adjoining industrial kitchen, and complete service to diners. Each meal is ethnically-inspired, exposing students and diners to dishes from around the world.
"I don't usually cook using recipes, but more based on what I have and can visualize in my head," she said. "I always tell my students that you have to be able to imagine your food in your head, otherwise it will not be good."
Bayyari is from Abadan, Iran, and lived in Germany for 17 years before coming to the United States and earning an associate of science degree from Northwest Arkansas Community College, her bachelor's degree in health science and general business from Missouri Southern State University, and her master's degree human nutrition and hospitality innovation from the U of A in 2015.
Bayyari has served as an abstract reviewer for the Journal of Culinary Science and Technology and is a member of the International Council of Hotel, Restaurant and Institutional Education. Her research areas include alternative fried foods, food sustainability, cultural impact of food choices, menu psychology and layout, relationship between food and culture, and cultural diversity and inclusion.
About the Dale Bumpers College of Agricultural, Food and Life Sciences: Bumpers College provides life-changing opportunities to position and prepare graduates who will be leaders in the businesses associated with foods, family, the environment, agriculture, sustainability and human quality of life; and who will be first-choice candidates of employers looking for leaders, innovators, policy makers and entrepreneurs. The college is named for Dale Bumpers, former Arkansas governor and longtime U.S. senator who made the state prominent in national and international agriculture. For more information about Bumpers College, visit our website, and follow us on Twitter at @BumpersCollege and Instagram at BumpersCollege.
About the University of Arkansas: The University of Arkansas provides an internationally competitive education for undergraduate and graduate students in more than 200 academic programs. The university contributes new knowledge, economic development, basic and applied research, and creative activity while also providing service to academic and professional disciplines. The Carnegie Foundation classifies the University of Arkansas among only 2.7 percent of universities in America that have the highest level of research activity. U.S. News & World Report ranks the University of Arkansas among its top American public research universities. Founded in 1871, the University of Arkansas comprises 10 colleges and schools and maintains a low student-to-faculty ratio that promotes personal attention and close mentoring.