New urban camping experience 'The Hideout' now open in Fayetteville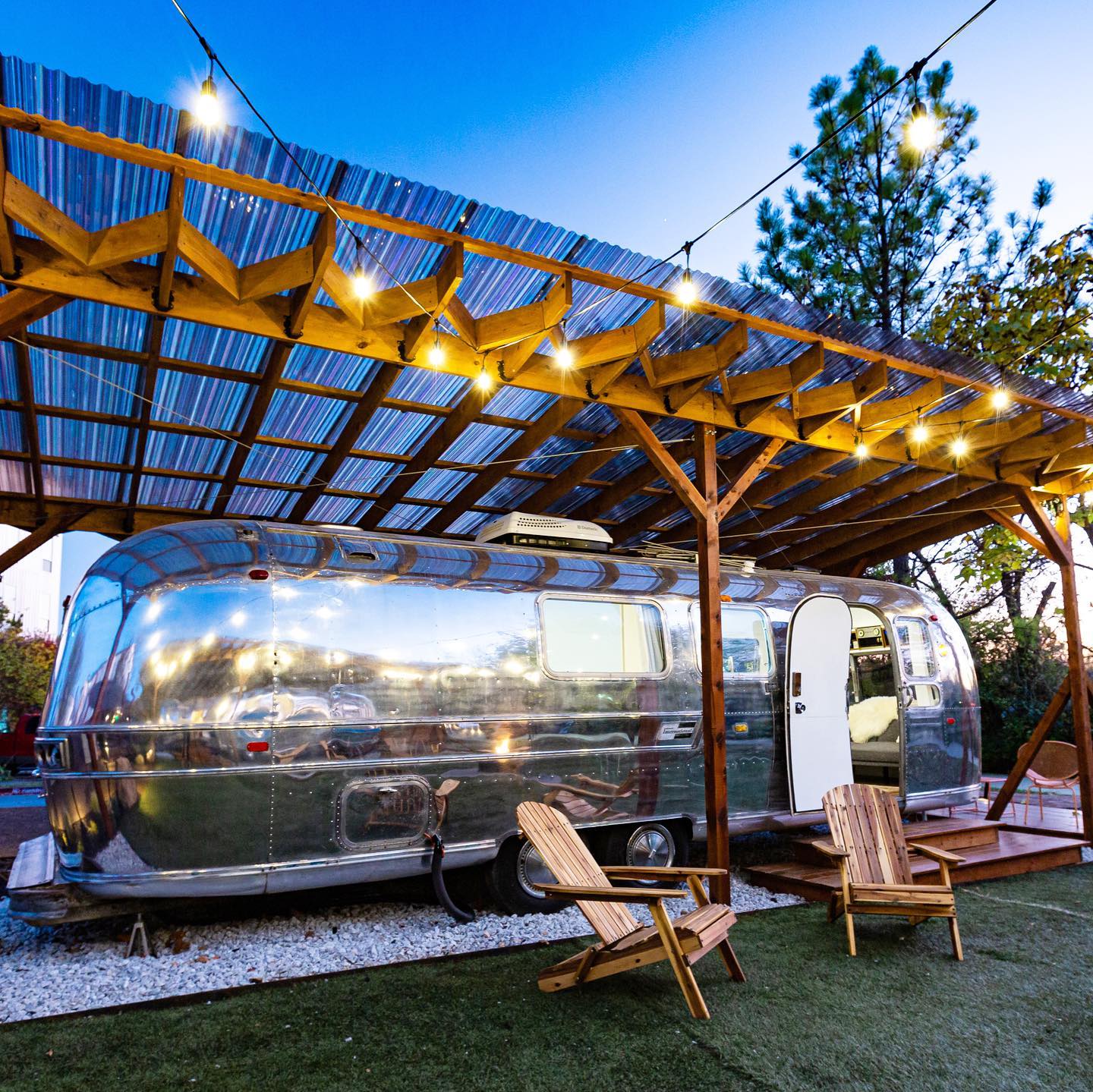 FAYETTEVILLE, Ark. – Lake Wedington. Devil's Den. Maybe Lake Sequoyah, or Horseshoe Bend. These are the types of places most people think of when they think of camping options in Northwest Arkansas.
Now, a group of friends have created a wholly new option for a different type of camping right in the middle of Fayetteville.
Local couples Cole and Natalie Bailey, Matt and Jessica Miller, and Megan and Keaton Smith partnered to create an "urban glamping" (short for glamorous camping) experience called The Hideout in two Airstream trailers behind Arsaga's Mill District, and the trailers are now available for rent.
The idea, Keaton told us, came about after seeing similar projects do well in other cities around the country.
"We knew people visiting a fun town like Fayetteville would love to have an option like this," he said. "The Baileys had bought and sold a few Airstreams previously and we had all camped in them with our families enough to see the value in having really comfortable beds, working restrooms, and a climate controlled "home base" to plan the day's adventures from.
"We decided something like this in the middle of town would allow visitors to experience more with the camping feel without sacrificing the creature comforts we all appreciate," he said.
There are currently two Airstreams – one called Pearla and the other named Stella – available to rent at The Hideout.
Both trailers come equipped with a bed, a bathroom, a small refrigerator, and a modest kitchen set up for cooking. There's also an outdoor seating area with a fire pit to keeping warm on cooler nights.
The partners said they chose the location behind Arsaga's for its proximity to some of popular attractions in Fayetteville, however, including restaurants that make use of the kitchen optional.
"We love our location in the backyard of the new Arsaga's at the Mill District, and appreciate the Arsaga family for allowing us to turn this vision into reality on their property," Natalie said. "Woodstone Pizza, Prairie St Pub, Prairie St Live and Mamaka Bowls are awesome local businesses to have as our closest neighbors, and being right on the Razorback Greenway Trail provides easy access to everything on the Square, Dickson Street, The U of A Campus, and the Razorback sports facilities. It's great having all of this within reach by bike or on foot, but the electric scooters have opened up whole new level of convenience for Greenway travel."
The trailers rent for around $125 per night, with the price fluctuating a bit depending on demand in the area.
Of course, opening a business in the middle of a pandemic brings a host of challenges, but things have gone well at the Hideout so far.
"Clearly, the hospitality industry as a whole has been challenged during this pandemic but we think the fact that The Hideout provides something to do that's safe, but fun and interesting has made it an appealing cure for cabin fever," Natalie said. "Since the units stand alone and are completely separate from one another there is no shared ventilation, and they are thoroughly sanitized between stays. We've been pleasantly surprised to see how many local visitors we've had too!"