Vermillion helps Hogs recover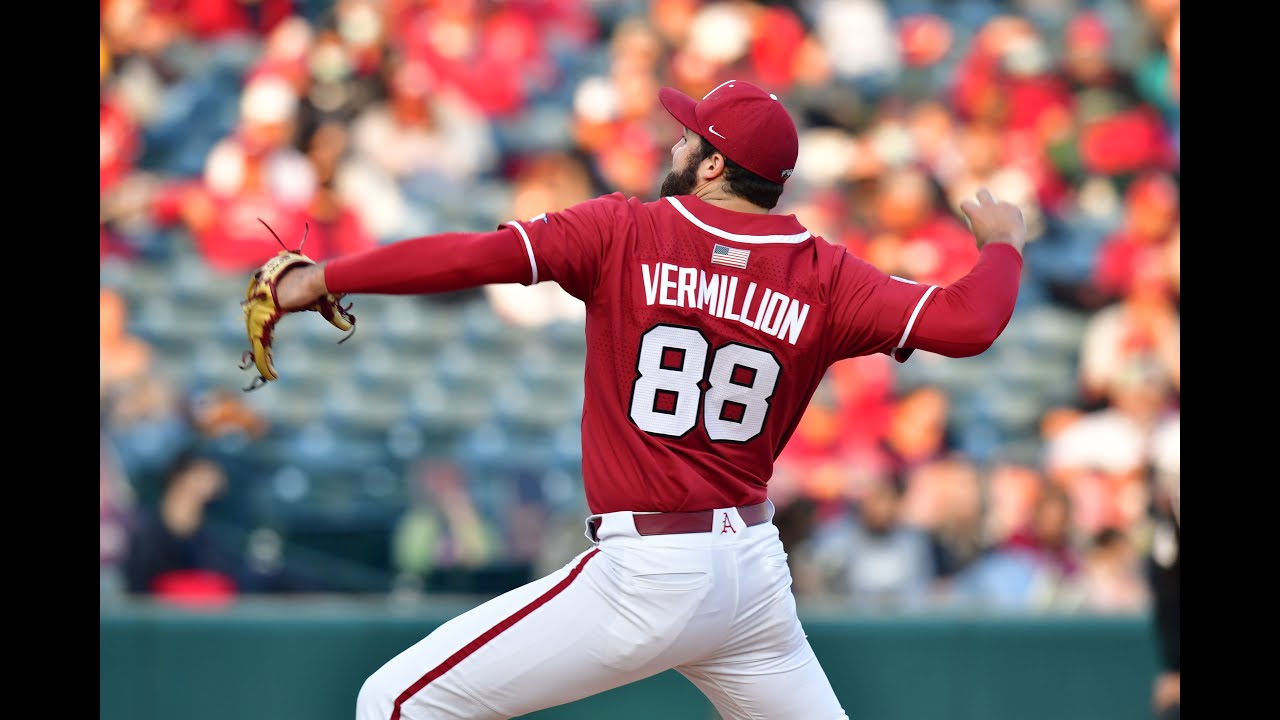 FAYETTEVILLE, Ark. — The University of Arkansas got back on track at the plate and on the mound Saturday.
Right-handed starter Zebulon Vermillion allowed 1 run in 8 innings and the No. 1 Razorbacks shed their recent hitting struggles during a 9-1 victory over No. 24 Alabama at Baum-Walker Stadium.
The Razorbacks snapped a three-game losing streak and forced a rubber match in their SEC-opening series against the Crimson Tide. The teams are scheduled to play the series finale at 2 p.m. Sunday with the game broadcast on SEC Network.
Arkansas (13-3, 1-1 SEC) bounced back quickly from a 16-1 loss in Friday's series opener.
"I know they weren't happy when they left here, and they knew how important this game was," Arkansas Coach Dave Van Horn said. "Whether we won it or not, we just needed to play better and be real competitive, and they came out and they took care of business. They set it up for tomorrow to be a big-time game."
Vermillion allowed 1 hit, walked 2 and struck out 4, and took a no-hitter into the sixth inning against the Crimson Tide (15-4, 1-1).
It was a similar performance to a week ago when Vermillion allowed 1 run on 3 hits and 3 walks in 8 innings at Louisiana Tech. Vermillion said he had never thrown an eight-inning game prior to last week.
In both outings Vermillion was effective by pitching to contact. Alabama flied out against him 11 times and grounded out nine times.
"We want him to get, I would say, soft contact," Van Horn said. "They barreled up a couple of balls, but he did a good job of getting some popups and some fly balls, and had a couple, three quick innings that gave us a chance to get back to the plate. It also saved his pitch count. He did a great job."
Caden Rose grounded out against Vermillion on his 101st pitch to end the top of the eighth inning. Van Horn said Rose would have been Vermillion's final batter, regardless of the outcome of the at-bat.
Zack Morris worked around a leadoff double in the ninth to close the victory.
Vermillion thought he would come out of the game after he struck out Zane Denton to end the top of the seventh inning, based on a conversation he had with pitching coach Matt Hobbs in the bottom of the sixth.
"Coach Hobbs said, 'Never mind what I said. You've got one more,' " Vermillion said of the decision to pitch again in the eighth.
Eight-hole hitter Jim Jarvis' single to lead off the sixth inning was the Crimson Tide's only hit against Vermillion. Arkansas held an opponent to two hits for the third time this season.
Jarvis scored on Peyton Wilson's sacrifice fly to pull within 3-1 midway through the sixth inning.
Arkansas answered with three runs in the bottom of the sixth. Casey Opitz and Jalen Battles had RBI hits inning, and Cullen Smith had a sacrifice fly to give the Razorbacks a 6-1 lead.
All three runs in the sixth came against Alabama relief pitcher Jacob McNairy, who entered with two outs an inning earlier when Arkansas chased Crimson Tide starter Dylan Smith.
Smith (0-2) struck out 9 Razorbacks, including 5 over the first 2 innings, but Arkansas began to solve him the second time through the batting order. The Razorbacks scored one run against the Alabama starter in the third, fourth and fifth innings to take a 3-0 lead.
Opitz's solo home run to lead off the bottom of the third broke a scoreless tie. Matt Goodheart plated Christian Franklin with an RBI single in the fourth inning, and Cullen Smith scored on a wild pitch by the Alabama starter after doubling against him to lead off the bottom of the fifth.
"I have to say Dylan Smith has one of the best arms, if not the best arm we've seen this year," Van Horn said. "He's got a really good breaking pitch and a lively fastball, and I just thought we did a great job of fighting and battling against him."
Cullen Smith scored a second run on a wild pitch to cap a three-run eighth inning for the Razorbacks. Braydon Webb, who was 1 for 27 this season, doubled to lead off the inning. Opitz followed with an RBI single, and he scored on a sacrifice fly by Battles.
Leadoff hitter Robert Moore was the only Arkansas batter without a hit. The Razorbacks recorded 12 hits, including three apiece by Opitz and Cayden Wallace. Opitz had three RBI.
Arkansas scored at least one run in five of the final six innings. The Razorbacks scored six runs combined during their three-game losing streak.
"You've just got to keep your foot on the gas, and credit to our hitters, that's what we did," Opitz said on the Arkansas postgame radio show. "We just kept going and kept having good approaches at the plate."