Vaccine Appointments to Resume at Pat Walker Health Center With Limited Pfizer Doses Available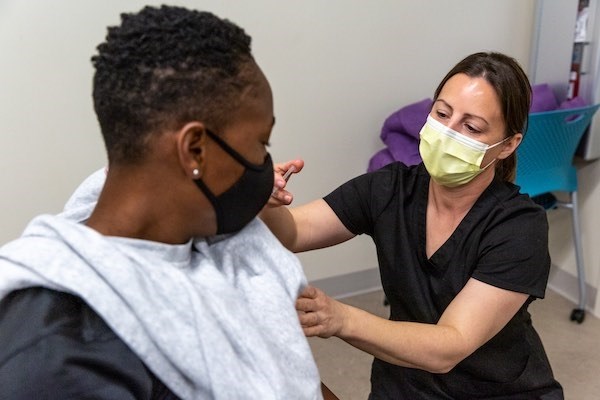 FAYETTEVILLE, Ark. – Pat Walker Health Center will resume on-campus COVID-19 vaccine appointments with a limited number of the Pfizer-BioNtech vaccine while federal health agencies determine next steps for the temporarily paused Johnson & Johnson (Janssen) COVID-19 vaccine.
With semester's end fast approaching, the health center wants to ensure individuals needing to start the two-dose vaccine series have the option of getting it on campus. Although not required, everyone is strongly encouraged to get vaccinated as soon as possible.
The change in vaccine comes a week after the U.S. Food & Drug Administration and Centers for Disease Control & Prevention recommended a pause in administering the vaccine after six individuals — out of the 7 million doses administered so far — reported experiencing an exceedingly rare type of blood clots after receiving their shot.
No cases have been reported among the more than 180 million people who received the Pfizer-BioNTech or Moderna vaccines.
Schedule Your First-Dose Vaccine: Call 479-575-4451, Option 1.
Because of the limited number of vaccines available — along with logistical changes — online vaccine appointment scheduling will not be available for the time being. To schedule an appointment, please call 479-575-4451, option 1. Appointments are still required, and second-dose appointments will also be scheduled for convenience.
Additionally, vaccine appointments and clinics continue to be available off campus. To schedule an appointment at one of the many off-campus clinics, visit health.uark.edu/coronavirus/vaccine or see the NWA Council Calendar. The Arkansas Department of Health also offers a complete list of pharmacies and vaccine clinics across the state, as well as a toll-free hotline at 1-800-985-6030.
Learn more about the COVID-19 vaccines.
Be Protected. Enjoy Summer.
The CDC has released public health recommendations for fully vaccinated people. Once fully vaccinated, you can safely:
Visit with other fully vaccinated people indoors without wearing masks or physical distancing
Visit with unvaccinated people from a single household who are at low risk for severe COVID-19 disease indoors without wearing masks or physical distancing
Refrain from quarantine and testing following a known exposure if asymptomatic
Resume domestic travel and refrain from testing before or after travel or self-quarantine after travel.
Refrain from testing before leaving the United States for international travel (unless required by the destination) and refrain from self-quarantine after arriving back in the United States.
People are considered fully vaccinated for COVID-19 two weeks after they have received the second dose in a two-dose series (Pfizer-BioNTech or Moderna), or two weeks after they have received a single-dose vaccine (Johnson and Johnson/Janssen).