UAMS, UAF Artificial Joint Research Sparked by 'Give and Get' Retreat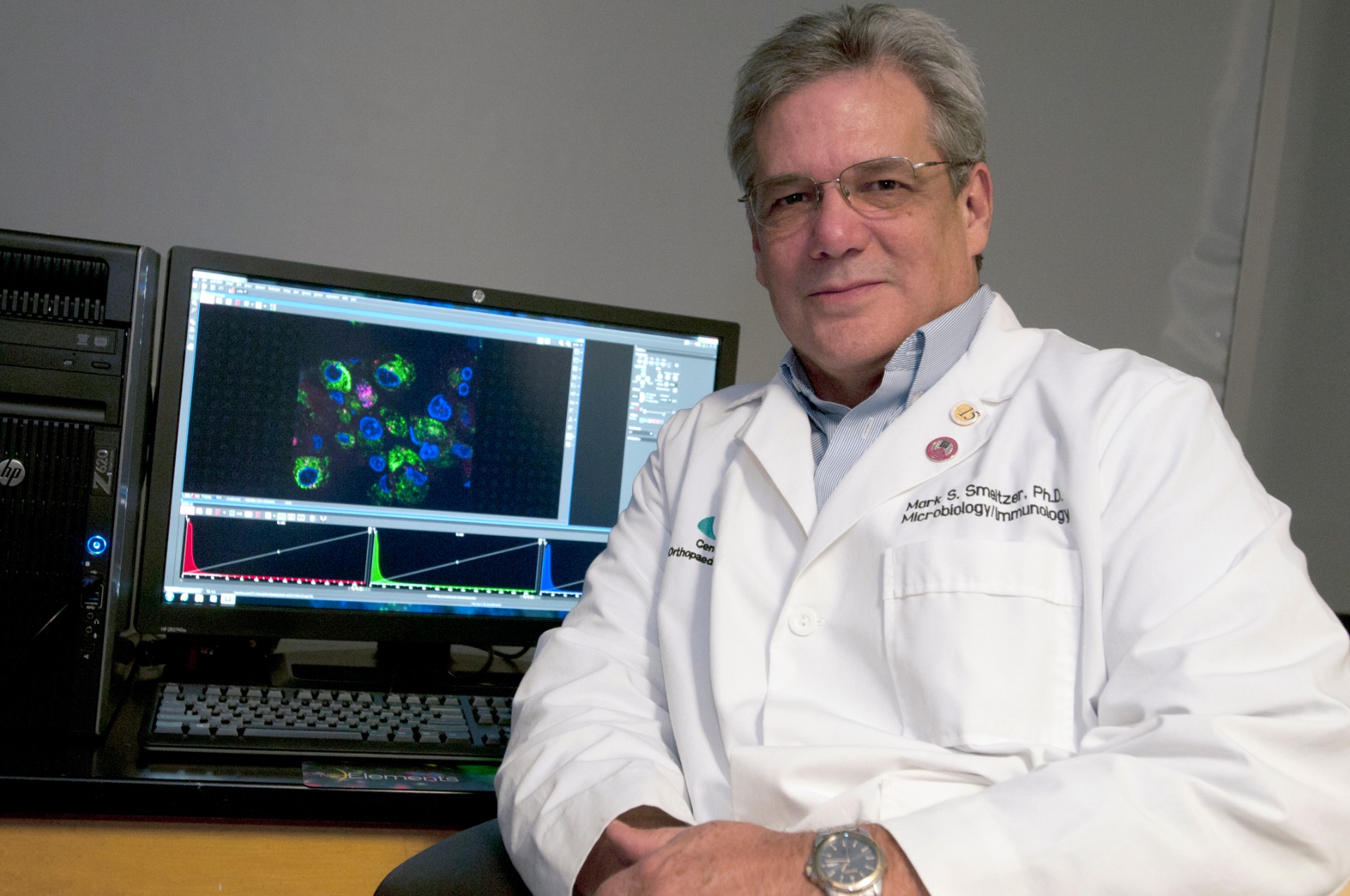 FAYETTEVILLE, Ark. – Researchers at UAMS and the University of Arkansas, Fayetteville, are working to develop longer-lasting artificial hip and knee replacement joints that are also more resistant to infections.
UAMS' Mark Smeltzer, Ph.D., a microbiologist with expertise in Staphylococcus aureus and orthopaedic infection, is collaborating with UAF's Min Zou, Ph.D., a mechanical engineer with expertise in nano-surface-engineering methods to reduce friction and wear.
Smeltzer is a professor in the Department of Microbiology & Immunology and the Department of Orthopaedic Surgery in the College of Medicine. He was invested in 2019 in the UAMS Chair in Sciences Basic to Medicine.
Zou, the project's principal investigator, is a professor of Mechanical Engineering and holds a 21st Century Professorship in Mechanical Engineering.
Zou's lab has shown that microscopic dimples in surfaces can reduce friction and wear. What scientists do not know is whether the altered surfaces can be as resistant, or even more resistant, to bacterial infections as smooth surfaces. The study will test their proposed methods for making the micro-textured (dimpled) surfaces resistant to bacterial colonization and infection.
Durability and infection are critical issues in total hip and knee replacements. The artificial joints generally have a functional life of 10-20 years, which often requires a second, even more complicated surgery to remove and replace the original device.
Infection, meanwhile, occurs in about 2.5% of initial hip and knee replacements and in 20% of revision replacements.
Smeltzer, co-principal investigator on the project, said the collaboration stems from a "Give and Get" retreat hosted by the Arkansas Research Alliance (ARA). Smeltzer and Zou are ARA Fellows.
During the annual meeting, the ARA Scholars and Fellows are asked to briefly describe their areas of expertise, "what they can give," and then tell the group what research they would like to pursue if they had the expertise, "what I would like to get."
"That's how Dr. Zou and I began the collaboration," Smeltzer said. "She approached me about the project, and I am very excited about it."
Also collaborating on the project is Jingyi Chen, Ph.D., an ARA Fellow and associate professor of chemistry and biochemistry at UAF. Her lab's focus is on nanostructured multimetals and hybrid materials.
UAF will provide nearly $70,000 for the project from the UAF Chancellor's Innovation & Collaboration Fund, and Shuk Mei Ho, UAMS vice chancellor for Research and Innovation, is funding $23,000 for Smeltzer's part in the project.