UA women continue climb in AP poll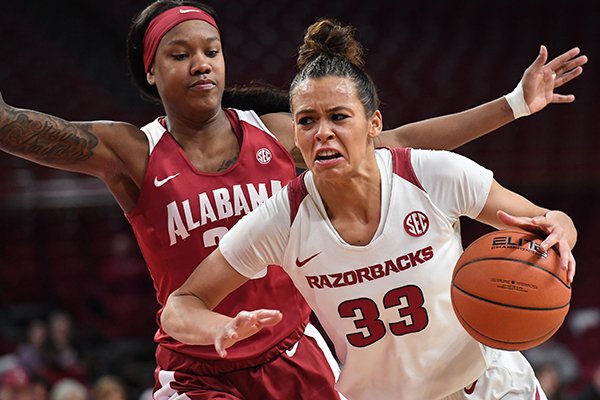 FAYETTEVILLE, Ark. — Arkansas made another jump in The Associated Press Top 25 women's basketball poll this week.
The Razorbacks (19-7, 9-6 SEC) came in at No. 13 on Monday, up three spots over last week. They have won five consecutive league games ahead of this week's SEC Tournament in Greenville, South Carolina.
Arkansas defeated Auburn 74-69 on the road Thursday then capped the regular season with a convincing and record-setting 94-76 win over Alabama in Bud Walton Arena on Sunday. The Razorbacks made a program record 19 three-pointers against the Crimson Tide.
In her final game in Bud Walton Arena, senior guard Amber Ramirez scored a career-high 35 points and knocked down 8 of 14 attempts from three-point range. Chelsea Dungee and Destiny Slocum also combined for 37 points.
"It's so hard to play well on a night like tonight with so many emotions," Arkansas coach Mike Neighbors said. "But I thought from the get-go there was a special feeling and it just continued throughout."
The Razorbacks are scheduled to open the SEC Tournament against Ole Miss (10-10, 4-10 SEC) on Thursday. Tipoff is set for 7:30 p.m. on SEC Network.
Other SEC teams in this week's poll are Texas A&M (2), South Carolina (7), Tennessee (14), Georgia (16) and Kentucky (17).