Trump's lead in state tops '16 edge, poll finds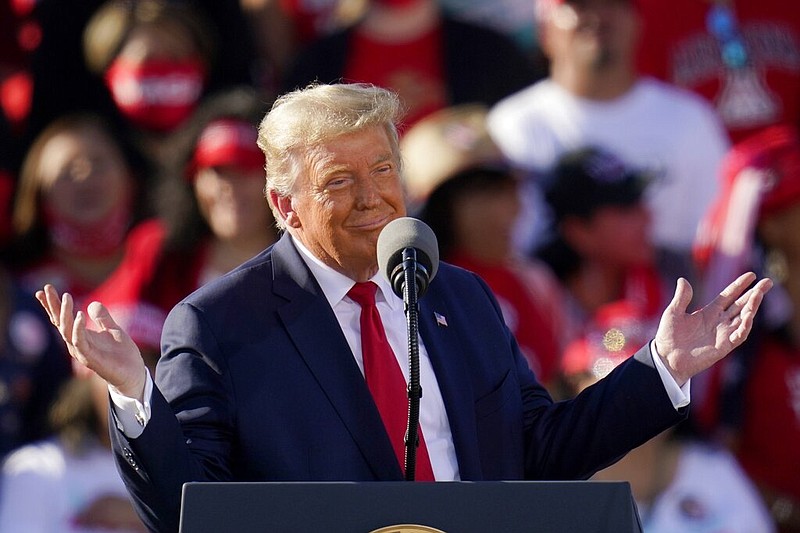 FAYETTEVILLE, Ark. – With Election Day nearing, the Republican Party is surging in the Natural State, surpassing the numbers from four years ago, the 2020 Arkansas Poll learned from respondents.
The 22nd annual survey, which is sponsored by the University of Arkansas' Diane D. Blair Center of Southern Politics and Society, was released Wednesday morning.
The poll of very likely voters heavily favors Republican President Donald Trump over Democratic presidential nominee Joe Biden, with the incumbent topping his previous winning totals among state voters.
U.S. Sen. Tom Cotton, with no Democratic challenger, is on pace to the claim most lopsided victory ever recorded by a Republican seeking the job, according to those polled.
With the election looming, Trump led Biden 65%-32% in the Arkansas poll, with 3% supporting other candidates.
Four years ago, Trump beat Democratic presidential nominee Hillary Clinton in Arkansas, 60.6% to 33.7%, with other candidates trailing.
If Wednesday's poll ends up mirroring the final results, it would be the largest Republican presidential victory in the state since Richard Nixon captured 68.8% of the vote in 1972 against Democrat George McGovern.
In the Senate race, the Little Rock incumbent topped his only opponent, Libertarian Ricky Dale Harrington of Pine Bluff, 75%-20% with 5% expressing support for someone else.
Republican Party of Arkansas Chairman Doyle Webb said he was "a little surprised" by the size of the Republican advantage, but not by the lead itself.
"The poll tells me that Arkansans are conservative, and that they're excited about the president and Sen. Cotton," he said.
The results show "that the Democrats are out of touch with Arkansas, and that their candidates are out of touch with Arkansas," he added.
Democratic Party of Arkansas Chairman Michael John Gray said the numbers are "not shocking."
"We knew that Trump was popular in the state," he said.