Tornado spotted in Benton County as severe storms continue, forecasters say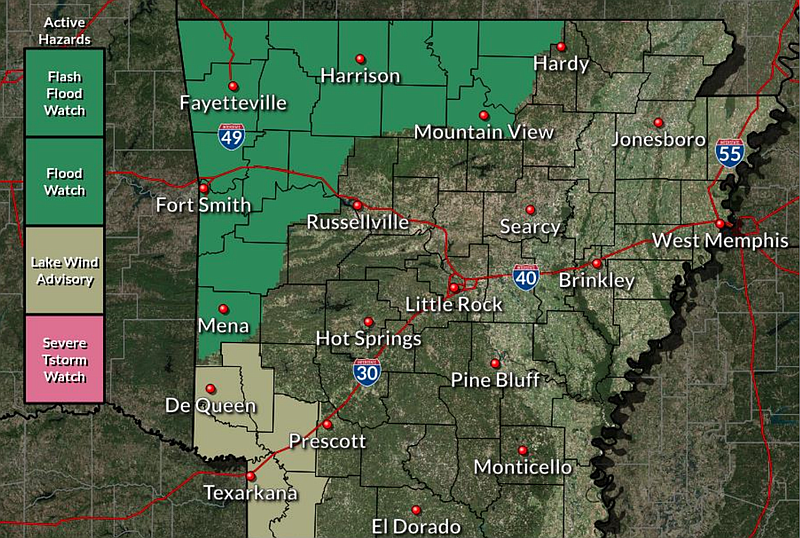 FAYETTEVILLE, Ark. – A slow moving storm system is expected to continue into Friday, according to a Wednesday afternoon briefing from the National Weather Service.
Up to six inches of rain is estimated to have already fallen in extreme Northwest Arkansas, while other areas saw as much as three inches, the weather service reported.
Over the next 24 hours, up to three additional inches of rain is expected for many parts of Northwest Arkansas, which can cause flash flooding in areas already experiencing bankfull conditions, the briefing states.
A chance for severe isolated thunderstorms is possible Wednesday afternoon, forecasters said, while the primary threat is strong wind gusts.
At least two school buses became trapped in water in Northwest Arkansas on Wednesday morning, officials said, as forecasters predicted up to an additional four inches of rain over the region through Thursday.
Springdale Fire Chief Ron Skelton said the department was called to the area of 5014 Kelly Road at 7:43 a.m. to assist with a school bus that had become trapped. Skelton said he did not know how many students were on the bus at the time, but said everyone was transported from the scene in a single Chevrolet Tahoe.
In Bentonville, a bus slid into a ditch and into water on Battlefield Road near Central Avenue, said Leslee Wright, a spokeswoman for the Bentonville School District. She said one student was on the bus, but neither the student nor the driver was injured, and the student was transported to school.
According to Skelton, another school bus was stopped in a neighborhood in the area of King Arthur Road and Ball Road when the driver was unable to find a way out of the neighborhood that was not flooded.
Benton County listed more than 10 roads as impassable in a news release Wednesday morning.
Keith Foster, a Rogers Police Department spokesman, said he didn't have a list of closed roads, but said that there were many. He said firefighters had responded to many swift water rescues.
Kelly Cantrell of the Washington county sheriff's office said the agency had received nine weather-related calls beginning around 7:30 a.m., including the call to King Arthur Road.
The other calls were reporting roads closed due to flooding or because of fallen trees blocking the roads, Cantrell said.