Top Things to Do for Spring Break in Arkansas in 2021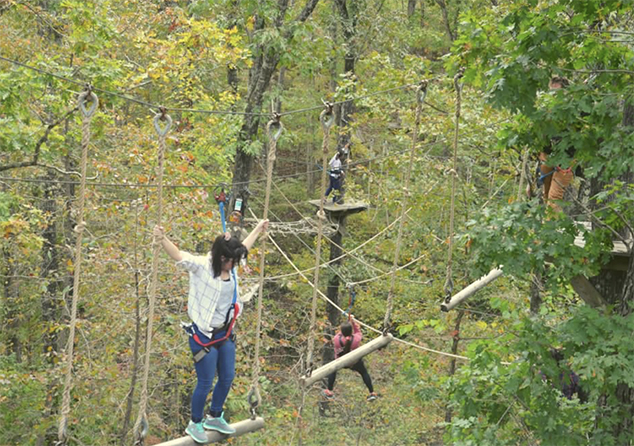 Arkansas – Spring break is normally a time to let your hair down and go a little wild. The COVID-19 pandemic put a damper on the fun last year, but things are beginning to open up around Arkansas.
With more businesses and venues opening back up, spring break looks more promising this year. Whether you're interested in the great outdoors or just want to take a road trip, we've got some highlights throughout the state you should check out.
Bentonville
What: Oasis at Undercroft
Where: Under The Preacher's Son in Bentonville
When: Tuesday-Thursday from 5pm-12am, Friday and Saturday from 5pm-1am
The Oasis at Undercroft is a limited-time, pop-up bar in Northwest Arkansas. It's tropical-themed, paying tribute to the "Tiki" movement of the 1940s-60s. You can get traditional hurricanes and special drinks, like the Mixed Emotions and an Eight-Legged Lady, which has pink gin.
Conway
What: Lake Conway
Where: U.S. 65 South
When: Always
Lake Conway is the largest Game and Fish Commission lake in Arkansas and largest lake ever constructed by a state wildlife agency. It is known for its bream, bluegills and redears, while bass and crappie fishing is also popular.

What: Visit Beaverfork Lake
Where: 20 Kinley Drive in Conway
Located on 25 acres off Highway 25, this is another great fishing spot to check out around Conway. It has as picnic tables with grills, along with plenty of boating and fishing pavilions, Beaverfork Lake is the perfect location for the whole family to enjoy a day in nature. A daily boating permit is $5 for residents, $50 for non-residents
El Dorado
What: Texas Hill concert
Where: First Financial Music Hall in Murphy Arts District
When: March 26 at 8 p.m.
Been awhile since you've been to a concert? Texas Hill, a country rock trio made up of Craig Wayne Boyd, Adam Wakefield and Casey James, will hold an indoor concert at First Financial Music Hall.  Craig Wayne Boyd and Adam Wakefield appeared on The Voice, with their songs reaching Top 15 on the Billboard Hot Country Songs. Casey James appeared on American Idol, with a song making it on the Top 15 of the Billboard Hot Country Songs. Order your tickets online; the cost is $40-90.
What: South Arkansas Arboteum
Where: 1506 Mt. Holly Road in El Dorado
When: Sunday-Saturday, 8 am-5pm
The arboteum offers marked, paved waking trails, pavilions and gazebos, featuring 12 acres with plants indigenous to Arkansas' West Gulf Coastal Plains and exotic species. Best of all? It's free!
Eureka Springs
What: Turpentine Creek
Where: Eureka Springs
When: Open every day (except in inclement weather)
Hours: Tours every hour from 9am-4pm
Love tigers and big cats? Turpentine Creek has them and more. This is one of the largest exotic cat rescues, and it's right in Arkansas. A guide tour shows you all the big cat habitats. You can also go to the Discovery Area, where the bears tunnel and some of the big cats play.
COST:
Ages 20+: $25
Ages 13-19: $20
Ages 4-12: $15
3 and under: Free
Seniors/military: $15
Fayetteville
What: NuttyER Runner 2021
Where: Downtown Fayetteville
When: March 20, 11am-3pm
-This is a 5k run benefitting The Spark Foundation, a Fayetteville nonprofit that increases access to health and fitness education.
-Form a team of 2-4 people and you'll take part in a team scavenger hunt.
-Enjoy beer as you solve riddles and visit local businesses.
Cost: $35 for runners, $25 for designated drivers.
Hot Springs
What: Horse Races
Where: Oaklawn Casino Resort
When: Thursday-Sunday
-Gates open at 11 am
-Post time: 1:30 on Thursday, Friday and Sunday, 1 pm on Saturday
Don't miss out on a classic Arkansas experience at Oaklawn. On Saturday, March 20, the Oaklawn is hosting the Gazebo race for 3-year-old horses. It is a $150,000 race.
(Arkansas Derby is April 10, FYI) Must make reservations by calling 501-363—4660 at 9 a.m. each Monday. Admission is free.
What: Tulip Extravaganza
Where: Garvan Woodland Gardens
When: Daily from 10 am-6 pm
Tulip Extravaganza features thousands of beautiful blooms of Dutch tulips. There will also be spring annuals and azaleas, making this the biggest display of color between Dallas and Memphis. It is free for members. $15 for adults, $5 for kids ages 4-12, Free ages 0-3
What: Hotel Hale
Where: Bathhouse Row
Book a room at the luxurious Hotel Hale, owned by city Mayor Pat McCabe and his wife Ellen. There are ine rooms with prices starting at $215/night. Eden Restaurant offers a full menu with unique offerings like Omelette Bravas,, as well as classics like shrimp & grits and French toast. Don't miss out on their drink menu.
What: AAA (Arkansas Athletics Association) High School Basketball Finals
Where: Bank OZK Arena
When: Thursday March 18-Saturday, March 20
Starting Thursday, the 1A and 6A boys and girls teams will play. On Friday, the 2A and 3A boys and girls will play. On Saturday, the 4A and 5A boys and girls will play. COST: $8/ticket. They will be available at noon the day before the game. No paper tickets – have to have a smartphone.
Little Rock
What: Governor's Arts Award
Where: Virtual on Facebook Live
When: 7 p.m.
The ceremony honors eight members of the state's arts community.
It will be broadcast on the Arkansas Arts Council's Facebook and YouTube pages.
What: 10th Annual Arkansas Run for the Fallen
Where: Virtual 5K (do it on your own)
When: March 19-March 21
-Run for the Fallen honors Arkansas service members who died on Sept. 11, 2001.
-A team of runners will be making a 150-mile run to honor each Arkansas service member who died that day.
-The 5K is open to the public.
-COST: $30 to register.