Suspect Throws Explosives At Police During High-Speed Chase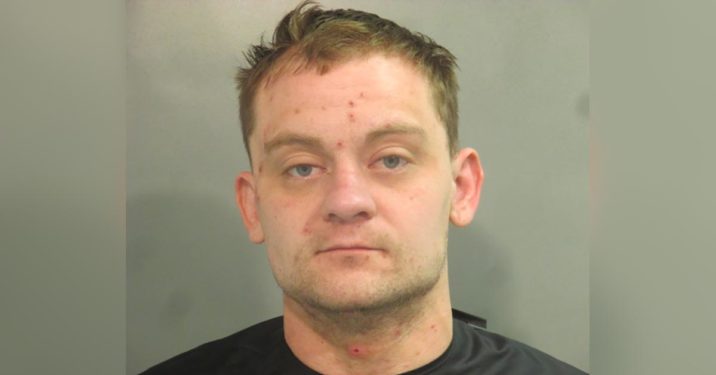 MADISON COUNTY, Ark.  – A suspect hurled Molotov cocktails at police cars throughout Madison County on Saturday, leading to a harrowing high-speed chase.
The incident began at approximately 10:40 a.m. on April 3, when a Madison County Sheriff's Office (MCSO) deputy spotted a "suspicious vehicle" pulling into the department's parking lot, the agency said in a press release, according to KNWA.
When the deputy headed outside to speak with the driver of the vehicle, he recognized him as 32-year-old Daniel Joseph Harvey.:
Harvey allegedly brandished a knife and made unspecified disturbing comments to the deputy before stomping on the accelerator and speeding out of the parking lot, police said.
The suspect then stopped abruptly on Hughes Street and hurled a Molotov cocktail at the deputy, causing it to burst into flames beside the deputy's patrol vehicle, KNWA reported.
Investigators said Harvey grabbed a machete and jumped out of his vehicle, so the deputy tased him the would-be attacker.
The shock had no effect and the suspect was able to get back into his vehicle and sped away, KNWA reported.
Deputies pursued him as Harvey topped at various locations in Huntsville, throwing Molotov cocktails at patrol vehicles while driving recklessly through the county, according to investigators.
The homemade firebombs exploded as they hit the city streets, the MCSO said.
At one point during the chase, Harvey allegedly swerved into a Huntsville Police Department (HPD) vehicle, crashing into it and leaving it damaged, KNWA reported.
Officers pursued Harvey along Highway 23 North until he pulled up into his own driveway and jumped out with the machete in his hands.
Police were able to convince him to drop the weapon and surrender, at which point he was taken into custody.
No law enforcement officers or civilians were injured during the incident, KNWA reported.
Harvey has been charged with four counts of terroristic act, two counts of attempted capital murder, and one count each of reckless driving, leaving the scene of a property damage accident, speeding 50 miles per hour over the speed limit, resisting arrest, felony fleeing, and aggravated assault.
His bond was set at $750,000.